20 Celebrities with Lyme Disease and Their Stories about the Pain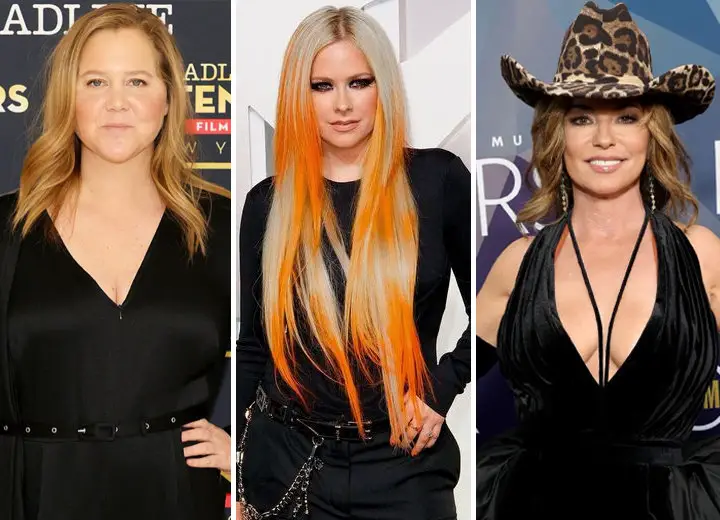 Lyme disease has become a cultural mainstay because of how many celebrity cases there have been of the illness. Many celebrities have talked about their stories of living with the condition.
As for the question of  "how do celebrities get Lyme disease?" — they get it the same way any normal human being gets it; through tick bites. But since a lot more famous people are opening up about the disease, the awareness about Lyme has spread better now than it was a decade ago.
Here are a few celebrities with Lyme Disease who have shared their experience with the illness and how it affected their health and lives.
Amy Schumer
Amy Schumer talked about her Lyme disease diagnosis in September 2020. In an Instagram post on September 8, 2020, she revealed how she might have had the disease for years.
Posting a throwback picture, she also asked her fans to provide her suggestions about her condition other than to stay out of the sun. "Can you have a glass of wine or 2 on it?" Schumer inquired.
Justin Bieber
Justin Bieber took a while to open up about his bout with Lyme disease. There had been speculations about the singer having the disease after his unflattering pictures started making the rounds.

Justin Bieber revealed his fight with Lyme disease in January 2020. (Photo: Justin Bieber/Instagram)
In January 2020, he revealed he had been fighting Lyme, along with a couple of other skin conditions, for a while. As for further explanation about his condition, he said he would be putting out a YouTube docu-series to let fans in on his struggles with the disease.
Avril Lavigne
Avril Lavigne only talked about her year-long struggle with Lyme disease during her 2015 People cover story.
"I had no idea a bug bite could do this. I was bedridden for five months," she told People. By 2019, she had gotten better and dedicated herself to fighting the disease alongside various Lyme disease organizations by raising money and awareness.
Ben Stiller
Ben Stiller was diagnosed with Lyme disease in 2010. He speculated he got the disease while in Nantucket, Massachusetts, a couple of years before 2010.
The doctors could not correctly diagnose Stiller's illness for a while. "My knee became inflamed and they couldn't figure out what it was," he told The Hollywood Reporter in 2011, who had recovered by then.
However, he was still cautious as he said the disease never left one's system.
Shania Twain
After dominating the country music scene for over a decade, Shania Twain's career was jeopardized when she contracted Lyme disease in 2004 during a tour in Norfolk, Virginia.
The disease hit her hard and fast, and she immediately could not perform. But she did not know it was Lyme for a while.
Later, she found out she had dysphonia, a neurological disorder that causes vocal cord muscle spasms and impacts speech, and attributed that to the Lyme bacteria.
By the time 2017 arrived, she was trying to get back to doing music and was also heavily involved in raising awareness about the disease, calling it "such a silent evil thing."
Kelly Osbourne
Kelly Osbourne got Lyme disease the same year as Twain when attending her father, Ozzy Osbourne's 56th birthday party. She started showing symptoms like sore throat, stomach pains, and the occasional seizure. She even collapsed on set in 2013.
Osbourne already had a prescription drug addiction problem, and as the symptoms got worse over the years, so increased the medications prescribed to her. But, it took her years to get diagnosed.
After losing hope in conventional medical treatments, she turned to alternative medicine practices, and it was then that she was diagnosed with Lyme. Immediately, she flew to Germany to get stem cell therapy, all the while keeping her issues private.
Only in her 2017 book, There Is No F*cking Secret: Letters From a Badass Bitch, did she talk about this and has since been an open advocate against the disease.
Alec Baldwin
The first time Alec Baldwin talked about his Lyme disease diagnosis was in 2011, during an interview with The New York Times. However, he waited till 2017 to give further details about his bout with the condition.
In 2017, while speaking at an event benefitting the Bay Area Lyme Foundation, he revealed he had been bitten by a tick over 17 years prior and again a few years later.
For five years after his first bite, every summer, he would get the "classic Lume disease symptoms," like black lungs and flu-like symptoms. The first time, which he also called the worst of all his bouts, got him to the point where he thought he would die in his bed of Lyme.
He recovered, though, and now he makes sure his family is vigilant about ticks in the house.
Jamie-Lynn Sigler
The Sopranos star Jamie-Lynn Sigler was diagnosed with Lyme disease when she was 19 years old. A year later, she was diagnosed with multiple sclerosis (MS), but she did not have bad symptoms.
Sigler took antibiotics for early-stage Lyme and things "started to go away," after a while. Now, she is an advocate for people with chronic diseases.
Kris Kristofferson
Music legend Kris Kristofferson got diagnosed with Lyme late in his life. In 2016, he revealed he had found out he had the illness right before his 80th birthday.
The sad thing with his diagnosis was that it was wrong for the longest time — he thought he had Alzheimer's and took medication for it for years before being told it was actually Lyme disease he was suffering from.
His wife speculated he might have been bitten by a tick in 2006 during a movie shoot in Vermont. The musician, except for a few odd days, was mostly fine after undergoing treatment.
Yolanda Hadid
Yolanda Hadid, the mother of Gigi, Bella, and Anwar Hadid, had been suffering from Lyme disease since the early 2010s. However, it was only in 2015 that she was medically diagnosed.
Since then, Yolanda has become one of the most outspoken advocates on behalf of other people struggling with the disease. She also documented some of her struggles and attempts to find a cure around the world on her TV show, and in her 2017 book, Believe Me: My Battle with the Invisible Disability of Lyme Disease.
Bella and Anwar Hadid
Just like their mother, Bella Hadid and Anwar Hadid, too, suffer from what Yolanda termed the "invisible disability." Bella's battle with the illness has stopped her from doing horseback riding, one of her favorite things, and she even sold her horse.
She lived with the bone pains and the exhaustion the illness brought for years and admitted she had gotten used to living with the symptoms in 2016. She has since undergone treatment.
Ryan Sutter
Ryan Sutter, a firefighter and a former Bachelor contestant, first caught Lyme disease during the first months of the COVID pandemic. Initially, he did not know the "mystery" illness that was causing him the symptoms.
However, by May 2021, he found out he had Lyme disease and that it had been made worse by his mold exposure, something he was more susceptible to than regular people because of his job. Sutter did a lot of tests before the diagnosis came in.
It took him over a year, but he was finally recovering by June 2022.
Kelley Flanagan
Former Bachelor alum Kelley Flanagan revealed her positive Lyme disease test in August 2021 through an Instagram post.
She prefaced her revelation by saying she always know "something was a little bit off." So, after noticing and comparing her and her family members' reactions to certain things, she decided to get tested for various things, Lyme being one of them.
After her test came back positive, Flanagan said she finally got an idea about why she was feeling so bad for so long. "I'm going to put so much of my time and energy into figuring this out and combatting this," she wrote towards the end of her post.
By August 2021, she was doing a bit better.
Debbie Gibson
Debbie Gibson first started experiencing Lyme disease symptoms in early 2013 but battled the condition privately for over a year. Then, in April 2014, she confessed about her illness on her blog.
In her blog, she wrote that her first symptoms were anxiety and sensitivity to certain foods. That then progressed to become muscle pain and fatigue, weight loss, fever, and eventually depression.
She began treatment after a long search for the correct diagnosis and has since been doing better. Her body, she knows, has its limitations, and she cannot push it as hard as she used to be able to before contracting Lyme.
Ally Hilfiger
Ally Hilfiger fought the tick-borne disease and its symptoms privately for decades. She was first bit by a tick when she was seven years old in 1992.
What followed were years of visible symptoms and misdiagnosis — she was told she could have things like fibromyalgia and rheumatoid arthritis for 10 years. After getting the correct diagnosis, she felt like she had "won the lottery."
She told Health Magazine in 2016 that she still had bad days but was doing much better.
Daryl Hall
Musician Daryl Hall contracted Lyme disease in 2004, and his health got so bad within a year that he had to cancel a tour he was doing with Hall and Oates, his two-man band with John Oates.
His symptoms ranged from allergies to fever and aches, and upon testing, he found out he had "six or seven tick-borne diseases."
Hall did his own research, found a "Lyme literate doctor" and his health has been better since.
Amber Marchese
Real Housewives of New Jersey alum Amber Marchese was diagnosed with the tick-borne disease in 2016. She became aware of what her symptoms could mean after talking to a friend who shared similar symptoms.
It was she who suggested Marchese get tested for Lyme, and the test came back positive.
Ramona Singer
Real Housewives of New York City star Ramona Singer got diagnosed with Lyme disease recently. In March 2020, Singer took a test for the illness after experiencing symptoms around Valentine's Day that year.
"We caught it early and I'm very lucky and very blessed," she told E! News of her diagnosis, whose sister, too, suffered from the disease in 2018. As for treatment, she was attempting to increase her "immune function through an alkaline diet."
Kelly Dodd and Rick Leventhal
Reality TV couple Kelly Dodd and Rick Leventhal revealed their Lyme disease diagnosis through an Instagram story in June 2021. For Dodd, it was her first time battling the disease.
Leventhal, however, had contracted Lyme trice before. He hoped his previous methods of using antibiotics to cure the condition would work again.
Kathleen Hanna
Kathleen Hanna sent everyone into a shock in 2005 when she cited health reasons to step away from her band, Le Tigre. But nobody, not even her, knew at the time that the health issues she was facing was because of Lyme disease.
Over the following years, she experienced symptoms that disabled her physically and vocally and underwent intensive therapy to cure her condition. At this point, she was still undiagnosed with Lyme.
Then, in 2008, after being given diagnoses such as MS, lupus, and panic attacks, she watched a documentary about an unspoken Lyme epidemic. She recalled she had been bitten by a tick in 2005 and got herself tested, finally resulting in the right diagnosis.
She revealed all these in 2010, and started making her comeback to music in 2013.