Why Bella Hadid Is Accused of Blackfishing in New Versace Photos — Explained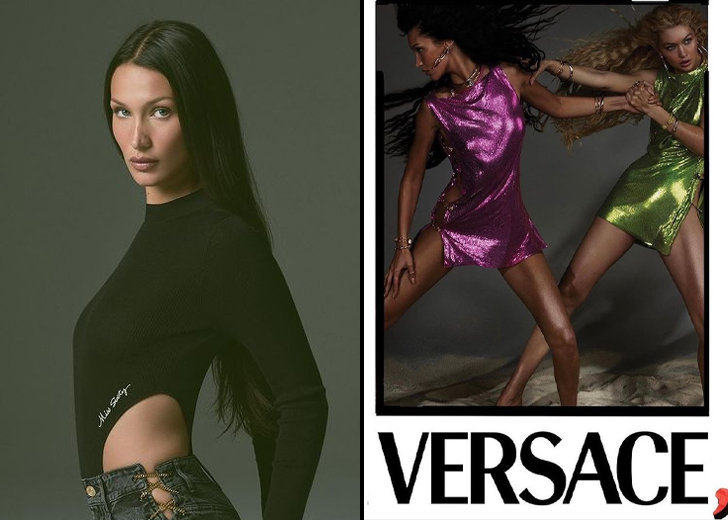 As sisters and models, there was nothing more exciting for Gigi Hadid and Bella Hadid than to be part of the Versace spring 2022 campaign. 
Both sisters reposted the photos from the campaign on their Instagram. A heartfelt caption accompanied Bella's photo. 
"This still makes me get the body chills. I can't believe I get to work for one of my biggest idols, side by side [with] my big sister. It's unbelievable To me," wrote Bella.  
She then thanked the entire Versace crew for making it possible. 
Unfortunately, the sisters' excitement was dampened when accusations of blackfishing — one of the biggest taboos in Hollywood — were levied against them.  
Blackfishing is a term used to describe non-Black individuals who alter their appearance and pretend to be black or mixed-race, usually for profit.
Many Hollywood celebrities have been accused of profiting from their racial ambiguity instead of celebrating the culture. 
Although any gender is capable of blackfishing, the most common culprits are said to be American women.
It is done through excessive skin tanning, wearing certain hairstyles, or sporting clothing trends and aesthetics instituted by people of color. 
Bella Hadid Accused of Blackfishing
In one of the campaign shots, the sisters were joined by the Italian designer, Donatella Versace herself.  
Donatella, Gigi, and Bella sprawled on the floor in black dresses with signature Versace designs like the handkerchief trim and safety pin closures.
But it was another photo of the Hadid sisters that had people riled up. 
Gigi was wearing a lime green sequined dress while Bella wore the same design in purple. 

Gigi Hadid and Bella Hadid's photo from the Versace campaign spurred blackfishing accusations. (Source: Bella Hadid/Instagram)
Bella's skin color looked much darker than her normal one in the particular photo. Netizens noticed this and immediately called out the younger Hadid sister.
A Twitter user who went by @ameliasznn wrote, "why Bella Hadid nearly as black as me in that pic."
Another user, @kkevv_hdzz, asked why the model's face was "borderline in a black face" for Versace's campaign. 
So far, the sisters have not responded to the accusations, and neither has anyone from the Versace team. 
Gigi Hadid's Blackfishing Fiasco
Unfortunately for the Hadid sisters, this is not the first time one of them was accused of blackfishing. 
Back in 2018, the older sister had to apologize for her "blackface" on the cover of Vogue Italia. 
The cover girl was spotted with so much bronzer that her skin looked dark. This irked some readers, who directed a barrage of criticisms her way. 
Eventually, the issue escalated to the point where Hadid had no choice but to address the issue. 
She took her Instagram stories and issued a lengthy statement. The model stated that she had zero creative control in a shoot that ended when she left the set. 
She added that post photoshoot editing and touch-ups were beyond her control, explaining that "the bronzing and photoshop" was photographer Steven Klein's signature style.  
The backlash prompted Italia Vogue's contributing editor, Patti Wilson, to issue a statement on her Instagram account as well. 
Wilson, an African American, noted that the photoshoot was for a summer issue and that Hadid was intended to look tanned. They did not mean to offend anyone.