Kris Kristofferson's Life Took a Turn for the Better after Meeting His Current Wife Lisa Meyers
Kris Kristofferson was once spiraling in the wrong direction. But thanks to his current wife, his life took a U-turn, and he now leads a happy life with his biggest support system.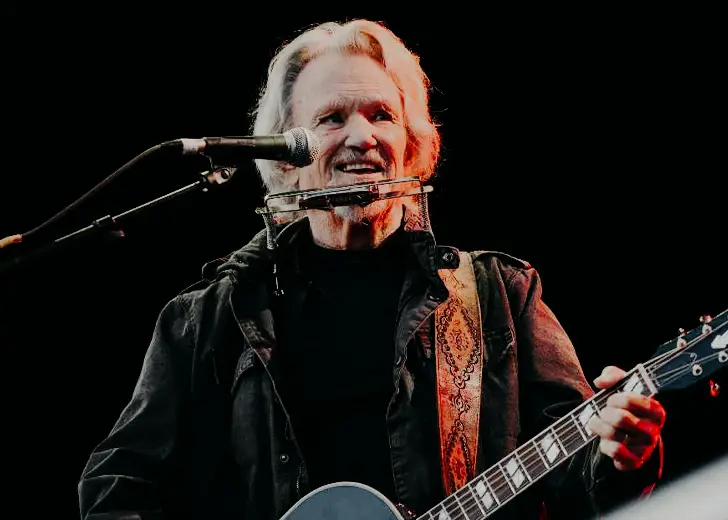 The passionate songwriter Kris Kristofferson, who devoted himself to Hollywood, tried his hands on almost everything, from singing, songwriting to acting. 
Nevertheless, the multi-talented star agreed to have lost himself once he reached his goal. In an interview with People in 1998, Kristofferson revealed that he thought that self-destruction followed naturally with his celebrity lifestyle and passion. 
I thought all serious artists were self-destructive.
The Self-Destructive Phase
During these times, the actor confessed to having a drinking problem and needed as much help as he could get. 
However, the actor's life took a turn when he saw his own death scene in a movie, which compelled him to re-think his drinking habits. Kristofferson admitted to having quit drinking after realizing he didn't want his daughter to grow up without him.
Despite his decision to go sober, his six-year-long relationship with former wife Rita Coolidge ended in 1979. 
The Story Of Kris And Lisa
In the same interview with People, the actor revealed that 1979 came with a blow. Along with his marriage ending, the actor had to deal with his agent's death, and his manager and his record company facing bankruptcy in the same year. 
As Katy Perry's Fireworks goes, "after a hurricane comes a rainbow," three years later, in 1982, Kristofferson found the love of his life, Lisa Meyers.
The duo met at a gym in Malibu when Meyers was just a law student. The song-writer recalled that he was afraid of serious relationships and was not looking to dive in when they first met.
At the time, I was gun-shy about any relationship heavier than a one-night stand. The road had been my escape, going out and pouring it all into performing, 
But ironically, the couple got married within a year of knowing one another, and the rest is history.

Kris Kristofferson and wife Lisa Meyers at the 40th anniversary of the Chaplin award gala. (Source: Post Img)
Through Thick And Thin
In 2016, the 84-year-old actor was diagnosed with Lyme Disease. In a HuffPost interview, Meyers opened up about her husband's disease and the challenges they faced while battling it. She was Kristofferson's biggest supporter and guide during his battle with the disease.
After having issues with his memory for years, the doctors had initially diagnosed the actor with Alzheimer's. But Meyers was adamant that the diagnosis wasn't correct.
In the same interview, she shared that after almost three years of taking Alziehmer's medications, the doctors finally found out that her husband actually had Lyme disease and not Alzheimer's.
Although he took some time to recover, they dealt with the disease with a bit of humor to make it easier for her husband.
We understand Kris's deficits in spatial awareness and short-term memory loss and we laugh about it all the time... Lyme is so tragic that if you don't have something to counterbalance the sadness of that, it'll take you down. The more we can get Kris to laugh, the healthier he is.