Celebrities You Didn't Know Were over 80 — Then and Now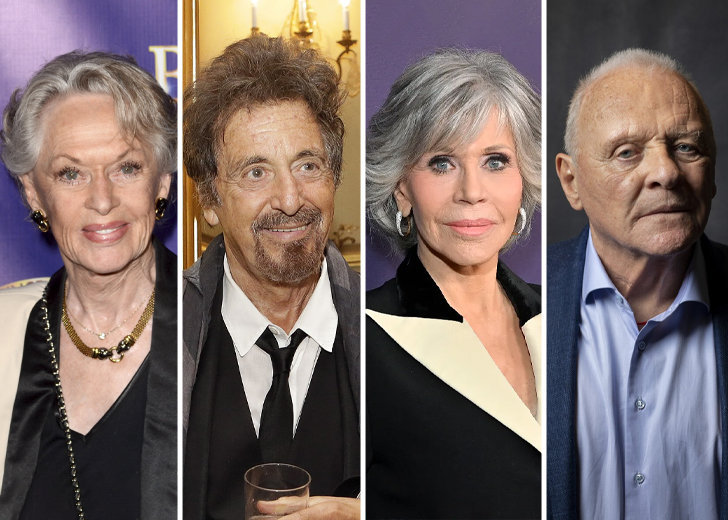 Most people's aura and presence, even Hollywood stars', disappear after a while. However, there are a few out there who are ever-present, who seem evergreen, forever young.
This doesn't, however, mean that they do not age, although many people forget they do. Only when they find out their real age, they realize time has passed by, and they've grown old, as have their favorite people.
Here is a list of celebrities over 80 whose age rarely comes to our attention, and also their then and now comparison in pictures.
Patrick Stewart
Real name: Patrick Stewart
Age/birthday: 81 (July 13, 1940)
Most famous for: playing Captain Jean-Luc Picard in Star Trek, Professor Charles Xavier in the X-Men movies, and the narrator in Ted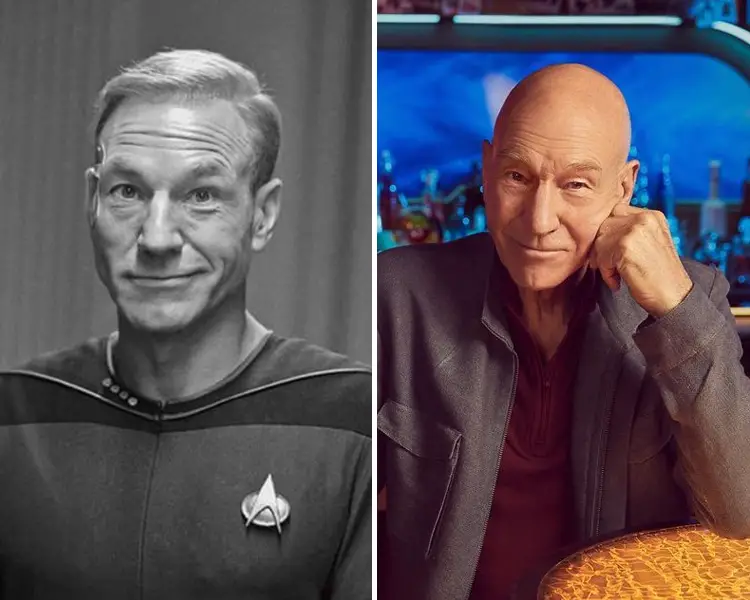 Patrick Stewart is one of those veteran actors who shows no signs of slowing down.
There are few things Stewart has done and not excelled at. He has conquered Shakespearean theater, movies, TV shows, and even voice acting. He has even sung a few tunes here and there.
In 2022, he famously reprised his role as Professor Charles Xavier in Doctor Strange in the Multiverse of Madness, and is a series regular as Jean-Luc Picard in Star Trek: Picard. On the voice acting front, he voices Avery Bullock in American Dad!
Al Pacino
Real name: Alfredo James Pacino
Age/birthday: 82 (April 25, 1940)
Most famous for: playing Michael Corleone in The Godfather film series, Jimmy Hoffa in The Irishman, Tony Montana in Scarface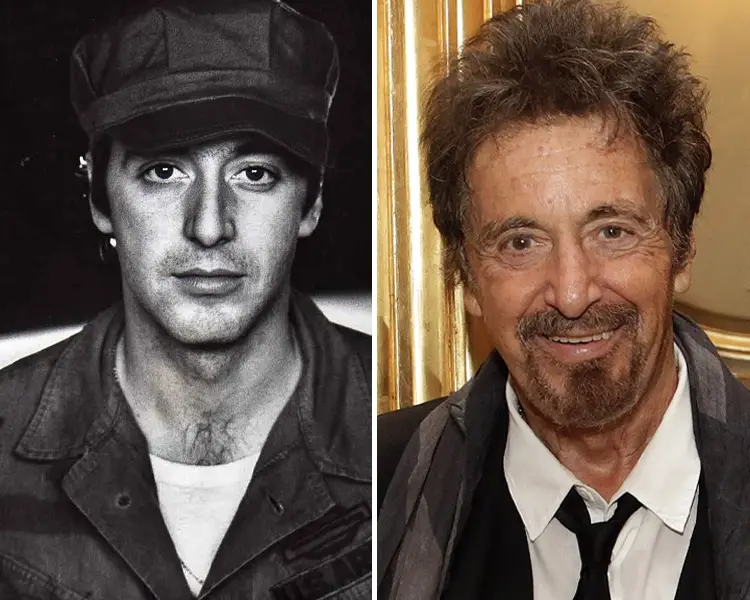 One of the most iconic actors of his generation, Al Pacino has been behind many of the greatest movies of all time. He has worked with many iconic directors and portrayed a few icons himself, and made a few characters icons themselves.
Pacino isn't done yet, though. Upcoming is King Lear, a classic Shakespearean tale in which he will play the titular role, and Sniff, which will see him portray Harvey Stride.
Chuck Norris
Real name: Carlos Ray Norris
Age/birthday: 82 (March 10, 1940)
Most famous for: martial arts expertise, playing the villain in Bruce Lee's Way of the Dragon, internet meme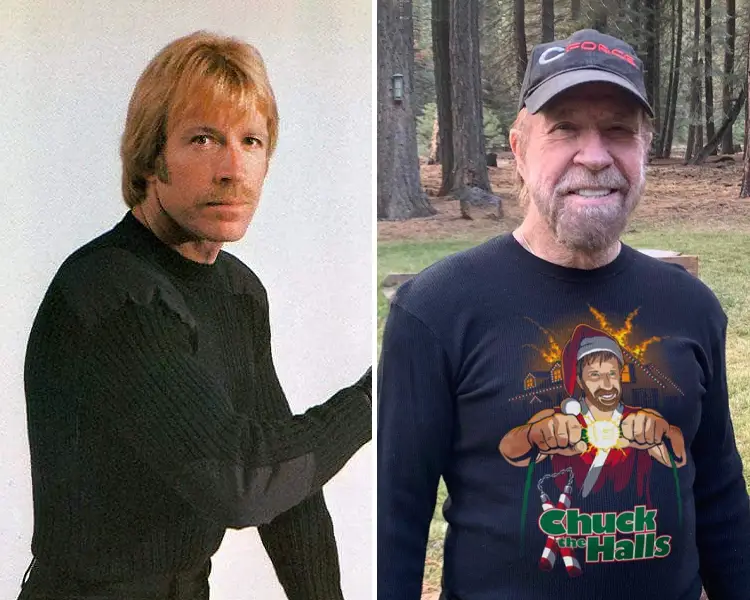 Chuck Norris is one of the OG macho guys in Hollywood, if not THE OG. Norris began his career training celebrities in martial arts and had only appeared in a handful of movies, like Bruce Lee's Way of the Dragon (on a special request from Lee himself).
However, it was at the request of Steve McQueen in 1977 that he took acting seriously. And that turned out to be a brilliant move as he became a revered action star whose action movie career lasted till 2012.
That year, he appeared alongside Sylvester Stallone in The Expendables 2 and has since not done any movies. He does, however, appear in TV shows, documentaries, and product endorsements here and there.
Now, he uses Instagram to promote products and also lives in the minds of people rent-free through memes about super strength and amazing physical feats on the internet.
Ian McKellen
Real name: Ian Murray McKellen
Age/birthday: 83 (May 23, 1939)
Most famous for: playing Richard III in Richard III, Magneton in the X-Men movies, and Gandalf in The Lord of the Rings and The Hobbit trilogies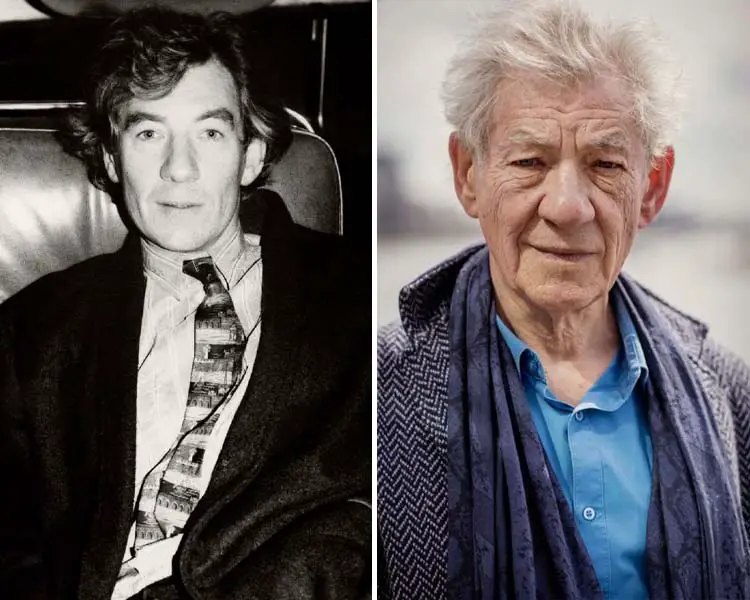 Ian McKellen has a career that is spread over 70 years, during which he has done both theater and cinematic productions. And he is taking no name of slowing down.
As of June 2022, he has three projects yet to come out, including The Critic, which he is filming. He is showing signs of aging, though, as he worked in only one movie in 2021 — Infinitum: Subject Unknown.
Jane Fonda
Real name: Jane Seymour Fonda
Age/birthday: 84 (December 21, 1937)
Most famous for: playing Bree Daniels in Klute, Coming Home, for her cameo as Brenda Morel in Youth, Grace Hanson in Grace and Frankie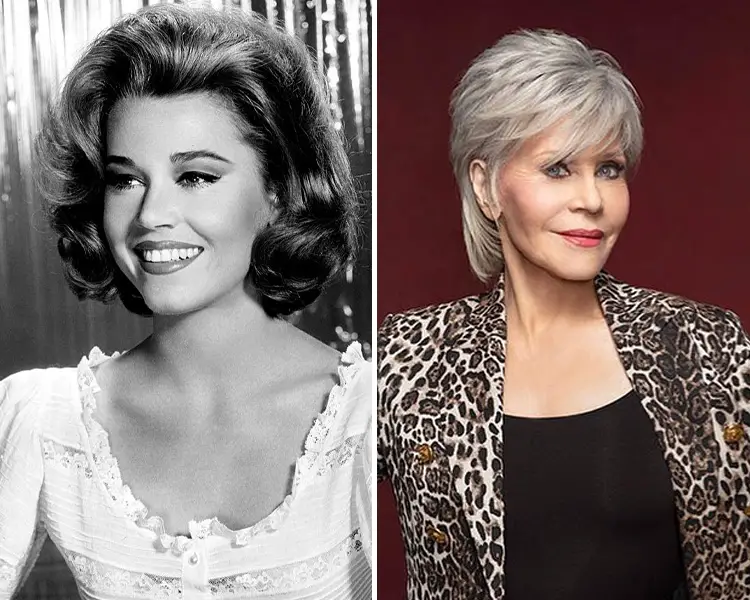 Jane Fonda started both her Broadway and screen acting the same year in 1960. She has since won two Academy Awards and many other accolades.
In 1991, she retired from acting and instead turned to make fitness videos. However, acting never left her, and in 2005, she returned to the screens. Thereafter, she has done both simultaneously, along with activism and modeling on the side.
As of June 2022, she just completed her seven-year, 94-episode stint as Grace Hanson in Grace and Frankie, and is set to appear in four upcoming projects, one of which will see her voice-acting.
Anthony Hopkins
Real name: Philip Anthony Hopkins
Age/birthday: 84 (December 31, 1937)
Most famous for: playing Hannibal Lecter in The Silence of the Lambs, Odin in Marvel's Thor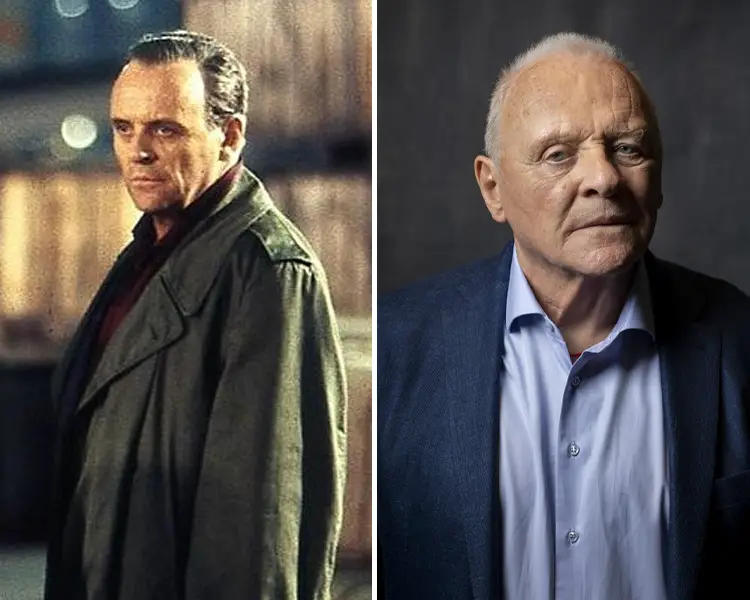 Even if you could not say that Anthony Hopkins has aged like fine wine physically, his talent has certainly stood the test of time well. The man who made Hannibal Lecter a pop-culture phenomenon is still working, still delivering mind-blowing performances in his 80s.
Most notably in recent years, he appeared in The Father and won an Oscar for his portrayal of a man losing grip on reality because of dementia, becoming the oldest actor to date to win the coveted prize, and appeared in Westworld, a confusing yet brilliant HBO series.
He's still going strong and has already worked on three projects in 2022, with three more in the pipeline.
George Takei
Real name: Hosato Takei
Age/birthday: 85 (April 20, 1937)
Most famous for: playing Hikaru Sulu in Star Trek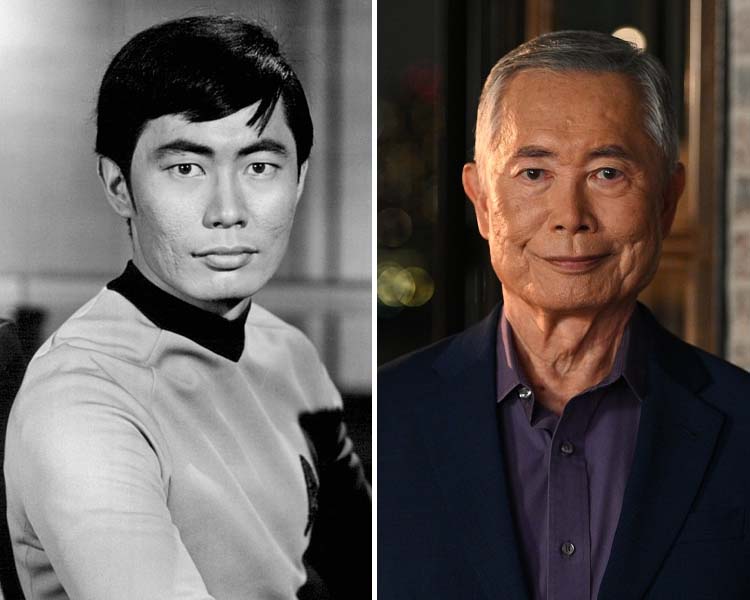 Like Stewart, George Takei, too, gained the most fame for being a part of the original Star Trek cast. He portrayed Hikaru Sulu alongside Stewart.
Since then, however, he has devoted more time to social activism and politics rather than acting. He has been an open advocate for LGBTQ+ rights and for peace.
That, though, doesn't mean he has completely given up acting. He is still involved in voice-acting roles. He can be seen (or heard) in Hit-Money, Love Monster, and Blue Eyed Samurai, the latter of which is in pre-production as of this writing.
Morgan Freeman
Real name: Morgan Freeman
Age/birthday: 85 (June 1, 1937)
Most famous for: his distinctive, universally recognizable voice, playing Ellis Boyd "Red" Redding on The Shawshank Redemption, Nelson Mandela in Invictus, and Lucius Fox in The Dark Knight trilogy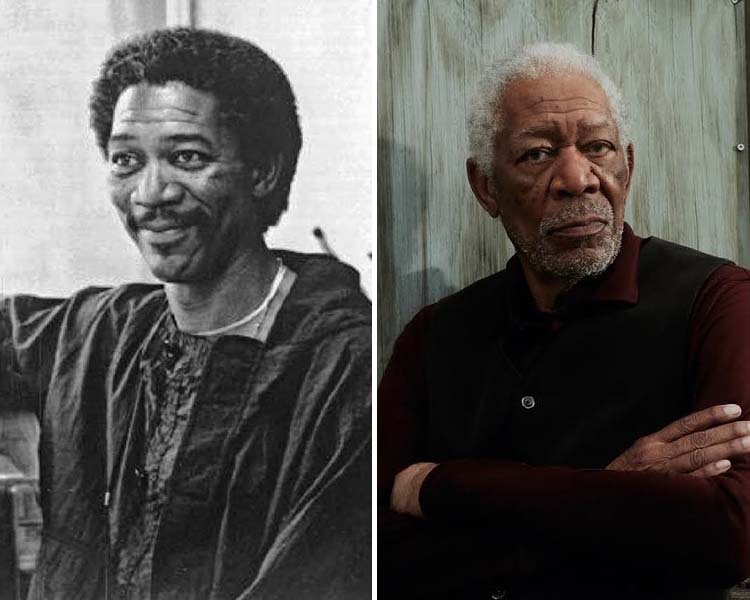 Morgan Freeman has been a part of more iconic movies than anyone could care to count, not to mention how just his voice makes some of his work unforgettable. His presence alone in a project can turn the fate of the said project.
At 85, Free is far from slowing down or entering the twilight of his career. As of this writing, he has seven projects in the works — Paradise Highway is the movie you can watch him in next.
Jack Nicholson
Real name: John Joseph Nicholson
Age/birthday: 85 (April 22, 1937)
Most famous for: playing Jack Torrance in The Shining, Colonel Nathan Jessup in A Few Good Men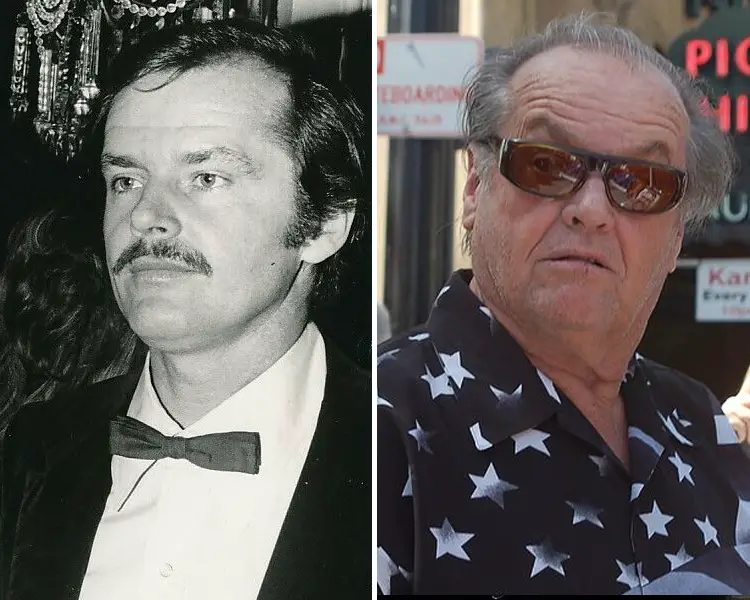 Jack Nicholson is the first actor on this list who has now retired. The actor, who has had a brilliant career behind him, still holds a few records to his name.
He is the most nominated male actor in the Academy's history, with 12 nominations and three Academy Awards wins, becoming only one of three male actors to do so. Further, he is also only one of the two actors to have been nominated for an Academy Award for acting in movies in every decade from the 1960s to the 2000s.
However, Nicholson ended his acting career in 2010, with How Do You Know being the last movie he ever worked in.
Maggie Smith
Real name: Margaret Natalie Smith
Age/birthday: 87 (December 28, 1934)
Most famous for: playing Professor Minerva McGonagall in the Harry Potter film series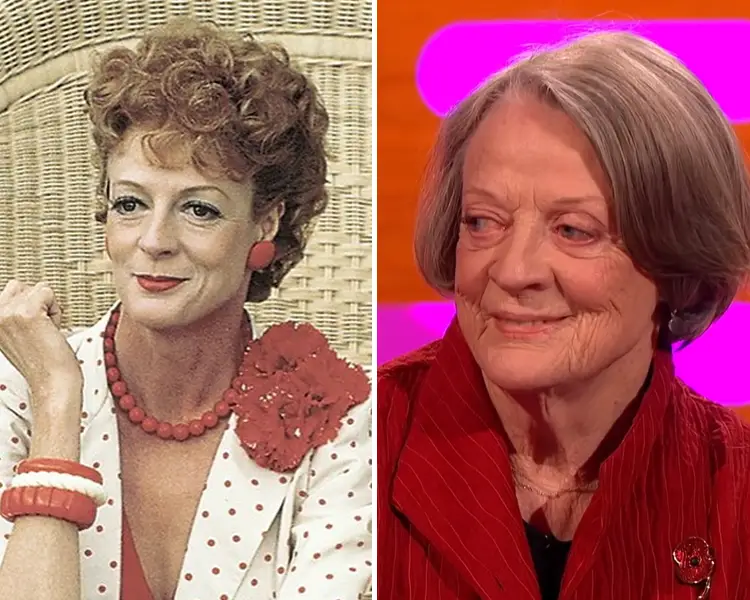 Even though Maggie Smith is mostly known for her portrayal of the stern-yet-soft Minerva McGonagall in the Harry Potter series, she had a brilliant acting career only a few can dream of matching even before that.
Smith is one of the few people to have received The Triple Crown of Acting — two Academy Awards, a Tony Award, and four Primetime Emmy Awards.
In recent years, she hasn't been actively pursuing roles, but that doesn't mean she has stopped. After appearing on Downtown Abbey: A New Era in 2022, she is now working on The Miracle Club and A German Life.
Rita Moreno
Real name: Rosa Dolores Alverio Marcano
Age/birthday: 90 (December 11, 1931)
Most famous for: playing Anita in West Side Story (1961), Millie in The Electric Company, Louise in Carnal Knowledge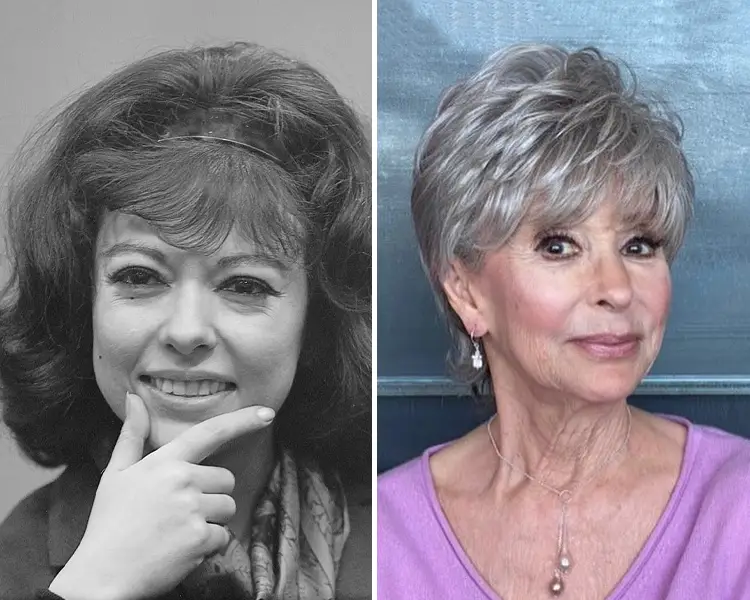 Rita Moreno made her name during the Golden Age of Hollywood and now remains the only few alive stars from that era. She is an EGOT winner and has also achieved the Triple Crown of Acting.
The iconic actress is now busy with Fast X, and voice-over work on My Father's Dragon, having just released her documentary film, Rita Moreno: Just a Girl Who Decided to Go for It, and appeared on a 2021 reboot of West Side Story, where she played a newly created character, Valentina.
James Earl Jones
Real name: James Earl Jones
Age/birthday: 91 (January 17, 1931)
Most famous for: providing the voice for Darth Vader in the Star Wars movies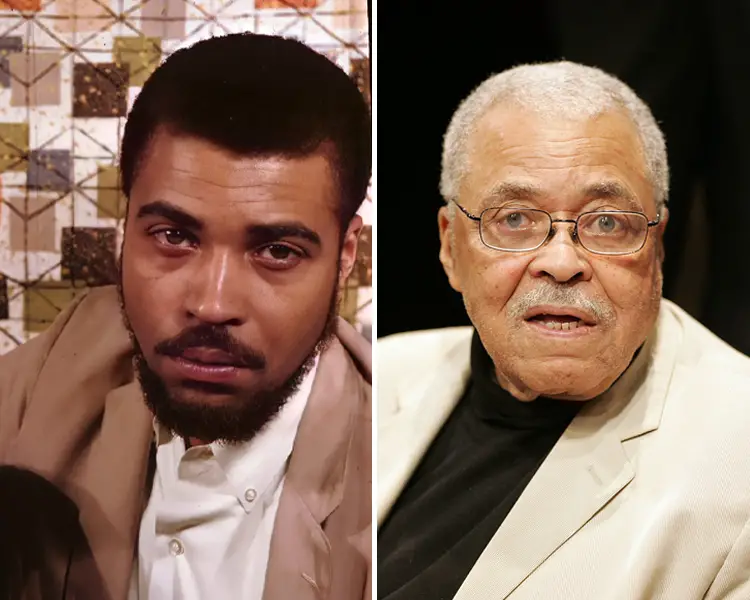 James Earl Jones, one of the few EGOT winners, is a man whose acting career spans over six decades. He began his career in theater and later translated his success there to success in the movie and TV industry.
Known for his universally recognizable voice, he is still active in the industry. While most of his recent work has been voicing Darth Vader in various animated shows, he has also been doing acting here and there. His latest work is 2022's Obi-Wan Kenobi.
William Shatner
Real name: William Alan Shatner
Age/birthday: 91 (March 22, 1931)
Most famous for: playing James T. Kirk in the Star Trek franchise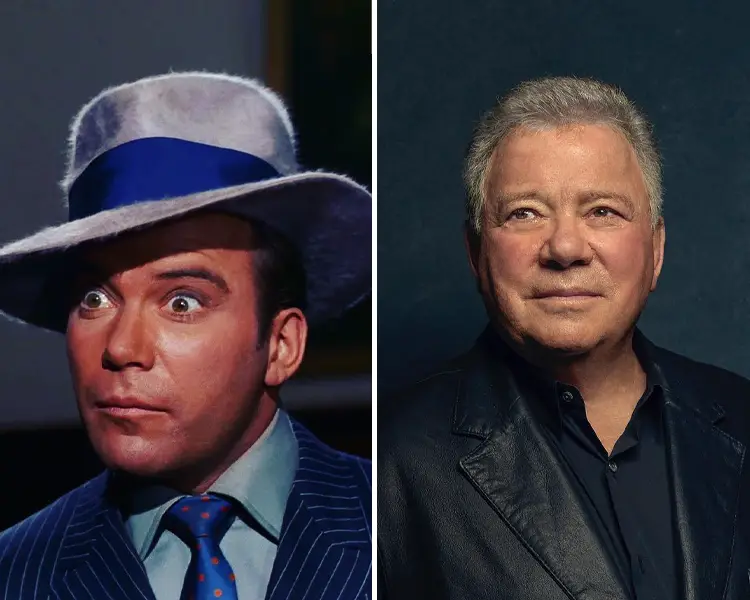 William Shatner became a household name in the TV business because of his appearances in the Star Trek franchise. Other than acting, he has also written a few books, recorded three studio albums, and even flew to space at 90, becoming the oldest person to do so.
Even though he is 91, he is still actively taking part in various charity events and is about to release a new book. On the acting front, he has been doing minor roles here and there and has two upcoming projects.
Clint Eastwood
Real name: Clinton Eastwood Jr.
Age/birthday: 92 (May 31, 1930)
Most famous for: playing the titular character of Man with No Name in A Fistful of Dollars trilogy, Harry Callahan in Dirty Harry, Frankie Dunn in Million Dollar Baby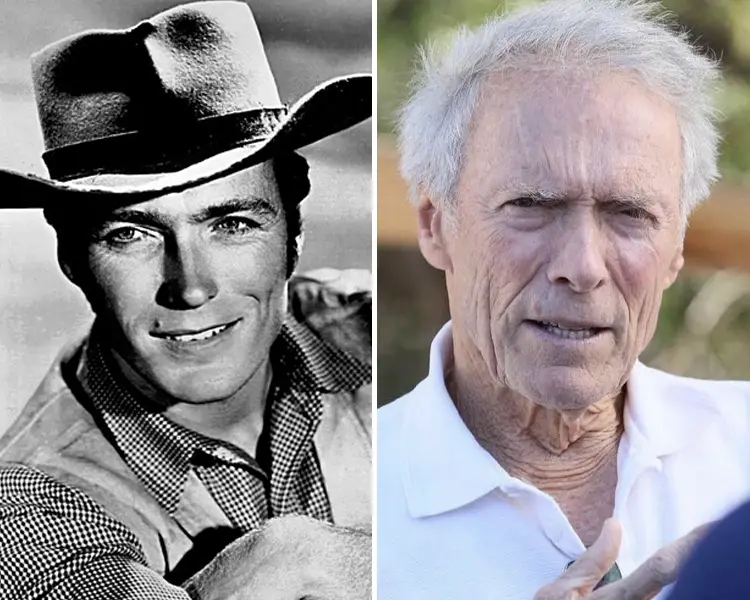 Clint Eastwood was arguably the first actor to truly become a cultural icon of masculinity, primarily through his antihero character in A Fistful of Dollars trilogy. However, it wasn't his acting that got him a few Oscars but his directing.
He is one of the few actors to have gotten the Academy Award for directing. And it's not just the entertainment business he is successful at, either.
Eastwood became the 30th Mayor of Carmel-by-the-Sea in 1986 and remained so until 1988. After this short break, he got back to making movies again.
His latest works include 2021's Cry Macho and 2018's The Mule. There are no upcoming works under his name for now, but he's certainly not done yet.
Tippi Hedren
Real name: Nathalie Kay Hedren
Age/birthday: 92 (January 19, 1930)
Most famous for: making movies with Alfred Hitchcock, modeling success in the 1950s, Roar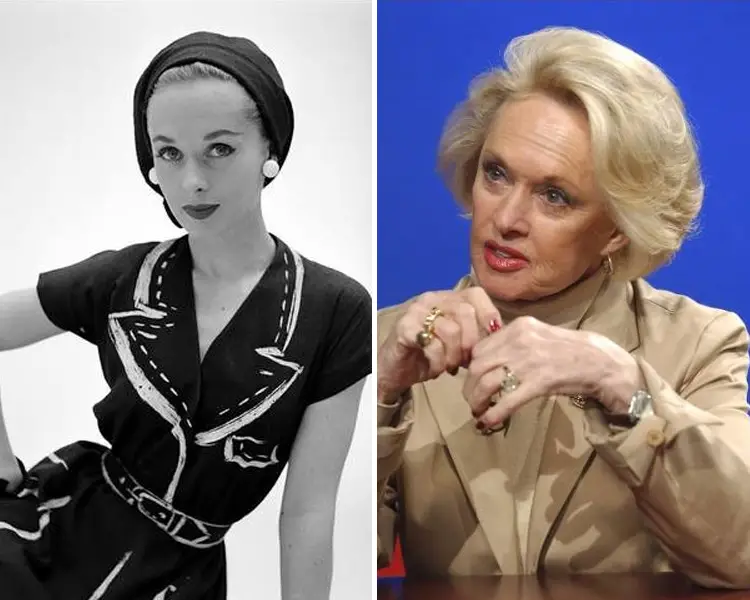 Tippi Hedren never thought she would become an actress. She was a model first and even rejected many film roles in her years as a successful model in the 1950s.
However, fate had greater things for her, and she worked with two of the greatest directors the world has ever seen — Alfred Hitchcock and Charlie Chaplin. And she would become the one to pass on her talents to Dakota Johnson.
Hedren has definitely slowed down in her acting endeavors, with a voice acting part in Something Horrible being her last acting gig. However, she is still active in other fields like animal rights activism and running her non-profit for tigers and lions, the Roar Foundation.
Bob Newhart
Real name: George Robert Newhart
Age/birthday: 92 (September 5, 1929)
Most famous for: The Bob Newhart Show, portraying Professor Proton on The Big Bang Theory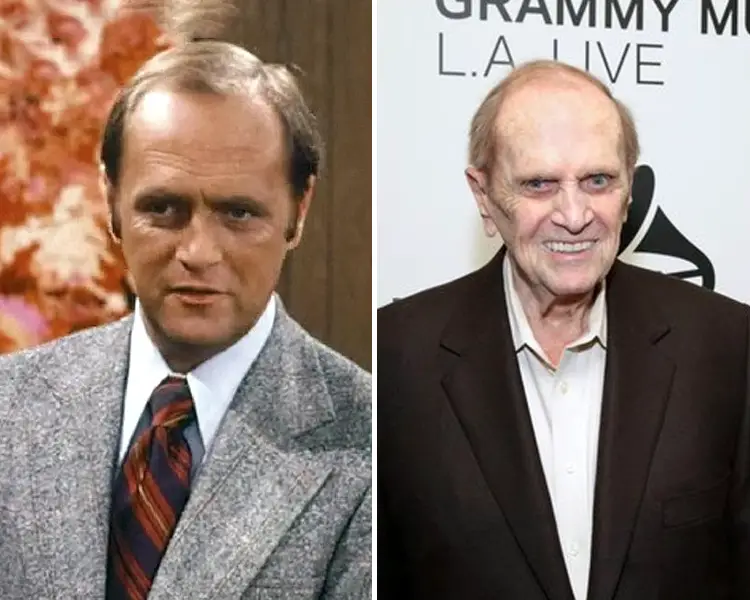 Bob Newhart first began his journey in show business as a comedian. After two Billboard chart-topping comedy albums and three Grammys, he moved on to acting and created his own sitcoms in the 1970s and 1980s.
But, it was his role as Professor Proton in The Big Bang Theory that earned him his first and only Primetime Emmy Award in 2013.
However, Newhart has definitely slowed down on his acting journey. His last acting role was in TBBT, and his last recognized acting job was being the voice of Professor Proton in the TBBT spin-off, Young Sheldon, in 2020.