Al Pacino and Girlfriend Noor Alfallah Have No Issues with 53 Years Age Gap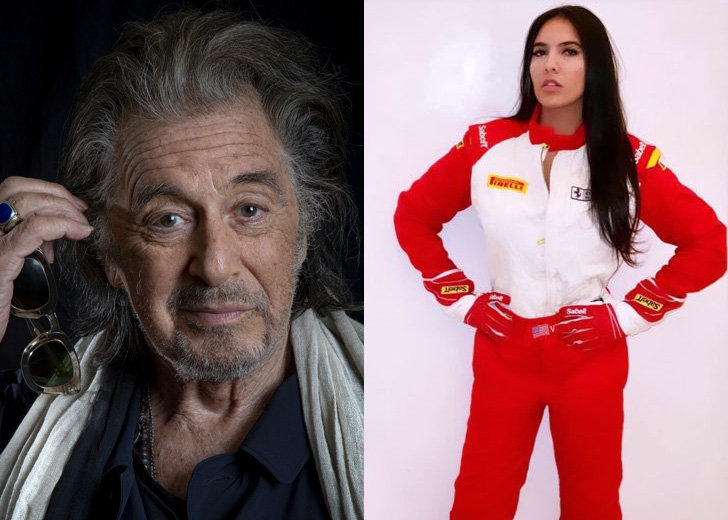 Al Pacino, one of the OGs of Hollywood, is now 81. But as he, and Hollywood at large, proves time and again, age is just a number, whether that be in performing or dating.
The Scarface actor has had his fair share of relationships with women he shares a huge age gap. But this time, it seems like he is doing better than in previous times.
His current girlfriend does not seem to mind that they share a whopping 53-year age difference.
Al Pacino Dating 53-Year Younger Girlfriend Noor Alfallah
Pacino made headlines when he was spotted with Noor Alfallah, 28, on April 9, 2022. They were pictured getting dinner at Felix Trattoria in Venice, California.

Al Pacino and his girlfriend, Noor Alfallah, have been dating for a while now, even though they share a 53-year age difference. (Photo: Twitter)
At the time, no major outlet outright speculated they it could have been a romantic outing, even though they left the venue together.
However, just days later, Page Six confirmed that it was, in fact, a romantic dinner, even though they had a lot of A-list companions around, such as Jason Momoa and Julian Schnabel.
Page Six's source claimed that the two started seeing each other during the pandemic. That means they have been dating for about two years.
Further, they also reportedly got along very well despite their age difference. "The age gap doesn't seem to be a problem, even though he is older than her father," the source added.
According to Page Six's report, Alfallah has a history of dating older men, which their insider source also conformed to. She has dated Mick Jagger (2017) and Nicolas Berggruen in the past and was also linked with Clint Eastwood. The latter, she claimed, was only a "family friend."
The couple met in Hollywood as she, too, is involved in show business, although in a small capacity. She has produced two short movies — Brosa Nostra in 2018 and La Petite Mort in 2019.
Al Pacino's Dating History
Pacino's dating history is a tale of multiple short-term relationships with women in show business. The tale starts with Jill Clayburgh.
Pacino and Clayburgh dated before he achieved the superstardom he has now. They lived in New York together and even helped each other with auditions.
They even reportedly planned on getting married and having kids, but after five years, Pacino called everything off and ended the relationship.
The next woman he dated was Tuesday Weld. This relationship only lasted a few months.
Then came Veruschka von Lehndorff, a German actress who was everyone's dream girlfriend at the time. Pacino could tie her down, but only for a little fling.
Pacino and Diane Keaton, his next girlfriend, met on the sets of Godfather. They did three Godfather movies together but only started dating after the third movie came out in 1990.
Their experience in Hollywood and mutual respect for their craft bonded them, though their bond only lasted three years.
Beverly D'Angelo was Pacino's next female partner. They met on a plane while flying between LA and New York.
For once, Pacino looked to have a stable, serious relationship. The couple, after multiple tries at conceiving, gave birth to twins — Anton and Olivia — in 2001 through IVF.
After their birth, however, things went south for the couple. By 2003, they grew bitter with one another and got into a custody battle they later had to settle privately in 2004.
His longest relationship yet came next. In 2008, Pacino started dating Lucila Polak, and the two quickly started thinking about marriage and kids.
However, things with Polak ended similarly to how his first relationship finished. This time, it was Polak who was not ready for such long-term commitments. They reportedly broke up in 2019.
Meital Dohan is the Oscar-winning actor's most recent ex-girlfriend. They first started going out, presumably, right after things ended with Polak, but the timeline is a bit confusing.
Pacino and Dohan were together for approximately two years, but things ended because of the age gap they shared. According to her, even though he was a legendary actor, he was still an "elderly man."
"So even with all my love, it didn't last," Dohan said in February 2020. Another thing she was upset about him was his unwillingness to spend money.
"How can I say politely that he didn't like to spend money? … He only bought me flowers," she piled on.
Nevertheless, she was still grateful that they dated, and she wished they could remain good friends.