Morgan Freeman Divorced His Second Spouse Following His Car Accident — Inside His Personal Life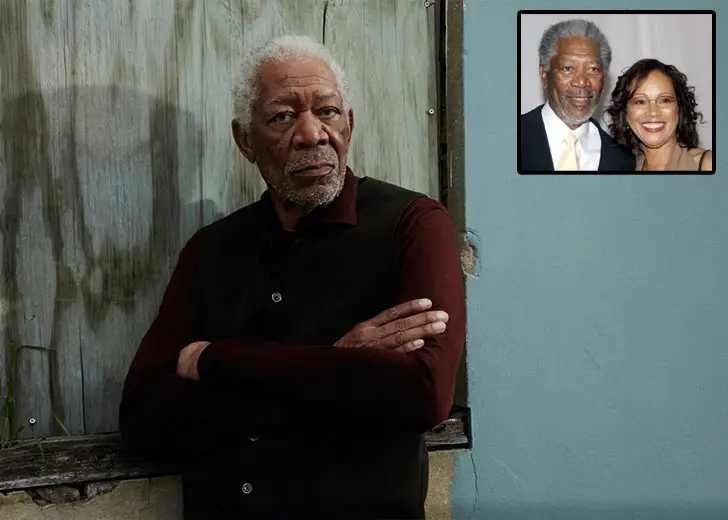 Veteran actor Morgan Freeman needs no introduction.
Throughout his career, he has showcased his impeccable performances in notable films such as The Shawshank Redemption, Million Dollar Baby, and Christopher Nolan's The Dark Knight Trilogy.
But what many might not be familiar with is his personal life. Freeman has married twice; however, both of his marriages ended in divorce.
Morgan Freeman's Relationship with First Spouse
The Hollywood star was reportedly married to Jeanette Adair Bradshaw — his first spouse — from 1967 to 1979.
The former couple raised two children [both daughters] — Morgana Freeman and Deena Freeman.

Morgan Freeman with his first spouse Jeanette Adair Bradshaw. (Photo: Twitter)
And while the actor welcomed Morgana into his family with his first spouse, he adopted Deena, who is Bradshaw's child from a previous relationship.
Freeman and Bradshaw parted ways after 12 years of marriage without disclosing the reason behind their separation.
But Celebs Suburb reported, "Several online tabloids suggest that Morgan's infidelities might have been the reason behind the downfall of their marriage."
Morgan Freeman Later Married Myrna Colley-Lee
After ending his marriage to Bradshaw, Freeman found love in his second spouse, Myrna Colley-Lee, a former commissioner for the Mississippi Arts Commission.
The two reportedly met through a mutual friend before they walked down the aisle in June 1984.
The couple managed a low-key life — away from the spotlight — and lived in Tallahatchie County in northern Mississippi.
In December 2007, Freeman and Colley-Lee separated and knocked on the court's door for a divorce after 26 years of being married.
The reason for the split was once again not revealed in public.

Morgan Freeman with his second wife Myrna Colley-Lee. (Photo: Twitter)
That said, rumors suggested that it was due to Freeman's infidelity, which he later denied.
The Things noted —
[Myrna] and Morgan Freeman were caught up amid a legal battle for three very long years. Morgan Freeman continued to deny allegations of infidelity, and Myrna Colley-Lee stood steadfast in her expectations for what she felt she was owed after 26 years of marriage.
The divorce was eventually finalized after almost three years of the legal battle in September 2010.
Morgan Freeman's Got Divorced from Spouse after His Car Accident
In hindsight, Freeman's divorce from his second spouse came after his serious car accident. The accident reportedly took place in Mississippi in August 2008.
According to Evening Standard, the actor was airlifted to hospital with multiple broken bones.
He suffered a broken arm, broken elbow, and shoulder damage and spent four and a half hours on the operating table.
The report also revealed that the actor wasn't alone during the accident, as Demaris Meyer — a friend the actor met on the same day of the accident — sat on his 1997 Nissan Maxima's passenger seat.
Meyer later sued Freeman for driving while being drunk and asked to pay for her medical costs, lost wages, and damages for pain and suffering.
Is Morgan Freeman Married Now?
The actor has not got married after his second divorce in 2010. But he has been linked to a few women.
For instance, he was on the news in June 2016 for kissing actress Marcia Gay Harden on the lips at a CBS event.
Similarly, Freeman was also reportedly dating producer Lori McCreary for many years. At present, their relationship status remains concealed.