Maggie Smith Chose to Spend Time with Grandchildren over Looking for Love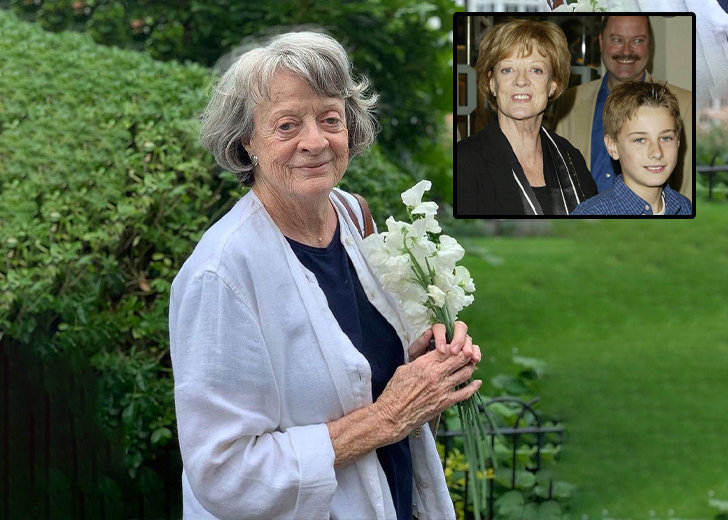 Perhaps one of the most recognizable faces in the entertainment industry is Maggie Smith. With many projects and accolades under her belt, the actress has a colorful career. 
The same is with her personal life as well. She has been married twice to date and has two sons, Toby Stephens and Chris Larkin.
Smith has five grandchildren from her sons — Kura Stephens, Eli Alistair Stephens, Daisy Grace Stephens, Nathaniel Stephens, and Tallulah Stephens.
The actress loves her grandchildren a lot and once even mentioned that she would rather spend time with them than find another love in her life. 
Here is everything about her personal life and grandkids.
Maggie Smith's Husbands and Kids
Smith has been married twice to date. Her first marriage was to actor Robert Stephens on June 26, 1967. 

Maggie Smith in an interview with CBS Sunday Morning. (Source: YouTube)
The two got a divorce after seven years of being married on April 6, 1975. However, the couple was blessed with two kids from the marriage. 
Toby and Larkins are Smith's only children since she did not bear any kids from her second marriage. Her second husband was the playwright and screenwriter Alan Beverley Cross. 
The duo married on June 23, 1975, and was together until Cross' death on March 20, 1998. Since then, she has maintained the status of being a widower.
She finds far more joy in spending quality time with her grandchildren and intends to keep it that way.
Maggie Smith's Grandchildren 
Chris Larkin is a prominent actor of his degree in the UK. That being said, Larkin is actually his stage name to distance himself from the nepotistic influence his family connections may bring him. 

Maggie Smith's son, Chris Larkin, and her grandson. (Source: Instagram)
In a 2018 editorial, Larkin candidly spoke about growing up in a household of two industry giants.
He is the elder son, and he recalls his childhood as a pleasant experience that others in the same situation may not have been fond of in the current generation.
He now has two beautiful children, Daisy and Nathaniel. Both of them wouldn't dare to tell anyone at their school that they were the grandchildren of Prof. McGonagall from Harry Potter.
Toby has an illustrious career in acting, having been a highly lauded Bond villain, Hamlet, Mr. Rochester, among others. And much like his elder brother, he, too, is a father. 
His first son, Eli, was born in 2007, and his daughters, Tallulah and Kura, were born in 2009 and 2010 respectively. 
Being a dad of three, Stephens has been reported to feel a sense of duty to keep the ball moving.

Maggie Smith on The Graham Norton Show. (Source: YouTube)
He commented that his ambition is to direct for the stage and screen and work towards finding a matter that strongly resonates with him.
 And speaking of responsibility, he also is a strong advocate for gender equality in the film industry.
From wage disparities and harassment to a lack of women directors, the father of two girls is a spearhead in the issue.
His wife, Anna-Louise Plowman, is an actress, and he feels a need to make Hollywood better for his wife, others like her, and the next generation to come.  
And while they grow up to be a success themselves, the three grandchildren are having a blast growing up with Smith.
However, she did take up a minor issue with Tallulah's name. The name reminded her of Tallulah Bankhead, an actress of reputation but an unsavory personal life riddled with substance abuse.