Dakota Johnson's Big Hollywood Family — Get To Know Her Parents and Siblings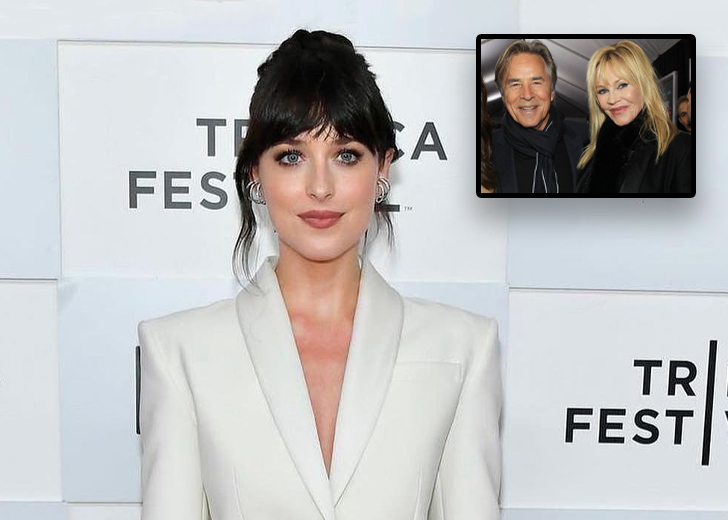 There are some Hollywood celebrities who are born into acting. And then there's Dakota Johnson.
The Persuasion actress's family tree is almost entirely made up of actors and Hollywood heavyweights. She was born into a family of Hollywood royalties and grew up loving the craft.
However, thinking she had an easy way into stardom would be going a bit too far. She made her own way into her current fame, even if she obviously has acting genes in her.
Dakota Johnson's Family Tree Is All Showbiz
Dakota was born on October 4, 1989, in Austin, Texas, to actor parents Don Johnson and Melanie Griffith. She is their only child, and they separated in 1996.
While Don did not have an acting heritage (his father was a farmer and his mother a beautician), Dakota's maternal grandparents were Hollywood royalties. Griffith's parents were Tippi Hedren and Peter Griffith.
Tippi (full name: Nathalie Kay Hedren) is a successful former fashion model and actress, having worked in movies with the great Alfred Hitchcock and appeared on the covers of Glamour and Life magazines. She has a star on the Hollywood Walk of Fame and has even been awarded the Jules Verne Award.
Peter, too, had done acting on Broadway as a child but later moved to advertising. He worked as an advertising executive before his death in 2001.
While Melanie was the only child Peter had with Tippi, he had two more children with his second wife, Nanita Greene — daughter Tracy Griffith and son Clay A. Griffith. Tracy, too, became an actress, whereas Clay went into set design.
Melanie began acting when she was just a child and appeared in a Hitchcock movie her mother was in. She had her first major acting job at 17 on Arthur Penn's Night Moves and also appeared alongside her mother in 1981's Roar.
Dakota does not have any biological siblings, but she has six step-siblings.
On her mother Melanie's side, she has two — half-brother Alexander Griffith Bauer (born on August 22, 1985) and half-sister Stella del Carmen Banderas (born on September 24, 1986).
On her father Don's side, she has four step-siblings — half-brothers Jesse Wayne (born on December 7, 1982), Jasper (born on June 6, 2002), Deacon Johnson (born on April 29, 2006), and half-sister Atherton Grace Johnson (born on December 28, 1999).
Many of her step-siblings, including Stella, Grace, and Jesse, are already making a name for themselves in Hollywood. Jesse is a producer and musician with a bit of acting experience, Stella is a model signed with IMG Models, and Grace is a model, entrepreneur, and actress.
Dakota Johnson's Parents Didn't Want Her to Pursue Acting
If anyone was in a place to launch her acting career by using family leverage, it was Dakota. The actress practically grew up on sets and watching legendary actors be brilliant at their jobs.
But Don and Melanie weren't keen on their daughter pursuing a career in Hollywood early in her life. They wanted Dakota to, as she put in during her interview with W Magazine in January 2022, "have as much of a childhood as I could."
Dakota, however, "couldn't wait" to become an actress. She even had a bit of back and forth with her father regarding the same.
After high school, Don wanted her to go to college. Dakota, however, didn't want to. But he was going to provide her with no financial support if she didn't attend college — a deal he made with all his five children.

Dakota Johnson with her parents, father, Don Johnson, and mother, Melanie Griffith. (Photo: Twitter)
She hesitantly applied to Juilliard School but got rejected. She still worked instead of attending an acting school.
During an interview with SiriusXM's Stars, she recalled "having, like, $47" in her bank account and not being able to buy groceries. It was the life she chose, and she didn't regret it.
Just months after getting off her father's payroll, she landed her small role in 2010's The Social Network. Since then, her roles have gotten steadily bigger, and the same has happened to her stature.