Is Maggie Smith Still Alive? Was Diagnosed with Cancer at 73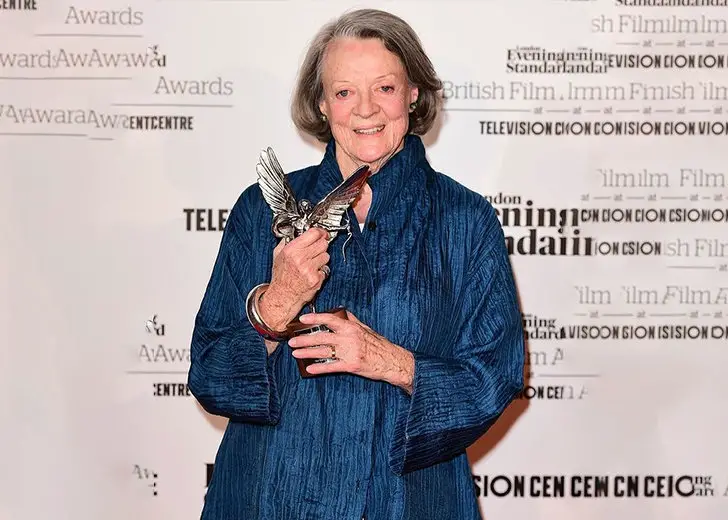 Maggie Smith is the epitome of genius. She brought to life every character she portrayed in her decade-spanning career —  be it Violet Crawley in Downtown Abbey or the famous Professor McGonagall in the Harry Potter film series. 
In early 2022, her loyal fans and followers couldn't help but speculate that she had passed away.
The speculation spurred after Smith didn't return on the Harry Potter reunion special Return to Hogwarts that aired on HBO Max on New Year's Day. Her archive footage was instead used on the episode. 
As a result, the internet was flooded with questions regarding her whereabouts. So, 
Is Maggie Smith Still Alive?
Smith has battled with a few health complications in her life, but that is in the past as of this time of writing. That is to say, she is alive and better than ever at 87. 

Maggie Smith in 'The Graham Norton Show' in October 2015. (Source: YouTube)
Unlike in her heyday, she now plays granny characters. "I've been playing old parts forever. I play 93 quite often," she mentioned in an interview with Vanity Fair in March 2013.
The Oscar-winning actress opined it would be a burden if "you're one of those fantastic stars who've always been beautiful." She implied she had no shame in playing senior roles. 
Elsewhere in the interview, Smith got candid about plastic surgery. She remarked she might have opted for the change if she had discovered it early in her life, ruling out the possibility of going under the knife in the future. 
The veteran actress also joked about why she didn't make public appearances anymore.
"I truly think if I went to Los Angeles, for example, I think I'd frighten people," she quipped, adding that older people didn't attend such events. 
Although Smith embraces her old age, she isn't a fan. "I don't like it at all, but then I don't know who does,' she told on 60 Minutes(reported by Recapo.) She expressed she could not understand why time was flowing so fast. 
Maggie Smith's Bout with Cancer
Smith was diagnosed with breast cancer in 2008, at the age of 73. She had to undergo treatments, including chemotherapy while filming for Harry Potter and the Half-Blood Prince. 

Maggie Smith during an interview on '60 Minutes' in 2013. (Source: YouTube)
In an interview with The Times (via The Daily Telegraph) a year later, Smith shared the thought of not being able to return to the stage left her terrified.
She added she had lost confidence in her abilities, although she wanted to work again in theatres. "I would love to be able to, because I do love it, but I feel a great lack of confidence."
Smith recounted that her age made her recovery challenging. "It takes you longer to recover, you are not so resilient," she explained.  
As per her accounts, there were times she thought she could not make it. Despite all challenges, she completed filming the movie and won against the disease. 
"The last couple of years have been a write-off, though I'm beginning to feel like a person now," she stated at the end of the interview.