Jane Fonda Vowed Not to Get Any Plastic Surgery in Future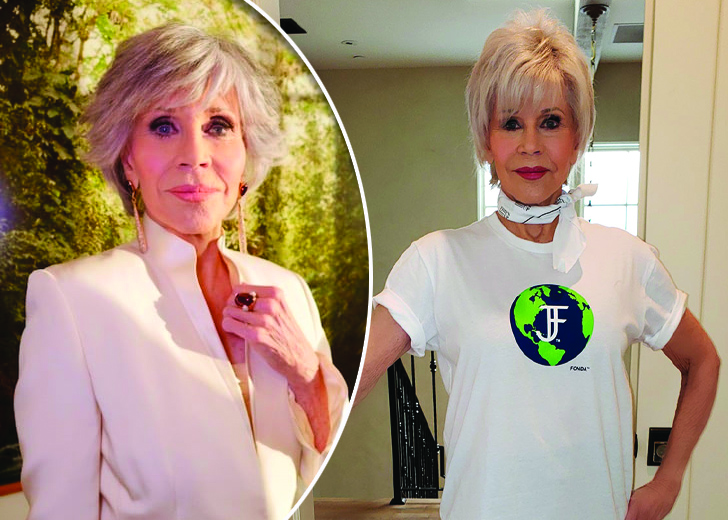 American icon Jane Fonda has been at it for the better part of six decades. The actress and activist has been on everyone's screens all this time and looked fabulous doing so.
She's not all-natural, though. To everyone's queries such as "Did Jane Fonda have plastic surgery?" — yes, she did. Multiple times.
Fonda isn't shy about her cosmetic alterations, either. She has always been honest about her struggles with body image and things she has done to feel better over the years.
But, she put an end to the urges to alter herself physically and now focuses on accepting herself as she is, instead.
Jane Fonda's Plastic Surgery — A Rundown
Fonda has had a lot of work done on her over the years. The Grace and Frankie star has openly admitted to getting work done on her eyes, chin, and jawline.
"I got tired of looking tired when I wasn't," she said in her HBO documentary about her life, Jane Fonda in Five Acts (via People).
She had some of these surgeries just two weeks before 2010 Valentine's Day and had a few others in the late 1990s. Fonda opened up about these in her blog on February 16, 2010.

Jane Fonda in September 2021, a year after she swore off plastic surgery. (Photo: Jane Fonda/Instagram)
"I just had some 'work' done on my chin and neck and had the bags taken away from under my eyes," she wrote and got a new haircut to match her new facial looks.
That Valentine's Day, she went to a party and told her friend, bob Evans, about that. He was pleasantly surprised as he had heard no one admit to getting plastic surgery before. She, however, wasn't planning to keep it a secret.
"I was planning on blogging about it anyway so who cares?" she added. She was writing a book about aging; she couldn't avoid the topic, anyway.
"I wanted a more refined chin line like I used to have," she admitted in her writing. She was glad she did not look "pulled or weird....or tired all the time," but her crow's feet were still "alive and well."
Jane Fonda's Thoughts on Plastic Surgery over the Years
In that same blog, she said she "swore" in 2000 she would not have plastic surgery again. But she was tired of how she looked different from how she felt. "So I changed my mind," she confessed.
Fonda grew up in a family "where there was not a lot of laughter. A long line of depressed people," as she put it during her The Guardian interview in 2015. And that was the root of her problems with bulimia and self-confidence.
"I was taught by my father that how I looked was all that mattered, frankly," she told Harper's Bazaar in 2011. "Unless you look perfect, you're not going to be loved."
She developed bulimia when young and also battled with body image issues. She wasn't "very happy" from her puberty to 50.
She dealt with bulimia when she was in her 40s, but her bout with her own image persisted long after. The actress even admitted to having "no confidence" during her appearance on Loose Women in November 2018.
So, she turned to cosmetic procedures to feel better about her looks. However, she was always in two minds about that, and more so recently.
"On one level, I hate the fact that I've had the need to alter myself physically to feel that I'm OK," she told People. "I wish I wasn't like that."
She said the same thing to The Guardian and thought the surgeries had bought her a decade. She knew the problem with surgeries, though — people tend to go too far once they see good results, and it turns into an addiction.
Fonda also attributed the rise in plastic surgeries to sexual abuse on women. "it has a lot to do with why women are distorting their faces with plastic surgery," she told the publication.
By 2011, she changed her perspective on getting further surgeries. "It took me awhile to sort of move back into myself and become an embodied person," she confessed to TODAY in 2011.
And a decade later, she swore off surgeries again. "I can't pretend that I'm not vain," she told ELLE Canada in February 2020. "but there isn't going to be any more plastic surgery—I'm not going to cut myself up anymore."
The icon was working every day on being more self-accepting and honest to everyone about her struggles, which were mostly a background thing. Her love for fitness has also helped her maintain her beauty at her age.
Fonda, who once wanted to be "a somewhat more glamorous grandma," is now striving to be open regarding self-acceptance, body image, and demons that haunt her within.