Patrick Stewart Met Wife Sunny Ozell When She Was Waiting Tables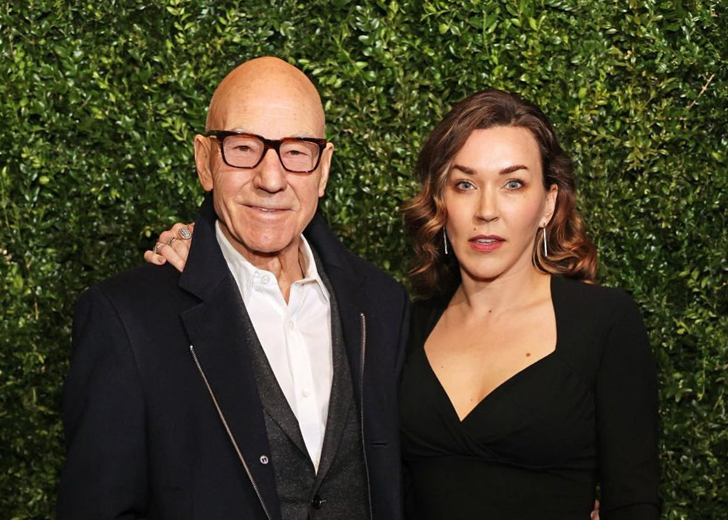 "It was an immediate attraction."
That was what Sir Patrick Stewart had to say about his romance with his now wife, Sunny Ozell, in 2015. The couple met in New York in 2008.
They connected over Macbeth, a play he was starring in, and she wanted to watch. He got her in despite the theatre already being booked out and even blindly trusted her with his personal phone number.
Patrick Stewart and Wife Were at Opposite Ends of Hollywood Fame
The first time Ozell saw Stewart, she was starstruck. That was at a Brooklyn pizzeria where she was working as a waitress. 
He was in the restaurant for dinner with a couple of other people, and she was to offer his table desserts on the house. So, she walked to the table, offered the food, and that got the two talking.
The conversation quickly turned to how much she wanted to see Macbeth. As it happened, he was on a Broadway run for the same drama right after the Brooklyn one.
Stewart told Ozell that and just offered her his private cell phone number. It was his instinct at play, and despite the huge odds that she could be one of the crazy Star Trek or X-Men fans, she turned out not to be.
"It was the only time in my life I've given someone my telephone number," he recalled while talking to People in March 2022. He assured her he could get her a ticket.
And he did. Ozell even went backstage after the play, which first led to dinner together and life later on.
Besides being a server, she was an aspiring jazz singer who had just turned 30
Stewart, on the other hand, approaching 70, was a big name running away from Hollywood fame with theatre plays. In a way, they were at the opposite ends of the life spectrum that Hollywood provides you with.
"It was an immediate attraction," Stewart said. "I felt I was talking to a really nice, intelligent, interesting, gorgeous woman. It's rare that those elements all come together at the same time."
The connection started by Macbeth was kept going by their common love for music. He admired her singing and even helped her meet some of her idols.
How Their Families Handled Their Relationship
Stewart and Ozell don't just share a love for one another; they also share a huge age gap. The Star Trek actor's spouse is 39 years his junior.
Her father is five years younger than Stewart, and she is around a decade younger than his children from his first marriage to Shiela Falconer. And even though none of that mattered to them, her father did not approve of their romance at first.
As the couple confessed to Daily Mail in 2015, her father was "not thrilled" with the prospect of his daughter being with someone older than him. But they later sorted out their differences and became friends.
"He rings me up and says, 'Hey son, it's your father here.'" Stewart joked.
For Ozell, her biggest fear was in meeting Stewart's children. "I didn't want to force myself on them but they were very welcoming," she confessed.
Despite all these, they stuck together and got married in September 2013. Stewart took to Twitter to announce his wedding on September 8, 2013, with a picture of the couple enjoying themselves in a ball pit.
They were married by Sir Ian McKellen, Stewart's longtime friend. The couple's wedding ceremony was held at Lake Tahoe, Nevada.

Sir Patrick Stewart with his wife, Sunny Ozell, at the 2021 Emmys. (Photo: Sir Patrick Stewart/Instagram)
Despite it being almost a decade since they got hitched, Ozell kept Stewart on his toes in 2022.
"I've never met anyone like her before," Stewart gushed to People. "She is so smart and so informed. And her intellectual accomplishments are extraordinary. She remembers everything."
He was even planning to go somewhere quiet with his wife, but she believed he could tolerate the silence for about two weeks before he felt the need to get back to work.