Jesse Rutherford and Girlfriend Billie Eilish Dating History post his Breakup with Devon Lee Carlson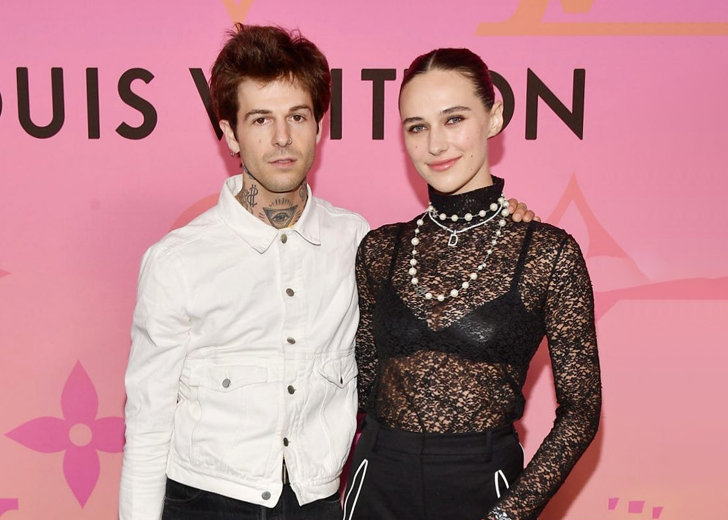 Love is in the air! American singing couple Jesse Rutherford and Billie Eilish are a new power couple without a shadow of a doubt. The couple has been publicly dating since October 2022.
Although the couple has faced criticism from some because of their age difference of more than ten years, they are totally lovey-dovey with one another. 
Of course, this article will delve into when and how they got together and their feelings for one another. They were recently spotted attending and exiting the Super Bowl as a power couple. 
More articles on Billie Eilish

Vinnie Hacker and Billie Eilish Dating Rumor Explored

Billie Eilish's Parents Went through Grueling Fertility Treatments before Having Her

Does Billie Eilish Have a Sister? A Look inside Her Family Life

'It's Very Dehumanizing': Billie Eilish's Fans Need to Stop Speculating on Her Sexuality!

Billie Eilish as Never Seen before — The Story behind Her Internet-Breaking Transformation
What is Billie Eilish's age?
Born on 18 December 2001 in Los Angeles, California, to actress Maggie Baird and actor Patrick O'Connell, Eilish's age is 21 as of writing. Her boyfriend, Jesse Rutherford, is ten years older than Eilish. He was born on 21 August 1991 in Newbury Park, California, U.S. He is 31 years old as of writing. 
Why Billie Eilish and boyfriend Jesse Rutherford's age gap is controversial?
Billie Eilish and Born to Blonde star Jesse Rutherford's age gap has also brought them controversies. Eilish brother, Finneas, has had to defend his sister's relationship with her boyfriend, Jesse.
However, Eilish and The Neighbourhood singer Jesse remain unbothered about their age gap. Even when the duo sparked dating rumors in October 2022 after they were spotted publicly involved in PDAs together, either holding hands, having dinner, or kissing, they started facing criticisms online due to their age.
Mainly on Twitter and TikTok, many jumped on the bandwagon of ridiculing the Happier Than Ever singer and Jesse's 10-year age difference after their relationship went official. 
One fan on Twitter wrote, "Jesse Rutherford is too old for Billie Eilish and it is made worse by the fact that he met her when she was barely 16." Another user tweeted, "When she's 30 she's gonna look back at this and see exactly what we're all seeing now."
Another reason why many fans were furious over Eilish and Rutherford's age difference also had to do with lyrics from one of Rutherford's old songs from 2015 titled 'Single,' which seemingly tells a story of an adult dating a young girl. Here are the most controversial parts of the song for your reference. 
I don't know if we should be alone together/ I still got a crush, that's obvious/ If nobody's around, what's stopping us?
Just a baby, but she's growing up so fast/ And I'm allergic to the waiting/ She's just a baby girl/ And I love to watch her dance/ But it's making me go crazy.
And at the time of the song, Rutherford, then 24 years old, was in the first year of dating Devon Lee Carlson, 21, who was also featured in the song's video. The song might have been a reference to the time when they met in high school.  
Moving forward, Billie Eilish and Jesse Rutherford were first spotted holding hands at Horror Nights in Los Angelos. Later, they also faced criticism when they were snapped in Halloween-themed costume pictures in which Eilish was seen donning a baby costume, whereas Rutherford dressed up as an aged man. The couple was likely making fun of their long age difference in a lighthearted manner, which some thought "disturbing." 
Still, the pair pulling off the Instagram picture, sarcastically representing their relationship, with Eilish and Rutherford dressing up in the baby-old man theme, proved they were committed to their relationship.
Truly, the pair has risen above never-ending criticism, and according to Eilish, who usually doesn't bother to speak about her personal life unless there's a sense of exclusivity, she is inspired by her boyfriend, Jesse Rutherford, who had been her crush for years. 
"I managed to get my way to a point in my life where I not only was known by a person that I thought was the hottest f**king f**ker alive, but pulled his ass! Are you kidding me? Can we just [get a] round of applause for me? I pulled his ass! All me! I did that s**t! I locked that motherf**ker down!," Eilish commanded, talking with Vanity Fair.
"I'm really inspired by this person and you know he's inspired by me, it's really cool," the famous songstress added.
The pair had known each other since 2017 when Eilish was only 15. Eilish has described meeting him for the first time as "crazy." "I love him so much, oh my god. He's so good, bro," she shared with NME. 
 And if you didn't know, Eilish's first concert was that of The Neighbourhood, which took place at The Shrine in 2015. 
Is Jesse Rutherford Married? Does he have an ex-wife?
Alt-rock singer Rutherford hasn't been married yet, but he has had prior dating relationships with the likes of Anabel Englund and Devon Lee Carlson before Billie Eilish. 
Who was Jesse Rutherford dating in the past? His relationship and dating history
Drama & Confirmed singer Jesse Rutherford and social media star  Devon Lee Carlson, co-founder of Wildflower Cases, were a popular couple when they dated and were also known as a fashion couple.
The couple had been together since 2015, sharing their love story on social media, especially Instagram and TikTok. From their fashion sense to their relationship, they inspired many people. 
As a result, many people looked up to them. They were even named the "2019's most 2019 couple" by GQ. 
However, it seemed like there was trouble in paradise. After dating for over six years, the couple separated and went different ways in 2021.

Jesse Rutherford and Devon Lee Carlson posing for a picture. (Source: Instagram)
Devon confirmed their break up on the Call Her Daddy podcast in September 2022. However, as per reports, the couple parted ways in November 2021 after being together for six years. Here is everything we know about their split. 
Previously, Rutherford was in an on-again-off-again relationship with singer Anabel Englund before their breakup in 2014. Born on 1 September 1991 in New York City, Englund is best known for her collaborations with electronic and house music artists such as Hot Natured and MK.
Why did Jesse Rutherford and Devon Lee Carlson break up?
The rumors of their alleged breakup started in November 2021 after fans and followers noted Carlson had changed her TikTok bio. It previously read "Jesse's girlfriend," but at the time, it said, "no bio yet."
Many of her fans questioned it on Carlson's TikToks, but the latter did not respond to any of them. Around the same time, Rutherford also deleted all posts on his Instagram and unfollowed everyone.
He used to have a lot of pictures of his then-girlfriend; again, at the time, there were none of it. To make matters worse, Carlson also deleted some photos and videos of the singer from her feed.

Devon Lee Carlson's TikTok bio fueled breakup rumors. (Source: TikTok)
The latest post she had of the pair was from 21 August 2021, posted on the occasion of Rutherford's birthday. 
After such a fiasco, fans began snooping around to see if the couple had split or if they were keeping their relationship lowkey. 
You May Also Like:

 Did Chip Chrome Cause Jesse Rutherford and Devon Lee Carlson's Break Up?

Setting Fashion Couple Goals Comes Naturally to Jesse Rutherford and Devon Lee Carlson
Carlson's comment section was flooded with questions about her and Rutherford's split. Then, in December 2021, she uploaded a video of cleaning behind her dog, Marty. 
There she lip-synced to the sound that went, "I don't know him, so I can't comment on anyone I don't know. I've never met him, I don't like to comment on people I don't know."

Comments under Devon Lee Carlson's TikTok asking about the couple's split. (Source: TikTok)
Similarly, on New Year 2022, she lip-synced to 'Same Old Love' by Selena Gomez. The song refers to a bad breakup, so Carlson could have referred to it. Later, she told the Call Her Daddy podcast, "We had the most mutual breakup ever."
Later, Deven Lee Carlson reportedly started dating actor Duke Nicholson. He is the grandson of acting veteran Jack Nicholson. She was also seen with 44-year-old musician Julian Casablancas, but it couldn't be verified if they were dating. 
Jesse Rutherford was spotted with a mystery new girlfriend, who turned out to be Eilish  
A few months into the split rumors, neither Rutherford nor Carlson addressed it, and their fans were getting anxious about it. And they usually commented on Carlson's TikTok.
While doing so, people had speculated that their break up was way before October 2021 since they did not dress up for Halloween together. Many made their own TikTok, claiming they no longer believed in love.
Moreover, speculations were going on about Rutherford's new girlfriend. It started after Deux Moi posted a story about it.

Deux Moi's Instagram Story suggests Jesse Rutherford has a new girlfriend. (Source: Instagram)
Deux Moi is an Instagram account that posts celebrity news and sightings submitted about anonymous people. Someone reported that they saw the singer with a mystery woman in one such story.
They saw the two at Gutter in LES, where his arms were around the girl. She allegedly looked like Carlson, but the person assured that it "seemed like a newish fling."
Guess who the mystery woman turned out to be. Eilish!
Together, Jesse and Billie have a combined networth of $34 million
Although the lead vocalist of Neighbourhood may not have much fortune compared to Eilish, he has also made a staggering amount of money.
He has an estimated net worth of $4 million, whereas Eilish has an estimated net worth of $ 34 million. 
Billie Eilish's dating history and relationship timeline before boyfriend Rutherford
Eilish's ex-boyfriend list and relationship timeline from the past include Matthew Tyler Vorce and Brandon Quention Adams. 
Eilish and actor Matthew Tyler Vorce dated for a year and ended their relationship in May 2022, with Vorce denying the cheating rumors.
And between 2018 and 2019, Eilish and rapper Brandon 'Q' Williams dated for a while. She later talked about their breakup in her Apple documentary, released in February 2021, stating, "I just wasn't happy. And I didn't want the same things he wanted, and I don't think that's fair for him. I don't think you should be in a relationship, super excited about certain things that the other person couldn't care less about."
Later in April, many fans started speculating that the song from her second album, Happier Than Ever, was about her relationship and breakup with Williams, as the song delved into an unfair relationship.
Replying to the heightened rumors finally after two years post the release of Eilish's documentary Billie Eilish: The World's a Little Blurry, which also featured him, Williams disclosed on social media that he was dealing with his brother's death at the time and also denied the narrative set by the rumors that he betrayed or took advantage of Eilish. 
Billie Eilish reminds fans to be nice after her ex-boyfriend posted Instagram stories defending himself amid #TheWorldsALittleBlurry documentary:

"to the fansssss🥰 remember to be nice to people no matter what! i love you guys thank you for protecting me but be nice!!" pic.twitter.com/LeisxixMhC — Pop Crave (@PopCrave) March 2, 2021