Does Billie Eilish Have a Boyfriend? Or a Girlfriend Perhaps?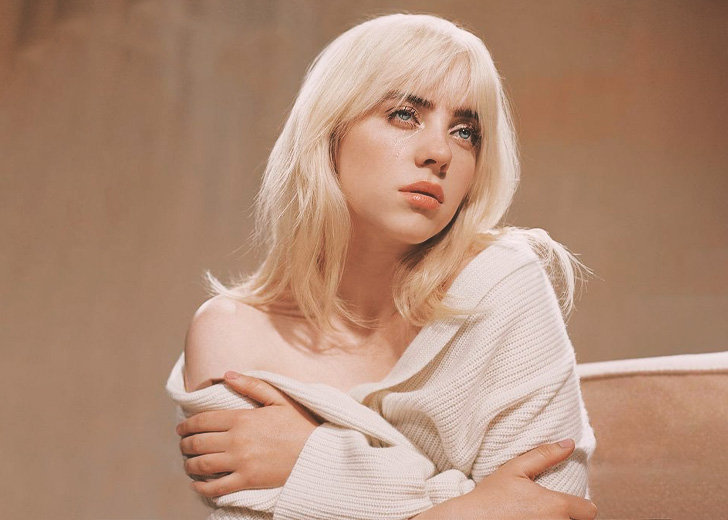 Billie Eilish alluded she wouldn't mind having a girlfriend back in an interview with Jimmy Fallon in 2019. In addition, she stated she loved girls in a promotional Instagram post for her 2021 song, 'Lost Cause.'
The song itself told stories of how terrible men could be in a relationship, and its video featured Eilish enjoying an all-girl slumber party. 
Courtesy of her public appreciation towards women, her fans and followers have long speculated if she could be dating a woman. Here's what we know about Eilish's relationships and love life. 
Is Billie Eilish Single?
To all the loyal fans who want to know if Eilish is single, she is seemingly taken. And to those who wonder — does Billie Eilish have a boyfriend or a girlfriend?, the answer is Eilish has a boyfriend. He is a Los Angeles-based actor, Matthew Tyler Vorce.
The duo has been strictly private regarding their relationship. They never post pictures of one another on their socials or mention each other in any interview. That being said, they have been spotted together.
In April 2021, Eilish and her boyfriend were recognized taking a cozy stroll in Santa Barbara, California. The two grabbed coffees as they walked Eilish's beloved pit bull Shark. At one point, the 'Ocean Eyes' songstress rested her head on Vorce's shoulder as he put his arm around her. 
Since the public appearance, the 19-year-old hasn't shared any update on her relationship. Meanwhile, she has also dropped no hints on a break-up. 
Billie Eilish's Ex-Boyfriend
Long before her relationship with Vorce became public, Eilish was reportedly dating professional rapper Brandon Quention Adams, also known as Q or 7: AMP. The former couple started dating at the end of 2018. 
Eilish appeared on the cover for Q's album Bleaupro, which he released on February 15, 2019. But soon after, they broke up, after almost a year into the relationship. Neither Eilish nor her boyfriend clarified the reason for the split in the immediate aftermath. 
But two years after, Eilish got candid about her relationship with Q in her Apple TV+ documentary, The World's A Little Blurry. "I just wasn't happy. I didn't want the same things he wanted and I don't think that's fair for him," she elaborated on the reason behind their separation. 
The Los Angeles native also added that they had differing mindsets and stated, "I don't think you should be in a relationship super excited about things that the other person couldn't care less about."
Her Past Relationship Affected Her Mental Health
In an interview with Vogue in February 2020, Eilish discussed her mental health. She candidly talked about the particular moments that led her into a depression a few years ago.
She cited her unexpected dance injury, a group of toxic friends, body dysmorphia, and a particular romantic relationship as factors that affected her mental health. Though she didn't reveal the name of her ex-boyfriend, she clarified he treated her poorly. 
As a consequence, Eilish found herself on the verge of committing suicide. Thankfully, a few changes in her lifestyle that have been kept private helped her overcome her sorrow. Sharing her experience, she added, "When people ask me what I'd say to somebody looking for advice on mental health, the only thing I can say is patience."
As per her accounts, Eilish remained patient during the distress and waited until the negativity faded.