Vinnie Hacker and Billie Eilish Dating Rumor Explored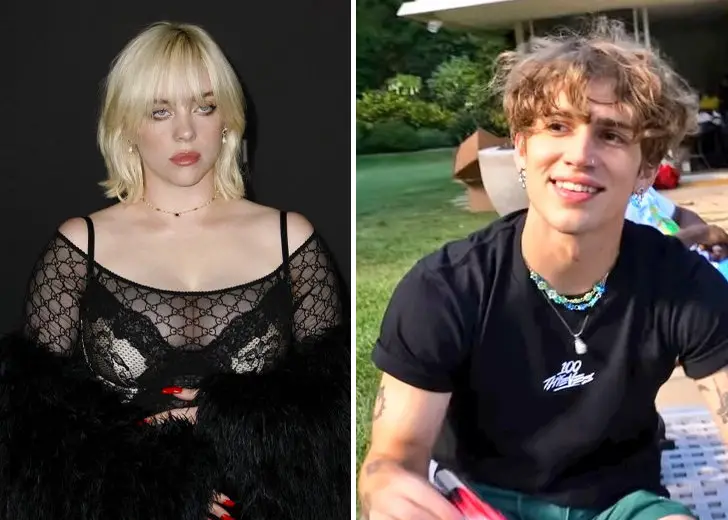 According to the latest rumors floating on the internet, Vinnie Hacker and Billie Eilish might be dating. 
Deuxmoi, a celebrity news site, reported on multiple occasions related to the TikTok star and his alleged girlfriend.
A blind item from an anonymous tipper shared the duo had a "lowkey fling," but it was unconfirmed if things progressed afterward. 
Later, another tipper iterated the duo was never together. It was just a wild rumor the Grammy-winning artist's fans had started a while back after Hacker was spotted wearing the singer's merch. 
However, another follower who hung out with Hacker confirmed that the TikTok star and singer had a "low key fling." 
They added Hacker would sneak in through Eilish's window. Another follower shared they had heard plenty about "Vinnie/Billie rumors" from people that worked in the music industry and Hacker's management. 

Deuxmoi's post on Vinnie Hacker and Billie Eilish dating rumors. (Source: Deuxmoi/Instagram)
However, they added a disclaimer saying they could not 100% confirm it. 
Vinnie Hacker and Olivia Rodrigo Dating?
While there are plenty of rumors about Hacker and Eilish, there are also speculations about Hacker and Olivia Rodrigo. 
On May 28, 2022, photos of Rodrigo and Hacker hugging it out took social media by storm, and reports of the duo dating surfaced on the internet. 
The Daily Stardust was one of the first to post photos of the duo. According to the outlet, Hacker had attended Rodrigo's performance at the Greek Theater and her concert's after-party. 
And while saying their goodbyes after the party, the duo hugged each other goodbye, and Hacker even kissed her on the cheek. 
Fans seem excited by the prospect of them dating, with many noting in the comments section that they were lowkey shipping them.
Later, Deuxmoi gave fans an update about the duo. According to an anonymous tipper, the TikTok star and singer were not dating, but they were "into each other." So far, the duo has not addressed the rumors. 
Billie Eilish's Recent Break up from Matthew Tyler Vorce
While Hacker was linked with Rodrigo, Eilish was going through a breakup. 
On May 31, 2022, Eilish's former boyfriend, Matthew Tyler Vorce, confirmed that he and the singer had called it quits. 
The duo first sparked rumors in April 2021 when Page Six captured photos of them cuddling and looking cozy on their casual coffee date.
After rumors started flying, Vorce went private on Instagram, and the former couple never confirmed their relationship.
Recently, he took to Instagram story to confirm that he and Eilish were no longer together. And while he was at it, he denied the cheating rumors explicitly.
"Nobody cheated on anyone. Relationships end. Simple as that. Creating rumors and LYING on the internet is dangerous," he wrote.
In another story, the actor appeared to address the backlash he had gotten from Eilish's fans, writing, "The fact that thousands of people take time out of their day to write the most heinous things on someone they will never know."
He noted it was cowardly and asked them to "live [their] own life."