Sarah Paulson Had Everyone Confused on Whether She Was Gay or Not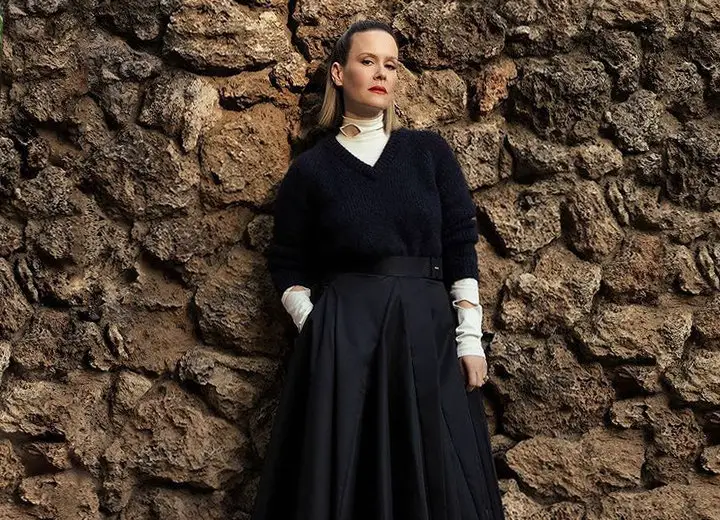 It's hard to imagine that Golden Globe winner Sarah Paulson had problems finding a date.
In 2014, the stunningly beautiful actress with the talent to match admitted to Vulture magazine that her dating situation was not the most ideal. She revealed that men did not ask her out because they thought she was gay, while women did not ask her out because they were unsure if she was. 
Before the revelation, the actress had never talked about her sexuality. 
In the late 90s, the actress was engaged to actor and playwright Tracy Letts. But they broke up shortly after explaining that it did not work out even though they loved each other.
And then, in 2005, she confused everyone when she kissed her partner, Cherry Jones, while celebrating Jones' Tony win.
Paulson was not well known then, but their kiss was widely discussed. The Ratched actress was worried it would affect her career, but fortunately, it did not.
Is Sarah Paulson Gay?
The kiss seemed like an accidental coming out, but Paulson never addressed it, leaving many confused, including her suitors.
Paulson and Jones dated for seven years before breaking up in 2009. The latter told Us Weekly that they had split amicably. 
"It's the happiest break up that's ever been. We grew so much together and now we can send each other off with a kiss and great love," said Jones.
After the breakup, rumors started swirling that Paulson was in a relationship with Holland Taylor. They kept it low-key for a year until 2016 when they came clean.

Sarah Paulson and her girlfriend, Holland Taylor, with Emma Roberts. (Source: Instagram)
Paulson had just confirmed her relationship with the Taylor bringing up once again whether or not she was gay. 
During her interview with The New York Times, she finally addressed it. She told the outlet that she was not ready to label herself a lesbian despite being in a relationship with a woman. 
"If my life choices had to be predicated based on what was expected of me from a community on either side, that's going to make me feel really straitjacketed, and I don't want to feel that," Paulson told the outlet. 
She added that the only thing she wanted to share was that she was absolutely in love, and that person was the former Two and a Half Men star.
Sarah Paulson and Her Girlfriend Holland Taylor
Paulson and Taylor have been dating since 2015.
At the time, the duo had kept it a secret; however, during an interview with WNYC (via Out), Taylor shared she was in a relationship with a woman. 
When pressed for her girlfriend's name, she kept her lip sealed but noted they had a huge age difference between them, which shocked many people. 
A year later, the couple made their relationship official, and unsurprisingly, their age gap created quite the buzz. 
But Paulson was not having any of it, and while speaking to Modern Luxury (via People), she let everyone know she was unbothered by the criticisms.
"If anyone wants to spend any time thinking I'm strange for loving the most spectacular person on the planet, then that's their problem. I'm doing just fine," said the actress.
She also opined that Hollywood had double standards against age differences between heterosexual and queer couples. 
Paulson responded that she did not remember anyone going crazy over Michael Douglas and Catherine-Zeta Jones's relationship.