Are Vinnie Hacker and Olivia Rodrigo Dating?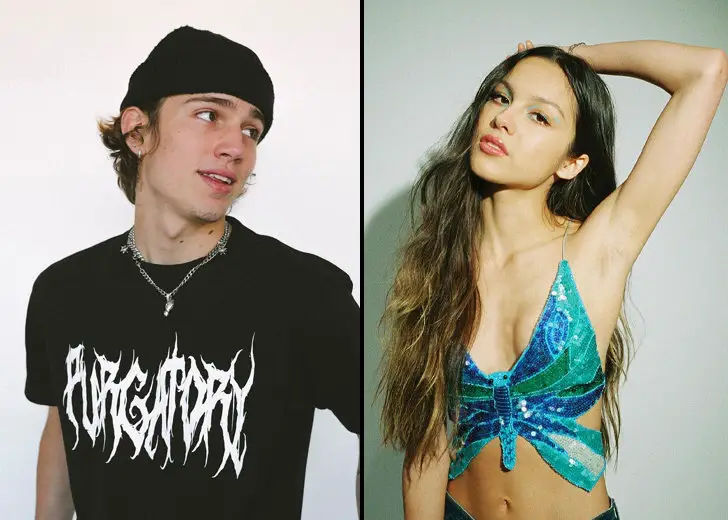 Ever since paparazzi photos of social media star Vinnie Hacker and pop star Olivia Rodrigo landed on social media, fans have been in a frenzy. 
They are speculating that the duo is dating after Hacker was spotted pecking Rodrigo on the cheeks.
The duo then hugged it out, and fans noticed Hacker did not want to let go of the 'Driver's License' singer. After that, Rodrigo got in a car while Hacker looked on. 
Tiktokinsiders reshared these photos on May 28, 2022, and in the comment section, many fans were excited about the prospect of the duo dating. 
One user wrote, "okay, but they'd be so cute. I hope they are dating," while another wrote, "Omg, they'd be the hottest couple." However, some were convinced they were just friends. 

Paparazzi photo of Vinnie Hacker and Olivia Rodrigo that spurred their dating rumors. (Source: tiktokinsiders/Instagram)
"They breathe in the same vicinity and hand out together, you all lose ur cool ... Relax," said one user. 
Vinnie Hacker and Olivia Rodrigo Dating Rumors Debate
So far, Hacker and Rodrigo have not addressed the rumors, but the celebrity news outlet, Hollywire, took to TikTok to discuss the matter. 
The outlet shared that Deuxmoi got insider information from their anonymous follower that the rumored couple was not dating. But the tipper added they were into each other. 
Previously in January 2022, Hacker had appeared on the Tap In w/ Harry Jowsey podcast and confessed he was afraid to date anyone. 
He shared he had garnered an enormous fan base consisting mostly of females, thanks to his TikTok content. 
However, instead of supporting and loving him from a safe distance, the social media star got stalked. 
Fans would stand outside his house and wait for him, and some even tried to hitch a ride with him. 
Although he had gotten used to it and did not care since it happened so often, people he hung out with were worried about getting attacked. 
Many girls were afraid to be his girlfriend out of fear of getting attacked by the online mob. 
Even when he was not seeing these girls, they got attacked just for being friends with him. 
Vinnie Hacker's Friend Lex Attacked by His Fans
In June 2021, that was exactly what happened to Lex, who went by @66sixela6 on TikTok. 
The female TikToker had uploaded a TikTok asking Hacker if he wanted to hang out and "smoke a j" with her. 
This caught Hacker's attention, who agreed to hang out with her. Unfortunately, this did not sit well with Hacker's female fans, who went into stalker mode on social media.
They speculated that the duo had hung out and were even spotted in the same bedroom. 
Even though these were just rumors, Hacker's fans hopped on Lex's social media and criticized her looks.
They claimed she was not good enough for Hacker and accused her of clout chasing. It got so bad that the female TikToker ended up deactivating her Instagram account. 
Eventually, the duo confirmed they were not in a relationship, and Hacker asked his fans to stop attacking her.