The Celebrities and Their Fan Bases Deux Moi Is Afraid of Posting About
Not every celebrity gossips are featured in Deux Moi's stories.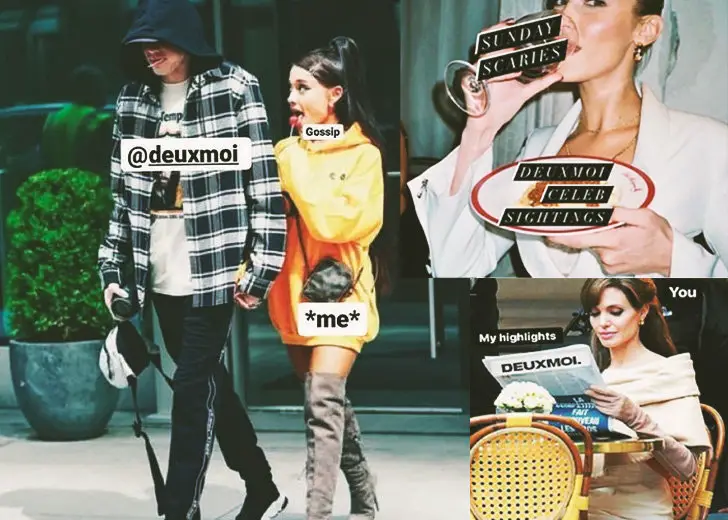 Deux Moi (@deuxmoi) took the internet by storm with her Instagram account, disseminating unverified celebrity gossips to the world in 2020.
Thereon, she has fully dedicated her time collecting celebrity rumors from tipsters — who allege to be Hollywood friends, relatives, assistants, drivers, and sometimes even the celebrities themselves — and publishing it on the rumor mill without sugarcoats. 
With uncountable tipsters from all walks of life, Deux Moi has posted stories about everything from movie roles, food habits, relationship updates, and beefs to legal confrontations of celebrities, including A-list movie stars, singers, YouTubers, and social media influencers.
However, the broad rumor mill deliberately doesn't post about some significant figures. And here's why. 
Celebrities Who Won't Be on Deux Moi
Deux Moi made a rare appearance on Andy Cohen's show, Radio Andy, in October 2021.
During the interview, the anonymous gossip creator got candid about the celebrities she voluntarily didn't post about on her Instagram.
At first, Cohen shed light on stars whose fans, as per him, were dogmatic. He mentioned Taylor Swift, BTS, and Nicki Minaj. Then he asked Deux Moi if there were cases where posting about these worldwide famous celebs made her feel inundated.
Without hesitation, Deux Moi shared she sometimes didn't post about famous people because she didn't want to deal with the trouble that might come with the gossip. 
She then set the record straight, clarifying that Minaj's fans were nicer than people expected and "Taylor Swift fans are just passionate about her."
Next, Deux Moi revealed people had warned her early on not to post anything about BTS. She feared the army would ruin her life if she uploaded anything they didn't like. 
"So I stay away from BTS and Scientology," Deux Moi reiterated, explaining she didn't post about the two subjects. 
Deux Moi Has an Entire File on Andy Cohen
Besides talking about people she would never post about, Deux Moi shared insights into the rumors she had heard about the interview host. 
As per her accounts, she had an entire file of information on Cohen. She started getting submissions about him right from the time her Instagram account gained traction in March 2020. 
I had a lot of information, and I was able to give sort of my real opinion based upon the information from the Andy Cohen file.
When asked if the rumors were good ones or bad, Deux Moi replied diplomatically. She shared that the information would have upset many people, but his fans would have never shipped it.
She even disclosed that many of his well-wishers fought for him through the DMs. The discussion was on the verge of igniting a controversy, so Deux Moi had to stop posting about him.