What Is Corinna Kopf's Sexuality? Here's the Truth behind Her Dating Preferences
Corinna Kopf likes both men and women.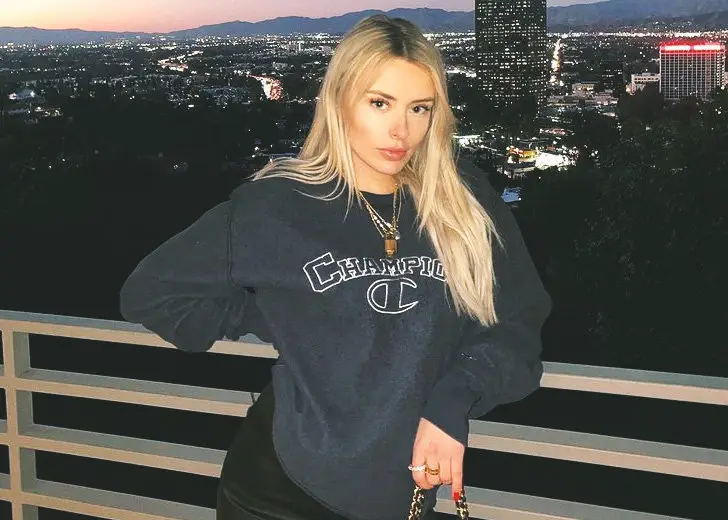 With 1.77 million subscribers on YouTube and 6 million followers on Instagram, Corinna Kopf is one of the most notable social media influencers on the internet. 
A prominent face in David Dobrik's vlog squad, the social media celebrity eventually branched out to create lifestyle-themed content. 
She has also appeared on popular Twitch streamers' channels like Adin Ross and Aircool. She even had viral Twitter exchanges with Minecraft streamer, Karl Jacobs, and the CEO of SpaceX and Tesla, Elon Musk. 
With such a following and presence online, her fans cannot help but be curious about her relationships. Of course, she's had her fair share of relationships with many internet male stars, but many might not know that she is equally attracted to women. 
Corinna Kopf's Sexuality
On more than one occasion, the social media star has shared that she is interested in women. 
On July 7, 2021, IMPAULSIVE Clips uploaded a snippet from Kopf's episode 280 appearance, on the ImPaulsive podcast, where she talked about her romantic preferences. In the video, host Mike Majlak asked her about her openness on "girl on girl" action, to which she replied that she liked girls. 
Majlak then asked her if it was something she had explored, to which Kopf responded that she had. After that, Logan Paul asked her if she had come out as bisexual, to which Kopf said she had and added that she hated labels. 
Kopf had also tweeted many times before that she liked girls. In February 2013, she tweeted that she questioned her sexuality every day but then, an hour later, went back on her words and said she didn't question it because she had a boyfriend. 
In 2018, she tweeted that she was "so gay for Ariana Grande." In 2019, she tweeted that she felt like a "raging lesbian" because she found women attractive. A year later, on May 11, she clarified that she was not gay despite liking women. 
Although Kopf claims to be bisexual, there has been no news of her being in a relationship with a woman. In fact, all of her past public relationships have been with men. 
Corina Kopf's Past Relationships
In 2017, Kopf was dating fellow Vlog Squad member Todd "Toddy" Smith. 
The two documented their romance on Dobrik's channel, where they were often caught fighting and making up like a normal couple. They also documented their relationship on their respective channels, but by April 2018, they confirmed their breakup. 
The pair remained friends and continued to film together. 
After Smith, Kopf sparked romance rumors with the older Paul brother after they were spotted sitting together at an L.A. Lakers game in 2019. However, Paul clarified on his ImPaulsive podcast that they were just friends with benefits.  
Kopf was also linked to gaming YouTuber Turner Tenney aka Tfue. They were first spotted together at a party in December 2018 and they confirmed their relationship in March 2019. However, almost a year later, they broke up. 
As of right now, the social media star is single.