A Look into David Dobrik's Dating Life — Once Married His Friend's Mother for Fun
Dobrik has been trying to convince fans that he is in a relationship with his assistant. But, he has only ever had one girlfriend.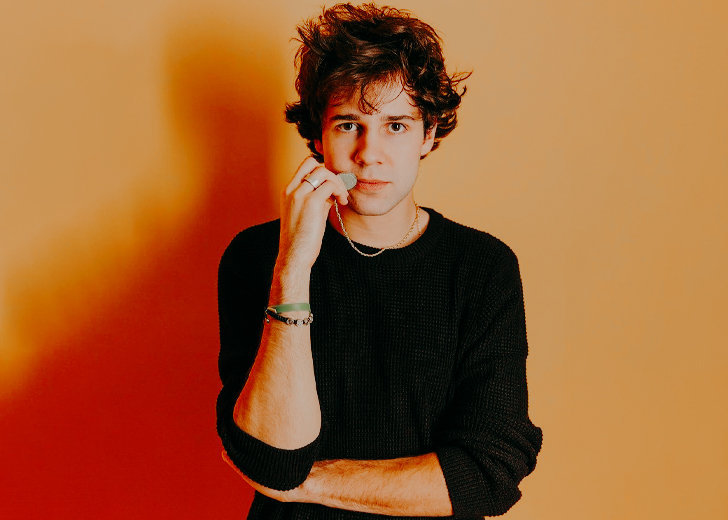 David Dobrik has been convincing his YouTube fans, rather successfully, that he is currently dating his assistant and longtime friend Natalie Mariduena.
In their defense, he has put up quite the convincing act. However, the famed YouTuber confirmed in August 2020 that he was, in fact, "super single." 
Dobrik and Mariduena's Relationship
The idea of Dobrik being in a relationship with Mariduena was actually put forth by the YouTuber himself.
He constantly put up coupley photos with his high school classmate add to that the fact that they practically live together and you have a very palatable pseudo-relationship status. 
In one of his videos from April 2020, he outright announced that he had been "hooking up" with Mariduena.
Following his announcement, the YouTuber's assistant walked into the frame, pressed her cheek against his, and made a pout. He further reinforced his claim and told everyone that he was serious. 
Still, whenever the press got a hold of him and asked him about his relationship status, he has confessed to being single. Going by his reputation, it is more than likely that he was telling them the truth. 
He Was Once Married
Dobrik earned the above-mentioned "reputation" when he got married to his friend Jason Nash's mother, Lorraine Nash, just to prove the comedian wrong. He detailed his marriage via a tweet in May 2019.
In the tweet, he disclosed how his friend told him that he would never find love and get married. So, he flew to Nash's mother's house and married her on the spot. 
My friend told me I would never find love and get married. So I flew to his moms house and married her on the spot. Now that same friend is my stepson. True love always wins pic.twitter.com/OQ3p0ONGkV — DAVID DOBRIK (@DavidDobrik) May 18, 2019
"Now that same friend is my stepson," he bragged. "True love always wins."
The mock marriage was not long-lived, though, as he put up another tweet the following month to announce his divorce. He even teased his fans about respecting his privacy while he wished his ex-wife nothing but the best. 
He Only Had One Girlfriend
The only relationship that Dobrik has been in was with fellow YouTuber Liza Koshy. The former couple dated for two years since 2015 and broke up because of their hectic schedules. 
They came up with a video six months after their break up to break the news to their fans. In the video, Dobrik admitted that it was no longer healthy for them to be together. 
Koshy added that the relationship was at a point where both parties felt like they were leading separate lives. They kept it under wraps for so long because they were angry at the fact that they grew distant in the first place. 
The video has since been made private. 
They Are Still Good Friends
Still, a year and a half after their relationship concluded, Dobrik confessed that he was friends with his ex-girlfriend, best friends even. 
Koshy isn't hush about their friendship either. In August 2019, she opened up to Access about how she found Dobrik's marriage and divorce with Lorraine hilarious. 
Koshy was not even surprised that Dobrik pulled it off. She honestly believed that he would do "absolutely anything" for their vlog, and she loved watching it.