Mike Majlak Is Single & Unmarried: Post-Breakup With Ex-Girlfriend...His Friend Longan Paul Reveals Baby Daddy
Mike Majlak's dating status and his ex-girlfriend Lana Rhoades' baby daddy discussed inside!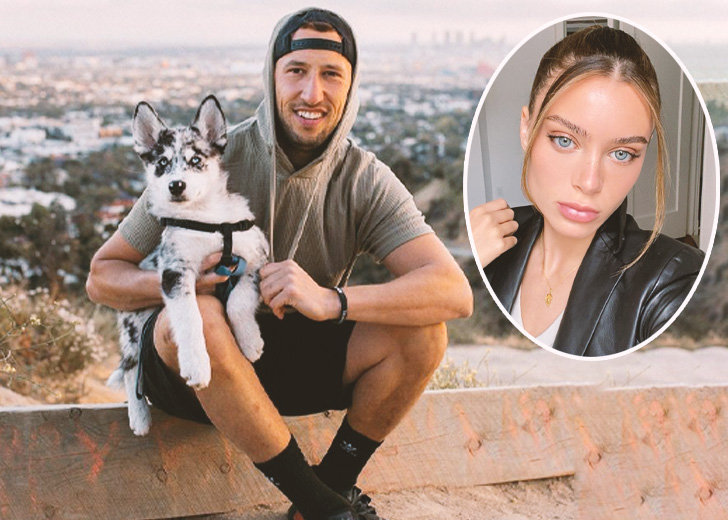 Netizens have been curious to know about the high-profile Youtube Star Mike Majlak's dating status post his fiery breakup with Rhoades.
Adding to the mix, the identity of Lana Rhoades' baby daddy has been a well-kept secret, which initially caused a lot of people to suspect that her ex-boyfriend Majlak was the daddy and others to question, "Who is Lana Rhoades' baby son daddy?"
Then after, a few revelations from Rhoades herself and personalities like Logan Paul have fueled the perceptions that a high-profile NBA star might be the child's father. 
Is Mike Majlak married or dating now?
Till now, there have been no reports regarding Majlak walking down the aisle with someone. In 2021, his breakup with Lana Rhoades broke the hearts of many fans who were rooting for Rhoades to be his wife.   
Since then, the Fifth Vital's author has been doing what he has been doing the best—living his life to the fullest, enjoying his fame, and meeting new people. What's more, he has made lots of ladies jealous by joking about his relationship status and getting a girlfriend on Youtube and Twitter a couple of times.
i also probably should get a girlfriend. — Mike Majlak (@mikemajlak) March 15, 2022
That's why if one-day Majlak suddenly comes out on Instagram holding someone and proclaiming her his "girlfriend" in the caption, it would be hard to take such posts or content from him at its face value.  
What led to Lana Rhoades and Mike Majlak's breakup?
The pair's relationship started in 2020 after Logan Paul played the role of an accidental cupid. Paul presented Rhoades as a birthday gift to Majlak, and it was a prank. Eventually, the two lovebirds started dating. 
In October 2021, the couple surprised fans as the reports of their possible separation were all up in the air amid cheating allegations against Majlak. Post the split, Majlak recalled their split was amicable. 
However, Rhoades later blamed Majlak's behavior that he showcased during the second time the couple had decided to live together. On April 20, 2021, she disclosed to the BFF podcast with Dave Portnoy and Josh Richards that she was all in on Mike's moving in with her. "He told me he was going to move in with me," she shared. Sadly, she claimed he broke up with her instead of moving in.
After that, they again got back together, and according to Rhoades, Majlak was again supposed to move in the second time. Rhoades said she later got super angry when he decided not to join her and remain busy elsewhere. "I was like just get the [expletive] out of my house," she shared on the podcast.
Why did Fans think Mike Majlak was Lana Rhoades' Baby Daddy?
In February 2021, American YouTuber and social media influencer Mike Majlak broke the internet when he announced a breakup with his girlfriend, Lana Rhoades.
The American model took the internet by storm once again as she announced she was eight weeks pregnant on her Instagram on June 2, almost six months after her breakup with Majlak.
She broke the news when she posted the photograph of her sonogram alongside a medical report announcing her due date, January 13, 2022. 
Immediately after the pregnancy announcement, the hottest question search about Majlak went from "Who is Mike Majlak dating?" to "Is Mike Majlak the father of Rhoades' baby?" 
Majlak reveals he isn't the Baby Daddy
Majlak addressed the whole situation during the June 3 episode of the imPaulsive podcast, where he said he had been receiving a lot of "Congratulations" messages.
"Never have I have ever before gotten this many messages in my life than in the last 24 hours." he admitted. "I've got messages of every denomination, religion, culture. And they're asking, 'Are you the dad?'"
The YouTuber denounced the surging rumors that called him the child's father and said "no" when asked if he was. 
During that time, I started to see other people. We remained friends, we continued talking. She also started to see someone specifically during that time. The result of her interactions with said new person resulted in a bun in the oven.
Majlak also congratulated his ex-girlfriend on her pregnancy and claimed she was "ecstatic" about her baby. He revealed she had been through a miscarriage in a previous relationship and had always wanted to be a mom and have a kid for a long time. 
No one said anything about random. lol ya'll need to stop with the assumptions. could be a sperm donor, could be my ex husband, could be a new bf, could be a hook up, guess you'll never know 😊 https://t.co/30GrCucGXd — Lana Rhoades (@LanaRhoades) June 3, 2021
Rhoades told her Twitter followers that she learned from her previous relationship with Majlak to keep her relationships private and requested them to "stop with the assumptions" as she would not reveal her baby's father anytime soon.
Initially, nobody knew who got Lana Rhoades pregnant 
A few days before she released an official announcement about her pregnancy, she had left secret clues in what seemed like a light-hearted tweet. At that time, nobody took her words seriously, only to realize, a few days later, she was telling the truth all along. 
The model is often seen speaking candidly about her pregnancy on social media as she flaunts her baby bump while counting down to her due date.
The former adult film star revealed in her 3 Girls 1 Kitchen podcast she reached the 20-week mark in her pregnancy and was going to have a baby boy.
On August 17, Rhoades took to social media to provide pregnancy updates as she shared a flattering poolside snap showing off her beautiful curves in her workout clothes.
She expressed her excitement as she was "half way through" her pregnancy and shared a positive note that she looked tiny because "every woman looks different during their pregnancy depending on factors such as their height, abdominal muscles, and where the baby is sitting."
The soon-to-be mom then revealed that her baby actually measured bigger than most babies and that the ultrasound showed her sweetheart had "giant feet and long legs."
An NBA Star is likely the Baby Daddy of Lana Rhoades' son Milo
Lana Rhoades seems to have decided to speak up about her baby daddy—she reacted to a self-posted Tiktok meme via an Instagram video in which she could be seen bashing on an NBA star while holding a young child, possibly her son Milo, "I swear to God I thought NBA players were nice guys. Next thing you know, I said, 'I'm pregnant' ... And he told me to go f-k myself."
Also, on August 2024, Majlak's friend Logan Paul revealed that Rhoades' baby daddy was a "big time" NBA player while talking to their Implausive podcast guest Charlamagne DA God.  
These possible revelations, alongside all of the past and present stories on her baby daddy, have been linked to two NBA stars.
The names are Kevin Durant—because he is a Libra and Rhoades once called out a boring date with an NBA Brooklyn Nets player with the Libra zodiac sign—and Blake Griffin—because many fans have now jumped on the bandwagon of comparing how his face matches with Rhoades' son Milo. 
NBA fans are playfully speculating that Blake Griffin is the father of Lana Rhoades' son and posting photos of Blake Griffin as a baby that show the two children to be strikingly similar. 👁ï¸Â

(via NBA SPORTS) pic.twitter.com/Z2Pt6dmDGo — Samuel Richardson III (@AffirmativeTalk) October 3, 2022
However, Rhoades hasn't yet revealed the name of her baby daddy. Previously, she had shed light on the reasons why she wouldn't bring the father of her child to the public.
Rhoades says she respects her Baby Father's wishes
Here's a reason why fans might not get to know Rhoades' baby daddy anytime soon.
On Bradley Martyn's Raw Talk in May 2022, Rhoades disclosed that she chose to respect the decision of Milo's father to remain unrevealed online. She also conveyed that her son's life being problem-free would be a priority to her.
Moreover, she disclosed that she was looking after her son with "zero" involvement from her baby dady.