Are Kat Stickler And Ex-Boyfriend Cam Winter Dating Again?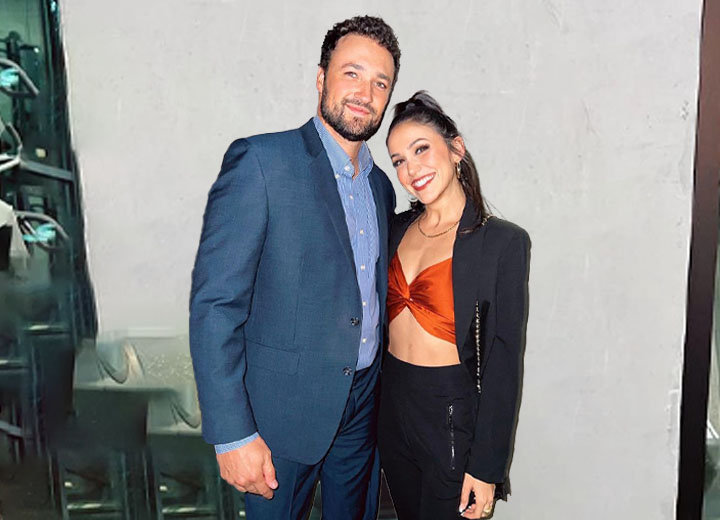 American TikTok star Kat Stickler has used social media to brand herself as a relatable modern mom. In one of her TikTok posts that went super viral, she is seen energetically responding to her husband's request for her to do more in their relationship and "be nicer." 
"Oh my gosh, well I feel like you could've done 80 more things today than you did!" she hits back at her then-husband, Michael, also known as Mike.
"I feel like I woke up, and I cleaned our room, I did our bed, I cleaned the sheets, I did the laundry, I put your clothes away, I come in the kitchen, nothing's done, so I do everything!" she continues.
"Then I make you breakfast, then I get the baby ready, then I get myself ready," Stickler adds. "And what do you do, Micheal? You just tell me I could've been nicer. That seems pretty nice to me!"
In another of her posts, she shares a story about how being approached by a girl made her feel better compared to men. She shares, "I was getting lunch, and I was supposed to meet my mom at lunch, but she canceled on me as she does. So I was eating by myself, and I saw this girl at the bar who was stunning, you guys, beautiful!"
"The hair, the lashes, the eyes—I was like I couldn't stop looking at her," she continues. "And she walked over to me, and I was ,like 'Oh my God.' And I was like, 'Hey, I am so sorry. I was looking at you. I just thought you were so pretty.' She was like don't be sorry,' I was looking at you cause I thought you were so pretty.'" 
What is Kat sticklers' ex-husband's name?
Kat Stickler's ex-husband's name is Micheal Stickler, a TikToker who has rebranded himself as a podcast host and lifestyle entrepreneur. He has also rebranded their former combined Youtube channel. 
Who does Kat Stickler have a baby with?
Mike and Kat Stickler married in 2019 and divorced amicably in 2021, deciding to mutually co-parent their daughter Mary Katherine, born on November 15, 2019.
Post-separation, Mike later requested everyone to respect their privacy. "So, Kat is not at fault at all for any of this, just so you know. There's a lot of things that I need to work on in my own life and get in order. Again, if you could, please respect our privacy, respect us as individuals as we attempt to navigate this process," he shared. 
Their first meeting, dating relationship, and subsequent marriage to Kate's pregnancy had all occurred within a period of three months. 
Later in March 2022, Kat revealed that she has had paid money in the form of child support and alimony to Mike. She has also decided to keep her ex-husband's last name. She is now proud that she has been able to care for her daughter as a single mom. 
In Mike's world, it looks like he is committed and in a relationship now. His Instagram has pictures of him and his partner with his daughter, dated 2022, suggests that he has had visitations with his daughter MK.  
Who Is Kat Stickler's ex-boyfriend?
Kat and her then-boyfriend Cam Winter are no longer together; this time, it wasn't just speculated rumors.
The social media star confirmed the breakup via a TikTok video on August 15, 2022. 
She started the video by noting that her smart fans had noticed she had not been posting much on social media in the past couple of months and guessed that it might have something to do with a breakup. 
Stickler mentioned they were correct and said she and her boyfriend had taken a break because she needed time to process her divorce. 
The TikToker was previously married to Mike Stickler, but they announced their separation in March 2021. And by September 2021, Stickler was back in the dating game. 
"Cameron and I have taken a break. For me, right now, I need to process things which I didn't really give myself the grace to do after my divorce, and I am honestly trying to do the best I can," said Stickler. 
She added that no one was at fault and that Winter was a "great guy."
The breakup was admittedly a mutual decision, with both of them thinking it was their healthiest option. Despite the separation, they still had mutual love and respect and would always be best friends. 
Kat Stickler and Cam Winter breakup rumors
While Stickler confirmed the split, rumors of their breakup had already made rounds on the internet at the start of 2022. 
It started when TikToker @amandachristine_1 reported that Winter's sister, Taylor, had unfollowed the couple.
Stickler and Taylor were best friends, and the news of the unfollow led netizens to think it might have something to do with a breakup.

Stickler and her boyfriend, Cam Winter, decided to break up. (Source: Kat Stickler/Instagram)
The single mother was also getting questions about it, but instead of answering, she posted a video about how she was feeling down, further fueling rumors of the split. 
Finally, on February 11, 2022, fans got the confirmation they needed. Cam uploaded a photo of Sticker and, in the caption, wrote, "can I kiss you at a rooftop bar?"
Stickler replied in the comment section with a heart emoji, seemingly confirming they were still together. 
Kat Stickler and Cam Winter relationship timeline 
In September 2021, Stickler uploaded a video on TikTok that highly suggested she was dating a new boyfriend. 
She revealed little and hinted she might have a new man in her life, but by October, internet sleuths had discovered she was indeed dating and that it was Winter. 
And as much as fans pressured Stickler for answers, she explained that she would put her relationship out in the open when she was ready to do so in a TikTok video. 
After that, she continued to drop hints about her new man in her videos by featuring parts of him but never fully revealing his face.
Finally, on December 18, 2021, Stickler made her relationship with Cam Winter Instagram official. 
She had uploaded a photo of her and Winter dressed to the nines, and in the caption, she wrote, "All I want for Christmas is you." After that, Winter became a regular appearance on Stickler's social media. 
What does Kat Stickler do for a living?
Born on October 31, 1994, in Miami, Flordia, Kat Stickler initially became known in the online sphere for her lip-syncing, comedy, and prank videos she posted with her then-husband on their joint TikTok account called mikeandkat.
As of this writing, she has cemented herself as a popular influencer with more than 9.8 million followers on her Tiktok account, 1 million followers on Instagram, and  58 thousand followers on her Youtube.  
As of now, her net worth remains unverified, but as per many reports, it has been estimated to lie between $500000 to $1 million.