Kat Stickler and Ex Boyfriend Cam Winter Once Dissolved Break up Rumors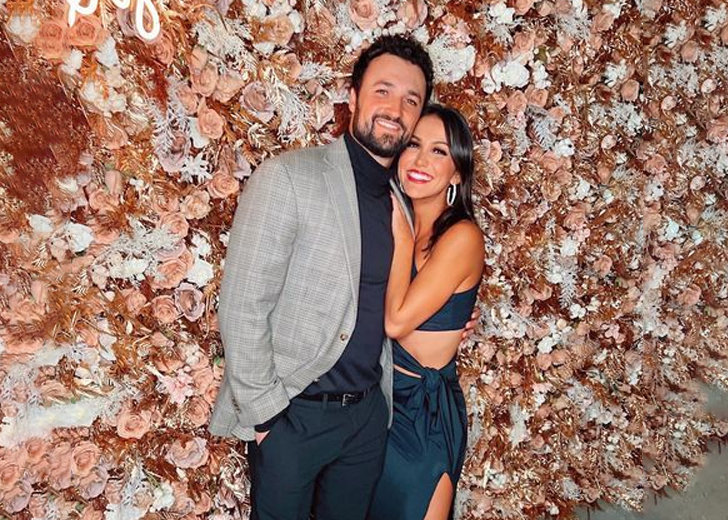 Kat Stickler and her boyfriend Cam Winter were pretty much couple goals going by how her fans react to them on her social media.
But, Kat scared her followers when rumors about their break up started floating around on TikTok.
However, the stories had little to do with their new relationship and more to do with someone they were both close to. It was Cam's sister Taylor who was the origin of these break up speculations.
Kat Stickler's Boyfriend's Sister Spark Split Rumors
The rumors about Kat and Cam's break up first started on Instagram. In late January 2022, fans noticed that Kat and Taylor had unfollowed each other on Instagram.
Reportedly, it was Taylor who first instigated this break up drama. She unfollowed Kat and her brother on the platform.
According to a TikToker, going by @amandachristine_1 on the platform, she reported on this incident and got a response from Taylor.
She had commented on the video Amanda made and said the facts about unfollowing Kat and her boyfriend, Cam, were false.
In another instance, Taylor also commented, "It's sad to be honest" on her video, referring to people's obsession with her life.
However, despite Taylor's claims, Amanda revealed screenshots that showed she had not followed either of them.
This prompted Amanda to take down her initial video because she did not want to offend anyone, especially not Kat.
However, Kat actually liked one of Amanda's videos and even said she loved one of her ideas a couple of days later.
People in the comment section of this video were discussing how the drama between the two women was inevitable.
One even joked, saying, "KAT BETTER NOT HAVE SIGNED AN NDA WITH TAYLOR." This was a callback to Kat's NDA with her ex husband, Mike Stickler.
As of this writing, Kat and Taylor, who were best friends, do not follow each other on Instagram. This spat between the two also made people wonder if she had a break up with Cam.
People expressed their concerns in the comment section of one of Kat's videos posted on January 26. Ironically, it was a post where she expressed her annoyance at people who lived on gossip. Amanda said she, too, was getting a lot of questions about their split.
So, she reported on their split speculations on January 26. She uploaded a screen recording of a video Kat posted on her TikTok, confirming they were still together and hadn't split up.
Nevertheless, this story took another turn as Kat deleted this video later, further fueling the split suspicions.
Are Kat Stickler and boyfriend Cam Winter still together?
Amidst all these speculations, fans were getting worried about Kat. Further adding to their worries was her video on February 2, 2022.
She posted a sad-themed video about her life and experiences on the day. She revealed she had not been feeling herself for a few days at the time.
Cam came to the rescue on February 11, 2022, with his post that dispelled all the speculations about their split.
He uploaded a cute picture of him and Kat on a rooftop bar in St. Petersburg, Florida. In the caption, he wrote," 'Can I kiss you at a rooftop bar tonight?'"

Kat Stickler with boyfriend Cam Winter in Florida. (Photo: Cam Winter/Instagram)
His girlfriend replied to the video with a heart emoji. Also, in the replies were countless fans who felt relieved that they were still together.
"Thank you for confirming y'all didn't break up," one wrote. Another one said they were getting worried because of Kat's sad post earlier in the month.
"yes I can sleep well tonight now," a third exclaimed.
Someone else, however, wrote some words of wisdom, saying people could be sad without it being about their boyfriend or girlfriend. Similarly, another chimed in with, "Thank you for laying redundant gossip and unnecessary speculation to rest. Beautiful couple." 
Unfortunately, their relief didn't last long. On August 2022, Stickler took to TikTok to confirm she and Winter had broken up. She also clarifed that they parted in amicable terms and would love and respect each other forever.