Jenna Marbles Reported to Replace James Corden on 'The Late Late Show'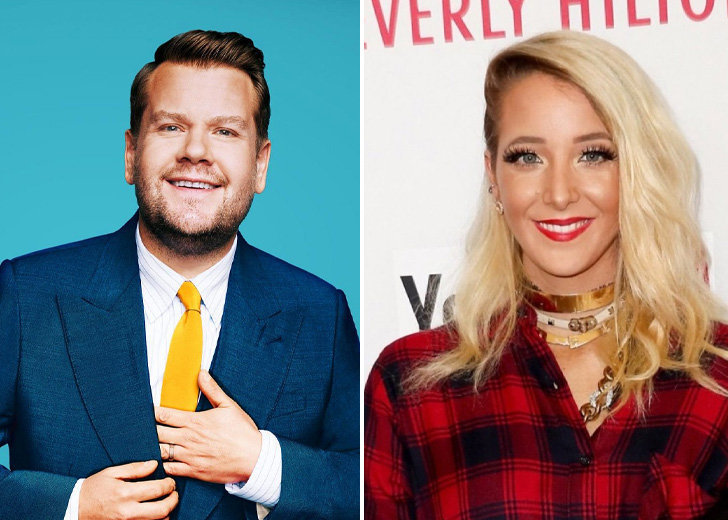 The news about James Corden leaving The Late Late Show in 2023 has just hit the media, but talks about his replacement have already started.
Many have created more than a few lists about the potential candidates to replace Corden, who took over the reins from Craig Ferguson in 2015. Many names have been thrown into the mix, but Jenna Marbles is a new one.
Marbles, a former YouTube personality, has plenty of experience in other parts of show business, but if selected for the gig, it would be her first time hosting a mainstream celebrity talk show.
Rumors Say Jenna Marbles Considered as Next 'The Late Late Show' Host
The rumor about Marbles being considered for the gig after Corden's exit first appeared on the Instagram celebrity gossip page, Deux Moi. The speculation broke after an anonymous tip appeared on the page's stories.
"Our girl Jenna," the subject of the tip read as the anonymous insider wrote about her apparent knowledge regarding the subject.
"This is very much in the works - but I know for a fact that Jenna Marbles is in talks to take over James Corden on the Late Late show," the person claimed. According to them, among the many names being thrown around, Marbles was "one of the most popular" because of how much the public loved her.
Another reason why she was a good choice, they speculated, was because of the potential traction her comeback into the mainstream media could generate.

Jenna Marbles is reportedly in talks with CBS to be the next host of 'The Late Late Show' after James Corden's exit. (Photo: Deux Moi/Instagram)
Her YouTube popularity could help the show — she could help revive the show and regain its lost views and popularity. They also cited Drew Barrymore's show's popularity as an example of what Marbles could bring to the table for CBS.
"We'll see what happens, but personally I'm a fan," the tipper concluded their writing.
James Corden's Exit and Other Potential Candidates
Corden, the current host, first revealed his decision to exit the show to Deadline. On April 28, 2022, Deadline exclusively reported that he had signed on for another year, which would be his last contract with CBS for The Late Late Show.
He will depart the show before the summer of 2023.
"It's been it's a really hard decision to leave because I'm so immensely proud of the show," he told Deadline of his decision. "I've really been thinking about it for a long time, thinking whether there might be one more adventure."
After this, he revealed his decision to The Late Late Show audience, saying, "We are going to go out with a bang … they'll be tears, so many tears, 'cause this has been the hardest decision I've ever had to make. I never took this for granted, ever."
The names being discussed in the mainstream media as potential replacements are veteran comic Roy Wood Jr., Amber Ruffin, Ziwe, and Nathan Fielder. Besides these, Twitter has some thoughtful — and some hilarious — suggestions.
Users have been throwing out names such as Neil Patrick Harris, Harry Styles, Tiffany Haddish, Robin Thede, Trevor Noah, Colin Jost, etc. A few other mildly improbable replacement suggestions include Gary Lineker, Space Ghost, a tuxedo-wearing Golden Retriever, and of course, Vladimir Putin.
Many also wish the old host, Ferguson, would make a sensational return, or at least his robot skeleton sidekick Geoff Peterson would take on the show's reins. This is definitely a space to watch!