Robin Thede Husband Is Myth! Getting Married Not On Cards, 12 Boyfriend Works Fine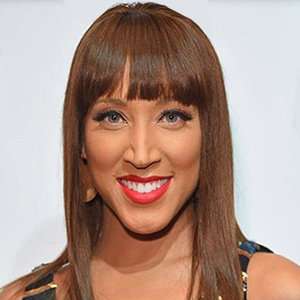 Actress/Comedian Robin Thede time and again proved us why she's considered one of the funniest woman in show-biz. Her timeline on Twitter further asserted this; her hot takes on boyfriends and husbands made us giggle, and in many cases laugh out loud.
The 39-year-old comedic actress is best known for being the first African-American woman to spearhead a team of writers for a late-night talk show (The Nightly Show With Larry Wilmore). As of 29 July 2017, her video on YouTube title Shit Black Guys Says has over 2.7 million views.
Robin appeared on the Late Show with Stephen Colbert on 19 June 2018 to discuss her stay at a hunted plantation.
Her critically acclaimed 2009 web series Buppies cemented her position as one of the most exciting creatives bringing the black experience on the fore.
In 2017, she became the first African-American woman to host a late-night talk show as she hosted BET's The Rundown.
Despite this monumental feat and success of the show, The Rundown with Robin Thede - it had a perfect score in Rotten Tomatoes - BET canceled it after just one season on 25 June 2015, two days before Robin's 39th birthday. BET has drawn a lot of criticisms for its actions ever since.
You May Like: DeRay Davis With Two Girlfriend Living In Harmonious Relationship! The Impossible Happens
Robin Thede: Force To Be Reckon With
Before joining Comedy Central's The Nightly Show With Larry Wilmore(2015), Robin had worked as a head writer on season one of The Queen Latifah Show(2013) and penned two seasons of BET's Real Husbands of Hollywood(2013).
Her acting gig includes recurring roles on Second Generation Wayans(2013) and The Goodwin Games(2013). Her industrious 2013 saw her appear in the film A Haunted House.
In 2011, she worked on comedy series In the Flow with Affion Crockett and Clunkers.
Over the years the former late-night talk host has gloated writing credits on numerous award shows such as 42nd NAACP Image Awards(2011), the BET Awards(2007 to 2012) and the BET Hip Hop Awards(20010 to 2012).
Besides writing for TV and Award shows, she has been successful at creating viral videos, including Every Little Step(2010) and For Stuffed Colored Girls(2010).
The actress/comedian spent her formative years doing sketch comedies and providing comedic commentary on TV shows. She also worked as a correspondent on E! News. She honed her improv, comedy, and sketch writing at The Second City in Chicago.
Rich Family Background: Daughter To Educators Parents
Robin was born on 27 July 1979 in Spencer, Iowa to interracial parents. She was destined for greatness from the day of her birth as she shares her birthday with celebrities such as the baseball player Alex Rodriguez, wrestler, Triple H and rapper, Tory Lanez.
She's one of three sisters who grew up in Davenport, Iowa but later moved to Bettendorf with their parents.
The Iowa native earned a degree in Broadcast Journalism and African-American Studies from Northwestern University in Illinois.
Her mother, Phyllis Thede who is of African-American descent worked with community school before she was elected as Iowa State Representative in 2009 and has held the position in the office ever since. Her father, Dave Thede is of German American descent and educator by profession.
Because of her parents' varied cultural and racial background, she recognizes herself as belonging to mixed ethnicity.
You May Like: Christel Khalil Has Husband? Single Parent To Son Or Married Secretly?
Robin, with her mixed heritage, hasn't had any luck landing a boyfriend, let alone a husband of either race as evidenced by an awful tale she told Wendy Williams on Wendy's Show in February this year.
Twelve Boyfriends And Waffle House Worker Husband
Robin seems to find much humor in her inability to 'get a boyfriend.' In February 2016, ten days before Valentine's day, she asked her followers on Twitter if anyone knew how to order her boyfriend.
The 39-year-old would flip the narrative, albeit relying heavily on her comedic witts, by admitting that she has 'got like 12 boyfriends,' a month later.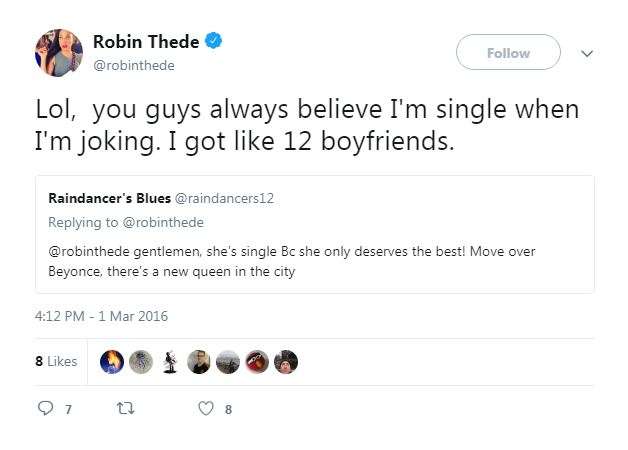 That's Some Scoop: On 1 March 2016 Robin jokingly claims to have got 12 boyfriends after a fan calls her single (Photo: Robin Thede's Twitter)
The Iowa native isn't scared to tap into her comedic bulge every now and again. Her self-deprecating nature was on full swing on 5 September 2013 as she tweeted that the NFL baller, Wes Welker was her white boyfriend.
In other outrageous outtakes, she once vowed that her future husband would work the counter at the Waffle House on Labor Day. In another instance, the Second City Alumni conflated availability of cookies with secrets for being happily married.
Being single for too long may make you an easy target unless you take Robin's approach and join in on the fun by making a joker of oneself; by creating a world of a mythic husband; and imagining a harem of twelve boyfriends.
---