Christel Khalil Has Husband? Single Parent To Son Or Married Secretly?
The W.I.T.C.H. star married Stephen Hensley in 2008 but later divorced in 2011...She and her ex-husband share the custody of a son...Christel Khalil was born in Los Angeles, California on 30 November 1987 to mixed-race parents...her ethnicity often becomes a topic of conversation...identifies herself as mixed race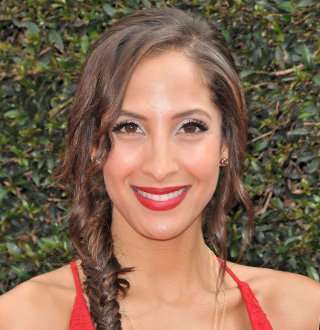 American Actress Christie Khalil has had a formidable career in acting so far, but not much regarding finding the right husband. With the aid from her current beau, all of that could change though.
The 30-year-old actress is best known for her role as Lily Winter Ashby on the CBS drama The Young and the Restless a role she has reprised from 2002 till now. She's also recognized as the only minority actress in Daytime Emmy history to win Daytime Emmy Award for Outstanding Young Actress in a Drama series.
Answers Ahead: Christel Speaks to The Red Carpet Report on her nomination at 2016 Emmy Season Event (Video: YouTube)
Her latest undertaking sees her modeling for a non-profit organization called True Connection.
Christel Khalil's Career: Child Actress Bags Daytime Emmy
The Los Angeles Native was aged just 6 when she made her debut on the small screen in 1993, portraying the character named Crystal The Sinbad Show. Two years later, she landed her first movie role as a little girl in Dragon Fury.
You May Like: Don Diamont Self-Revealed Bio: Who Are "Bold and the Beautiful" Star's Wife & Sons?
As a child star, she would appear in movies and television shows such as Matilda(1996), Family Matters(1996), George & Leo(1997), Milo(1998) and Interview with the Assassin(2002).
In 2003, she made a guest appearance on the hit TV show That's So Raven. A year later, she landed her first leading role in the show W.I.T.C.H. She voiced the character of Cornelia Hale in the show.
However, her watershed moment on TV came as playing the character in the soap opera The Young and the Restless, opposite to Billy Miller character named Billy Abbott. However, the show was abruptly canceled in 2005 after three seasons, only to be brought back in 2006. In 2012, Daytime Emmy awarded her for her outstanding performance in the series.
Is Christel Leaving The Young and the Restless? 
On 8 November, Christel took to Instagram to announce a very important news with her fanbase. As if turning 31 wasn't enough, the actress shared that she would be starring in the Lifetime movie, Sorority Stalker.
Sorority Stalker revolves around a spa owner named Aya who ends up befriending a woman called Taryn who claims to be a sorority sister. The two ladies develop a close bond over a shared fellowship, so when Taryn is in need of a place to stay, Aya doesn't hesitate a bit to welcome her to her place - at first.
But the plot eventually unfolds with the doubt that Taryn is hiding a dark secret and is definitely not the person she claims to be, making Aya feel unsafe in her own home.
Read Also: Tristin Mays With Husband Like Boyfriend! Ethnicity, Plastic Surgery, Measurements & More
Other than the movie, Christel has been appearing less on Young and the Restless and has officially switched to part-time status. So when the news broke out that Christel would have a reduced role, fans were expressing concerns that the actress would leave the show as many old timers had left the show.
Well, Christel hasn't talked about actually leaving the show but we know why; she is more than busy preparing for the thriller movie on Lifetime.
Parents' Diverse Culture Shapes Her Mixed Ethnicity
Christel Khalil was born in Los Angeles, California on 30 November 1987 to mixed-race parents. Her father was a Pakistani, and her mother belonged to a mixed ethnicity, who had a varied ancestry form African American, Native American to European American.
Because of her parents' diverse cultural background, her ethnicity often becomes a topic of conversation. She identifies herself as mixed race despite being at the receiving end of online jokes about her ethnicity.
She has a younger half-sister through her father and three older brothers. Her parents have instilled a wide array of cultural identity in her.
Shares Son's Custody With Rockstar Husband After Divorce In 2011
The W.I.T.C.H. star married Stephen Hensley in 2008 but later divorced in 2011. Her ex-husband is a musician by profession. She and her ex-husband share the custody of a son -- their only child from the marriage.
In April 2010, Christel had given birth to their son during an at-home water birth. Her best friend and co-star, Bryton James is her son's godfather and actress Fadhia Marcelin, the godmother.
Between 2011 and 2015, Rhea was in a relationship with bar runner Ray Wicks.
Similar: Rumored Gay Neil Flynn's Wife & Family Exists; Not Where Fans Expect
Single Mother Or Secretly Married?
At present, she's dating Sam Restagno -- a Toronto-based venture capitalist. They have been in a relationship since July 2016. There have been rumors surrounding their relationship, many of which speculate that the couple has already married.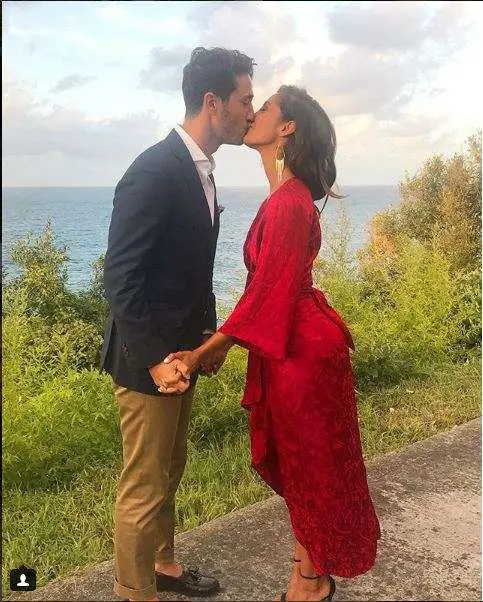 Picture Perfect: Love In The Air: Rhea and her rumored husband savor the moment by the seaside in an Instagram post dated 16 April 2018 (Photo: Christel Khalil's Instagram)
Christel has been posting pictures of her bae on her Instagram ever since she began seeing him. But her most recent Instagram activity saw a spike in her posts featuring her rumored husband.
Unless either party speaks on the rumor, there is not an end to these wayward speculations.