'The Daily Show' Host Trevor Noah and Girlfriend Minka Kelly Break Up
Trevor Noah and Minka Kelly have called it quits after almost a year of dating.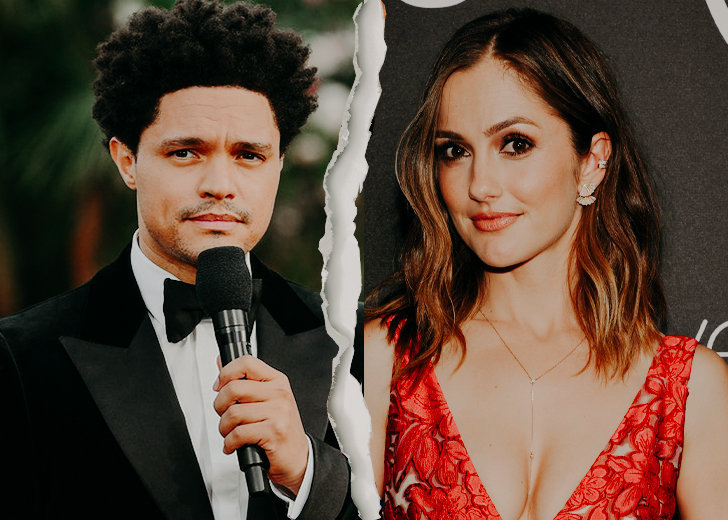 The Daily Show host Trevor Noah had been linked with actress Minka Kelly since 2020. However, on May 16, People reported the duo has ended their relationship of almost a year. 
The pair were extremely private about their relationship. Therefore, either party has confirmed neither the start of their relationship nor the end. 
Noah And Kelly Post Breakup
It seems like both of them are dealing with the breakup in their own way. Noah was partying with DJ Steve Aoki and business owner Dave Grutman at Strawberry Moon at the Goodtime Hotel in Miami Beach. 
According to the sources at E! News, the host hyped the crowd behind the DJ Booth with Aoki.
Noah took to Instagram to share memories from his Miami vacation with Grutman. He quipped that they fight over politics, argue about social media, and make peace over food. 
Kelly also has been going on vacations. She recently went to Mexico with some friends and posted several pictures on Instagram.
Timeline Of Their Relationship 
The starting of their relationship is fuzzy since various sources have reported different information. People exclusively reported that Noah and Kelly were in a happy relationship in August 2020, while sources at E! News confirmed that the two were together dating before the COVID-19 quarantine started. 
Regardless, it can be presumed that their relationship started in 2020. 
In September 2020, TMZ photographed the duo together in New York. Noah and Kelly were seen getting out of an SUV with luggage and his girlfriend's dog, going inside the host's NYC apartment.
Speculations of them moving together started, making sure that the couple is very serious about their relationship. 
Fast-forward to January 2021, The Daily Show host bought a $27.5 million, 11,000-square-foot mansion on the other side of the country — Bel-Air, Lost Angeles. As reported by People, Noah and Kelly moved in together to LA. 
Reportedly, they had been making plans for the future for some time. Their relationship was stable, and they were looking for a place to stay in L. A. 
 The last time Noah and Kelly were spotted together was at the host's 37th birthday. On February 20, the Titans actress was spotted with a handful of balloons leaving Party City in LA.
Among gold, blue, teal, and fuchsia-colored balloons, she held one huge transparent balloon which said 'Happy Birthday'. 
The same day, the couple were spotted grabbing takeout from In-N-Out Burger. That was the last time Noah and Kelly were photographed together. 
Previous Relationships
Prior to the actress, Noah was in a relationship with Dani Gabriel. Not much is known about their relationship; however, the breakup was around the time when he started hosting The Daily Show. After that, the host was in a long-term relationship with singer/songwriter and model Jordyn Taylor from 2015 to 2018.
Kelly also has a fair list of ex-boyfriends. The Friday Night Lights star has dated her co-star Taylor Kitsch, singer John Mayer, NY Yankees star Derek Jeter, and actor Chris Evans among others. Before Noah, the actress was with Grey's Anatomy star Jesse Williams.