Some of the Best Celebrity Impressions by Geoff Peterson, Craig Ferguson's Skeleton Sidekick
Geoff Peterson was voiced by Josh Robert Thompson.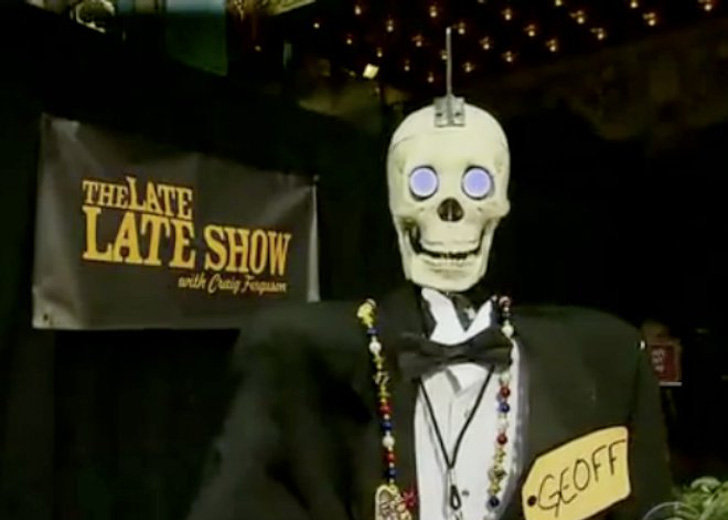 Do you remember Geoff Peterson from The Late Late Show with Craig Ferguson? The animatronic human skeleton was something, wasn't he?
For those who might be wondering who he is, Peterson was a robot, voiced by Josh Robert Thompson, who served as the sidekick to American actor and television host Craig Ferguson.
The male-version robot debuted on the show on April 5, 2010, and made his last appearance on December 19, 2014. 
During his appearances, he mostly read the show's opening monologues, tweets, emails and made some epic impressions of renowned celebrities. Below are some of the best celebrity impressions made by Peterson.
Liam Neeson
One of the popular impressions done by Peterson was of the Northern Ireland actor Liam Neeson. During a segment titled 'Geoff Peterson's Hollywood Grab Bag,' the robot said he could make a "killer impression" of The Marksman actor.
Immediately after saying that, Peterson impersonated the actor by saying his famous line from the film Taken. "I don't know who you are. I don't know what you want. If you're looking for ransom, I can tell you I don't have money...but what I do have are a very particular set of skills," the humorous robot impersonated.
Afterward, Peterson repeated the lines Neeson said while describing his character, which eventually brought a smile to the actor's face.
Morgan Freeman
It was a jaw-dropping moment for Morgan Freeman when Peterson made the veteran actor's impression during his appearance on The Late Late Show with Craig Ferguson.
"Do you like to hear my Morgan Freeman voice," the robot said while impersonating him.
Impressed by the impression, Freeman gave a big thumbs up to Peterson, who further impersonated him, saying, "See, when I open my mouth, it makes everything sound smart."
Wilford Brimley
The highlight of The Late Late Show with Craig Ferguson was the hilarious conversations between Peterson and Ferguson, where the latter brought up stories of renowned celebrities, and the former would impersonate them.
In one of the episodes, Ferguson said he saw late actor Wilford Brimley at the salad bar while he was in a grocery store. He then went on to address the Cocoon star's diabetes problem.
"I want you to pick up the phone right now. I'll kill you," Peterson imitated Brimley, instantly picking up the context from Ferguson.
Ferguson continued as himself while the robot talked to him throughout impersonating The Natural actor.
Arnold Schwarzenegger
Another hilarious moment on Ferguson's show was when he asked Peterson to read a page while making an impression of actor Arnold Schwarzenegger.
What he did as Schwarzenegger made the audience laugh out loud. He literally babbled the lines he was told to read.
Robert De Niro
In one of his YouTube videos, Thompson, who voiced Peterson, showcased his talent by impersonating Robert De Niro.
The video was a comedy skit where he actually dressed, behaved, and voiced The Irishman actor. He acted like a secret agent informing his senior officer about a serial killer.
"Alright now, listen...listen...there's a serial killer on the loose and I think I've got an idea who it might be," Thompson said in De Niro's voice.
He skillfully mimicked the actor, impressing many viewers who showered him with compliments in the comments.