'The Ice Road' Actor Liam Neeson Advises Young Action Stars to Keep Themselves 'Trained'
Liam Neeson attempts to pass on his 'particular set of skills.'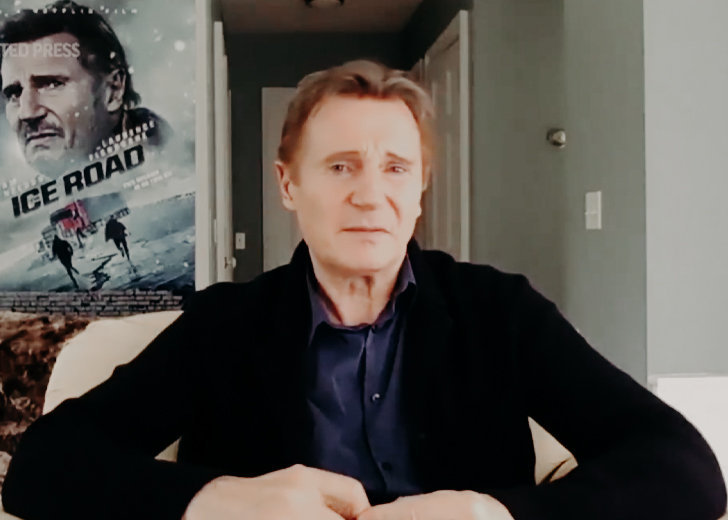 "I will find you. And I will kill you," Liam Nesson's character Bryan Mills once said in the iconic phone call scene from the movie Taken. 
These lines have been engrained into the minds of millions, thanks to the brilliant acting prowess of the veteran actor, who at the age of 69 is still seeking out roles in action films. 
During a promotional tour, albeit virtual, for his new movie The Ice Road, Nesson shared valuable advice to up-and-coming action stars via the Associated Press. 
The publication tweeted a clip of the Non-stop star on Monday, July 5, 2021. 
Nesson's Advice to Younger Stars
In the short clip, Neeson said that if an actor was keen about doing an action scene, be it fighting or something else, it was quintessential that they keep their body trained. 
Neeson reminded viewers that making a movie was a team effort. So, on any given day of the shoot, close to fifty-sixty people would be waiting for the actor to do their part on set. 
He added that keeping the body trained did not necessarily entail spending 2-3 hours in the gym every day. 
However, as an actor, they should keep in mind the amount of impact they have over the whole shooting process. 
Also, the action legend explained that making a movie was a relentless process, and all parties involved needed to be on set for 5-6 days a week.
Hence, an actor should have the stamina to adhere to this sort of routine, which required them to be in a reasonably good shape. 
When it came to actually acting out an action scene, Nesson recommended that the actor should be as relaxed as they could be. 
"Remember to breathe!" he concluded. 
He Was Once an Amateur Boxer
Apart from the obvious slew of action movies under Nesson's belt, he was also an amateur boxer in his teens, making him all the more credible to be handing out these tidbits to action heroes. 
It turns out, Nesson was drawn to the art of fighting from early on in his life.
In an interview with ESPN, he revealed that he started boxing when he was just a 9-year-old and sparred as an amateur boxer till he was 16 or 17 years of age. He added, 
I was OK, I was competent. I was a jabber, I had a good jab. I had about 40 fights and I won about maybe 30.
He also said that he was the juvenile champion of Northern Ireland three times and Irish runner up a couple of times in his weight division. 
Neeson's background in boxing is prevalent in his 1990 action flick Crossing the Line, where he played an out-of-work miner who supported his family through illegal bare-knuckle boxing matches. 
However, he confessed during the same interview that he had softened a little with age and could not take up a movie with intense fist-fighting scenes.
That is not to be mistaken for an inability to deliver blockbuster action films, though - his new action vehicle, The Ice Road, was released on June 25, 2021.