Where Is Jenna Marbles Now? Fiance Julien Solomita Gives Strange Update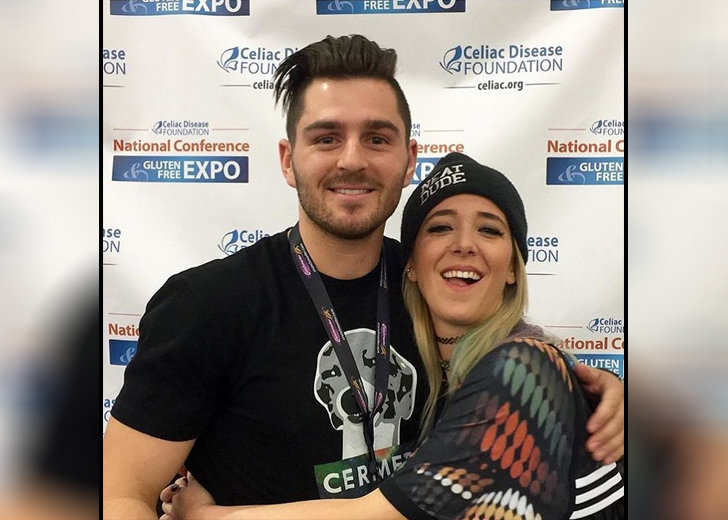 The fans of Jenna Marbles now have something to cheer about.
Marking the occasion of Valentine's Day 2022, the former YouTube star's fiancé Julien Solomita took to Instagram to post a picture of him and Marbles.
The post excited the fans because it is probably for the first time any update about her came out in public since she announced to end her social media life.
Julien Solomita Shares Jenna Marbles' Update
In the mentioned Instagram post, Marbles and her longtime partner Solomita held each other's hands, while they walked together in the street.
However, Solomita, who is also a social media personality, did his best to keep the post as low-key as possible. He apparently disabled the post's comments section and just added a black heart emoji in the caption.

Jenna Marbles and Julien Solomita in a recent Instagram post. (Photo: Instagram)
In the wake of the situation, fans — across various social media platforms — began talking about the post and how the post hinted that Marbles was happily relishing her life with her fiancé now.
For instance, in a Reddit thread, an admirer wrote, "Happy to see that she's happy."
Another user on the platform similarly added, "Yes!! I miss her so much, made me so happy to see her even if it is just the back of her! I really hope she is doing well."
Valentine's Day sucks but at least I got to see the back of Jenna marbles head 🥺 — ✨ quarantined insomniac ✨ (@judgewhooty) February 14, 2022
A few others also noted that the picture was not clicked recently, as they had seen the picture previously, too.
"It's an old photo Julian had on his Instagram before Jenna got canceled," one fan explained.
The fan added, "And after the cancelation, he deleted a lot of his photos (all with Jenna) just to avoid people commenting mean things. And now when he posted it again, he at least turned off the comments."
Fans Are Emotional about Jenna Marbles' Absence
Now while some fans were happy to see a glimpse of Marbles, even though it was an old picture, there were others who became extremely emotional.
Most of them, therefore, went to express themselves in Solomita's other Instagram posts.
A fangirl stated that she understood he was trying to keep the former YouTuber private before adding she, as well as other fans, missed her greatly.
Another fan, however, asked the fellow fans to stop filling in Solomita's comment section so that he and Marbles could enjoy their privacy.
"Im just as excited as the rest of you to see her, but let's be respectful. They clearly don't want comments here. They are wonderful people with feelings and boundaries, I think we lose sight of that sometimes," a comment read.
What Happened to Jenna Marbles?
Back in June 2020, Marbles announced that she was leaving her main channel for the time being.
In the tearful YouTube video, she also apologized for some of the offensive videos she had posted on her channel in the past.
Stating why she was leaving YouTube, Marbles, whose real name is Jenna Mourey, shared she was not having fun with her work, which was her initial goal.
A few months later, she then quietly deactivated her Instagram and Twitter accounts.
As of now, it is unknown if she would ever return back to social media — but it is also evident that so many of her followers love and miss her.