Here Are Some of the Best Pride Month Quotes from LGBTQ+ Celebrities and Allies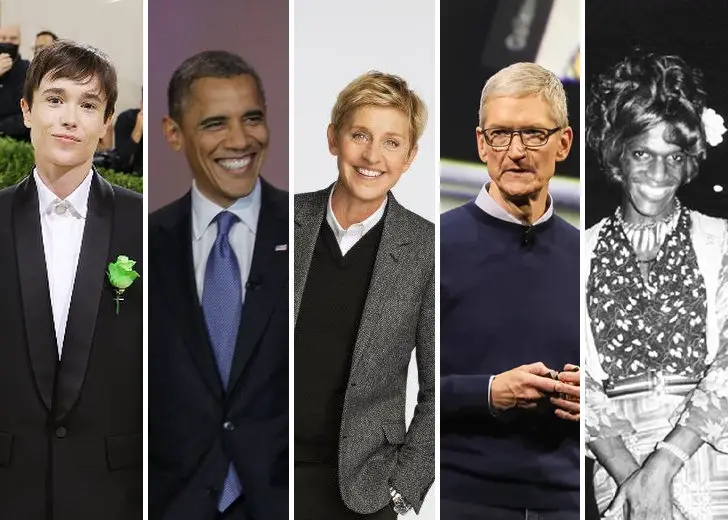 Pride month has become one of the important celebrations in countries across the world. During this time, people of the LGBTQ+ community come together to celebrate loudly and proudly how far they have come. 
From showing up to a local Pride parade to posting messages on Instagram or Facebook, everyone — from the LGBTQ+ community to the allies — can join in on the celebrations. 
That said, it can sometimes be difficult to find the right words to sum up your feelings.
Luckily, we have got you covered. For inspiration, you can always turn to these best Pride Month quotes from LGBTQ+ celebrities, activists, and allies.
1. Elliot Page
In December 2020, Elliot Page came out as transgender through a lengthy Instagram post. 
Fans might recognize him as Juno MacGuff from the Indie film Juno, which earned him nominations for an Academy Award.
I love that I am trans. And I love that I am queer. And the more I hold myself close and fully embrace who I am, the more I dream, the more my heart grows, and the more I thrive.
2. Barack Obama
This man needs no introduction. Barack Obama was considered the most pro-LGBTQ president of all time by advocates. 
During his tenure as President of the United States, he passed a federal hate crime law protecting LGBTQ people. 
But most importantly, he welcomed a Supreme Court ruling that same-sex couples across the United States have the right to marry.
When all Americans are treated as equal, no matter who they are or whom they love, we are all more free.
3. Ellen DeGeneres
As one of the most famous TV hosts representing the LGBTQ+ community, Ellen DeGeneres became a pioneer in the fight for LGBTQ+ equal rights and visibility. 
The TV host famously came out in 1997 on the sitcom Ellen, which sent shock waves through the television industry. 
She received hate mail and death threats, but it never stopped her from embracing her identity. 
We're not supposed to conform, we're not supposed to be like somebody else, we're not supposed to act like somebody else — and as long as you stay true to exactly who you are, you will be rewarded in ways that you can't imagine.
4. Tim Cook
For the longest time, people speculated about Tim Cook's sexuality. In October 2014, he clarified all doubts by coming out. 
The CEO of Apple became the first chief executive of a Fortune 500 company to come out as gay publicly.
Cook, who preferred to stay away from the limelight, surrendered his privacy, hoping it would bring comfort to anyone who felt alone.
So let me be clear: I'm proud to be gay, and I consider being gay among the greatest gifts God has given me.
5. Marsha P. Johnson
We cannot go without mentioning Marsha P. Johnson's name if we are talking about anything and everything LGBTQ+. 
Johnson was an African-American gay man and drag artist whose activism in the 60s and 70s hugely impacted the LGBTQ+ community.
He led a series of protests and riots demanding rights for gay people and founded STAR (Street Transvestite Action Revolutionaries).
The organization supported gay and trans individuals who had been left homeless.
How many years has it taken people to realize that we are all brothers and sisters and human beings in the human race?
6. Chaz Bono
Between 2008 to 2010, Cher and Sonny Bono's child, Chaz Bono, underwent a female-to-male gender transition. 
In 2011, he made a documentary about the transition process, Becoming Chaz. That same year, he became the first transgender person to compete on Dancing With the Stars. 
I've been embraced by a new community. That's what happens when you're finally honest about who you are; you find others like you.
7. Beyoncé 
Not only is Beyoncé one of the most recognizable living artists on Earth, but she is also regarded as the fiercest LGBTQ+ ally. 
In 2019, she and her husband, Jay-Z, received the Vanguard Award from GLAAD for their continued support of the LGBTQ community. 
If you're part of a group that's called 'other' — a group that does not get the chance to be center stage — build your own stage and make them see you. Your queerness is beautiful, your Blackness is beautiful, your compassion, your understanding, and your fight for people who may be different from you is beautiful.