Is Shirley Henderson Married? Has On-Reel Husband, What About Real Life?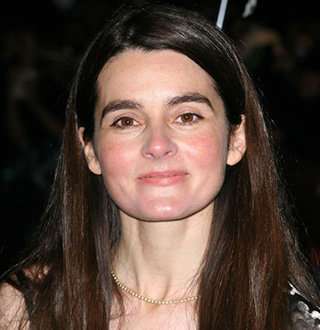 Quick Information
Date of Birth

Nov 24, 1965

Age

57 Years, 10 Months

Nationality Scottish
Birth Place

Forres, United Kingdom

Profession

Actress

Career

1987–present

Relationship Status

Single

Ethnicity/Race

White

Height/ How Tall?

5' 0½" (1.54 m)

Weight

125 lbs (57 kg)

Hair

Long

Hair Color

Dark Brown

Eye Color

Dark Brown

Lesbian

No
For years, Scottish actress Shirley Henderson used her baby-like face and immersive acting skills to charm moviegoers. She earned prominence for her acting in the 1996 cult classic flick Trainspotting.
Since her silver screen debut, the 57-year-old actress has landed numerous high-profile roles in movies such as Moaning Myrtle on Harry Potter, Frozen (2005), American Cousins (2003), Twenty-four Hour Party People (2002), Wilbur Wants to Kill Herself (2002), and Okja (2017), Star Wars: The Rise of Skywalker (2019) And See How The Run (2022)
With such an immense reputation in the movie industry, it is obvious that the Foress-born actress has got millions of followers who are curious to know about diverse aspects of life, from her career journey to personal life matters, including her relationship status, dating life, marital status, and personal life rumors.
Moaning Myrtle: Shirley Henderson starring as Moaning Myrtle in Harry Potter and the Chamber of Secrets movie (Published on 29 August 2017)
Hence, this article aims to answer the burning questions relating to Henderson's personal life. Read the full article to get complete information. 
How old was Shirley Henderson when she played Moaning Myrtle?
Born on 24 November 1965, Shirley Henderson is a Scottish actress best known for playing the haunting witch ghost, Moaning Myrtle, in Harry Potter and the Chamber of Secrets (2002) and Harry Potter And The Goblet Of Fire (2005). She was the oldest actor to portray a teenage student from Hogwarts in the world-famous fantasy movie adapted from J.K. Rowling's novel. 
Henderson is regarded as a versatile actress with impressive credits in the television and movie industry. Her journey in the entertainment world started with her childhood stints of singing in charity events, local clubs, and other events, singing songs of Abba, The Carpenters, and Barbara Streisand.
At age 17, she moved to London to pursue higher education at the Guildhall School of Music and Drama and graduated from the institution in 1986
Previously, she earned a National Certificate in Theatre Arts from her one-year study at Adam Smith College at 16. 
In her late thirties, she first appeared on-screen in the ITV's children's drama Shadow of the Stone in 1987. And after her debut, she did many diverse roles in television and films before gaining widespread popularity from her role in Harry Potter. She was 37 when she did the role of Myrtle for the first time. 
Henderson is 5 feet tall and is known for her soft, raspy, squeaky, childlike voice and tiny frame. She is also the first actress to win the Best Actress award twice at the Cherbourg-Octeville Festival of Irish and British Film.
She also won an Olivier Award for Best Actress in a Musical for her role as Elizabeth in the original Girl from the North Country production in 2018.
Know about Shirley Henderson's tv shows
See more: Who Is Lee Ingleby Partner/ Wife? Personal Life Of 'Bob The Builder' Star
Shirley has had a rich television career since she first appeared on screens in the 80s. Except for 2019, she has appeared in at least one new television series each year starting from 1990. 
 In October 2022, it was announced that she would be part of the cast of the upcoming science fiction television series Dune: The Sisterhood alongside Emily Watson, Sarah-Sofie Boussina, and Indira Varma.
In the series, whose plot is set in the timeline before the ascension of Paul Atreides, she plays one of the two most important characters, Tula Harkonnen, who, alongside her sister Valya Harkonnen (Emily Watson), fights to save humanity from forces moving ahead to establish the fable sect, Bene Gesserit. 
In her early years, she was seen in the likes of Clarrisa, The Bill, and  Hamish Macbeth. In 2003, she was seen as Anne Marie in the British television drama In a Land of Plenty.
Since then, she has appeared in programs such as Doctor Who, Agatha Christie's Marple: Murder Is Easy, Death In Paradise, Treasure Island, Southcliffe, The ABC Murders, Happy Valley, and Worzel Gummidge. In 2018, she portrayed the role of Lucille Hardy in Stan & Ollie. Her latest movie venture was portraying the famed English crime author Agatha Christie in the 2022 comedy-mystery film See How They Run. 
Related: DWTS Newbie Evanna Lynch Dating Status Now | Boyfriend Of 'Potter' Star
Was on-screen husband John Simm Shirley Henderson's off-Screen boyfriend?
In the Autumn of 2012, the rumored romance between Shirley and actor John Simm, who is best known for his roles as Sam Tyler in the sci-fi drama Life on Mars, was repeatedly making headlines in various British tabloids. And it was five years in the making.

But in fact, she and her rumored boyfriend, John, had taken up an ambitious five-year project titled Every day -- in short, a film about a woman (played by Shirley) who is left to look after her four children on her own after her husband (played by John) is sentenced to prison.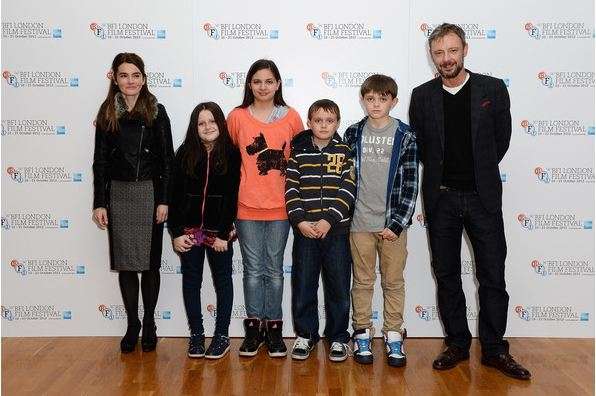 Married On TV:- Shirley, her on-screen husband, John, and their on-reel kids attend the showing of Everyday at the 56th BFI London Film Festival in 2012 (Photo:- zimbio.com)
In an effort to preserve the authenticity of its character, the Film4 commissioned movie was shot over the span of five years. Everyday premiered on 9 March 2012 to massive fanfare and critical acclaim.
Fans and critics alike lauded the chemistry between Shirley and her on-screen husband, John, in the movie, which eventually gave rise to the rumor of the on-screen duo being an item.
Is Shirley Henderson married?
Shirley's rumored boyfriend and on-screen husband, John, was previously married to actress Kate Magowan. John and Kate are proud parents of a son, Ryan, and a daughter, Molly.
As for Shirley and John: forget about the on-reel couple being married; to this day, it remains unclear if they were actually in a relationship.
You Ought To Check:- Openly Lesbian Comedian Hannah Gadsby On Dating Status, Partner, Weight Loss & Sexuality
Is Shirley Henderson a lesbian?
Because of Shirley's elusive personality, rumors of her being a closeted lesbian have also surfaced repeatedly. In addition, the 2012 profile on her by Scotsman Magazine's James Rampton further intensified the lesbian allegation against her.
Without revealing the gender of the Trainspotting star's love interest, James wrote about her life with her partner, stating:
She has returned very happily to Scotland, where she lives peacefully with her partner "near the beach and the countryside.
It is very difficult to get updates on her life and her partner as she isn't active on any social media platforms and lives a low-key life. For all we know, the aforementioned partner could be a boyfriend, a husband, or a lesbian lover. We will never know until Shirley comes out publicly and divulges her preferences.