Insight Into Eminem's Ex-Wife Kimberly Anne Scott — From Early Life and Relationship to Children and Net Worth
Know about Eminem's ex-wife Kimberly Anne Scott including her children, net worth, age, her drug-related problems, and a difficult past she had with Eminem.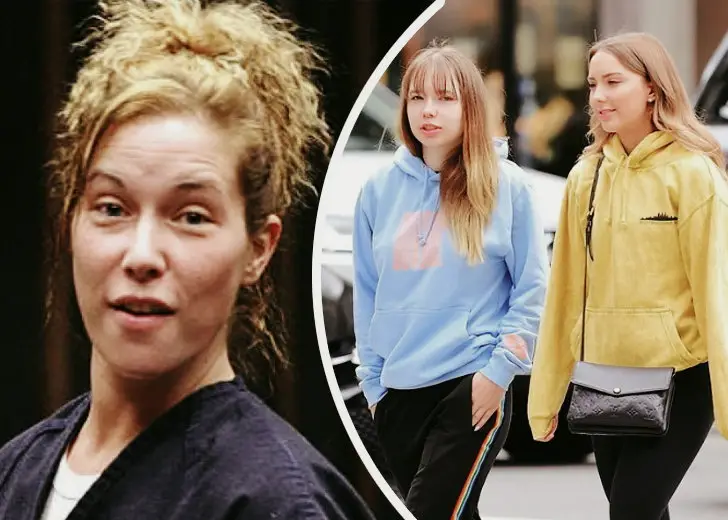 Quick Information
Date of Birth

Jan 09, 1975

Age

48 Years, 2 Months

Nationality American
Birth Place

Warren, Michigan, United States

Profession

Author

Relationship Status

Single

Ex-Husband

Eminem (M. 2006–2006), Eminem (M. 1999–2001)

Divorce/Split

Once

Wedding Date

1999-06-04

Gay

No

Net Worth

$2 million

Ethnicity/Race

White

Father

Casimer Sluck

Mother

Kathleen Sluck

Sister/s

Dawn Scott

Height/ How Tall?

N/A

Hair

Long

Hair Color

Blonde

Eye Color

Green

Lesbian

No

Daughter/s

Hailie Jade Mathers
Kimberly Anne Scott, who is renowned as the ex-wife of the legendary rapper Eminem, had numerous ups and downs in her life. To be precise, the now-author has been through more downs than ups — either being troubled by her stepfather in her childhood or having a problematic relationship with Eminem.
In this article, learn about Kimberly Anne Scott's childhood and age; know how much net worth she possesses; and, also find out the details of her daughters with Eminem.
Kim Was Abused By Step Father At A Young Age
Kimberly Anne Scott was born on January 9, 1975, in Warren, Michigan, USA. She was born as a twin alongside her sister Dawn Scott.
The twin sisters were born to mother Kathleen Sluck and father Casimer Sluck; however, they were made to know very little about their father, reports People.
Kim's mother, later, married another man, and thus, the twin sisters were raised by their mother and stepfather.
But the twins had to experience a tough childhood, courtesy to their alcoholic stepfather who often abused them. Because of that, they ran away from home in 1988 and settled at a youth shelter outside of Detroit.
Eminem Took Kim His Home, Shortly After They Met
Kimberly Anne Scott and her now ex-husband Eminem met for the first time at a house party. At that time, she was on a run from her abusive father and was only 13 years old, while the legendary rapper was 15.

Kimberly Anne Scott and her ex-husband Eminem (Source: TheSun)
In the book, How Eminem Got Started: Lessons from a Legend (How It All Got Started), written by Ramses M, the 48 years old rapper recalled the very first time he met Kim.
He remembered, "I'm standing on top of their coffee table with my shirt off, with a Kangol on, mocking the words to LL Cool J's 'I'm Bad.' And I turn around and she's at the door smoking."
In a short period of knowing each other, Eminem bought Kim to his house and introduced her to his mother, Debbie Nelson.
"He introduced her as Kim Scott and said she needed a place to stay. I was happy to help out. Kim said she was 15 and I had no reason to doubt that. In truth, she was so cute and busty that she could have passed for 17, " Eminem's mother Nelson stated in her 2008 memoir My Son Marshall, My Son Eminem.
Kim And Eminem Married Twice
After knowing each other from an early age, Kimberly Anne Scott and Eminem blossomed their friendship into a relationship. The relationship, eventually, yielded results, as they welcomed their first biological child, a daughter named Hailey Jade, on December 25, 1995.
To strengthen their relationship, the teenage lovers got hitched in the year 1999 — about four years after becoming parents together. However, the marital relationship did not go well as they divorced within two years of marriage, in 2001.
One of the reasons for their separation was the 2000's incident when Eminem reportedly found Kimberly kissing rapper John Guerra in the parking lot. That also led him to whip John with a 9mm pistol, followed by him getting arrested.
But the former couple again reconsidered each other — the two got married for the second time in January 2006. But the reunion did not last long either, as they filed for divorce just three months later.
Kim's Children Are Raised By Eminem
Although Eminem has only one biological daughter, Hailey Jade, with Kim Scott, he did raise two other daughters, Whitney Scott Mathers, and Alaina Marie Mathers.
Both the other two daughters are connected to Kim.

Kim Scott (second from left) with her children: Alaina Marie Mathers (first left), Hailey Jade (first right), Whitney Scott Mathers (second from right) and Parker Scott (in front) (Source: Pinterest
Among the other two, Alaina Marie Mathers is Kim's twin sister Dawn's biological daughter. Alaina, who was born on May 3, 1993, to Dawn Scott, was adopted by Eminem and Kim.
 The former couple did so to ensure that Alaina did not succumb to her mother's fate, as her mother, Dawn, had trouble with drugs and lived a troubled lifestyle.
Speaking about Whitney Scott Mathers, Kim gave birth to her in 2002 with her ex-partner Eric Hatter, a tattoo artist.
She was in a brief relationship with Hatter after her first divorce with Eminem in 2001. They separated after the birth of Whitney. Eminem adopted Whitney and raised her along with his other two daughters.
Presently, as of August 2021, all three girls are grown up — Hailey Jade is 25 years old and a graduate of Michigan State University. Whitney Scott Mathers is 19 years old and proudly bi.  Alaina Marie Mathers is 28 years old and often stays away from the limelight.
Parker Scott
Parker Scott is the youngest of all the children.
His exact birthdate is yet unknown, however, both Kim and Marshall have confirmed that Eminem is not his father. Unsubstantiated rumors point to Parker's dad's name being Mick Parker. However, there is no evidence to back this claim other than internet hearsay.
Despite Eminem being the biological father of only 1 of the 4 children, he has never let that stop him from embracing all his children as his own and showering them with love, admiration, and care. 
Kim Scott Has Accumulated A Decent Net Worth
According to Celebrity Net Worth, Kim Scott has a total net worth of $2 million. Although the source of her income is unknown, it can be assumed that her ex-husband Eminem has contributed to her net worth. The legendary rapper's net worth marks over $230 million.
Quick Facts About Kim Scott
In 2009, Kim Scott had authored a children's book titled Mommy! There's a Snot Man Standing Next to You!
Kim Scott's twin sister Dawn was found dead in her squalid mobile home in Warren in January 2016. The cause was an overdose from heroin intake.
In October 2015, Kimberly tried to commit suicide after she purposely drank before driving her black Escalade.