Alaina Marie Mathers Wiki: Mother Dawn Scott, Eminem & Kimberly Scott
Alaina Marie Mathers is known as an adopted daughter of an American rapper, Eminem and his ex-wife Kimberly Scott...She was raised up by Eminem and his wife as her own parents...her biological mother was an alcoholic and her grandparents got divorced...Enjoys a hefty net worth that her parents have made through their career...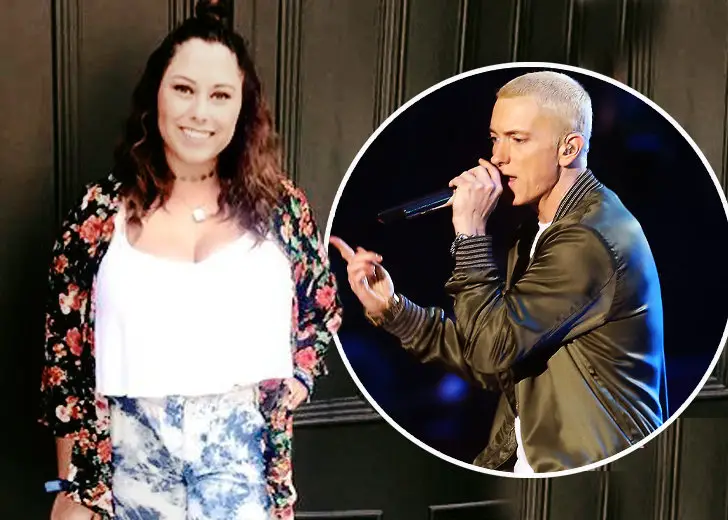 Alaina Marie Mathers, the adopted daughter of American rapper Eminem and his ex-wife Kimberly Scott, was raised up as the rapper's own daughter. 
While she was prone to a troubled past due to her mother's condition, her life under Eminem's wing and with his two daughters helped ensure that she did not succumb to her mother's fate.
Today, she likes to keep to herself, staying far from the glitz and glamour of being a celebrity's daughter.  
Alaina Had A Rough Childhood Due To Her Mother's Drug Abuse
Alaina was born as Amanda Marie Scott on 3 May 1993 to Dawn Scott when Dawn was 18 years old. 
Ever since Alaina was very young, her mother had trouble with drugs and lived a troubled lifestyle. Due to this, for the larger part of her life, Alaina grew up not knowing who her biological father was. 

]
Dawn Scott (Photo: Dailymail)
Her mother suffered from periodic bouts of depression and would resort to drugs more often than not.  
Dawn's drug addiction would eventually get the better of her. In January 2016, Dawn was found dead in her squalid mobile home in Warren. The cause was an overdose from heroin intake. Alaina was 23 at the time. 
She Was Adopted By Eminem And Raised With His Daughters
For better or worse, Alaina was not with her mother during her final days.
As her mother's drug abuse went from bad to worse, Eminem adopted Alaina in the mid-2000s. He took Alaina under his custody and provided her with a better upbringing. Eminem would play a vital role in keeping her from the influence of her drug-addict mother.
Eminem, whose actual name is Marshall Bruce Mathers III also gave her his name to keep her away from the tragedies of her past. 
During her teenage years, Aliana grew up alongside Eminem and his ex-wife Kimberly's daughter, Hailie. Alaina also grew up with Whitney Scott Mathers. But unlike, Haile, Whitney is not Eminem's biological daughter; she was born to Kim from another relationship.

Alaina And Whitney Mathers (Photo: Instagram)
Twins Dawn Scott And Kimberly Scott Ran Away From Home To Escape Abusive Father
Eminem's ex-wife Kim and Alaina's mother are actually twins. Dawn's maternal parents were Kathleen Sluck and Casimer Sluck. However, their parents got divorced, and their alcoholic step-father was abusive towards them.
In order to escape abuse from him, Dawn and Kimberly ran away from home in 1988 and settled at a youth shelter outside of Detroit.

Kimberly and Dawn Scott pictured in the 90s (Photo: Dailymail)
Alaina Also Has A Twin Brother Named Adam
Alaina also has two other siblings, Adam and Patrick born to her mother Dawn. And like Dawn and Kim, Alaina and Adam are also twins. Other than the fact that Alain has a twin and one other sibling, not much is known about them.
The brothers have not let themselves known to the public. And neither Alaina nor Eminem has revealed anything else about them. 
Eminem Dedicated 'Mockingbird' To Alaina & Hailie
Rap king Eminem is famous for his diss songs where he burns his so-called enemies with free-flowing sarcastic lyrics. But he has also dedicated numerous songs to his daughters Hailie and Alaina. Aliana was referenced in Eminem's song, Mockingbird. He referred to Alaina and Hailie as 'Lainey' in the song's lyrics where he says: 
'And you and Lainie were too young to understand it ..Papa was a rolling stone, Momma developed a habit,'...'To see how much you both have grown, it's almost like you're sisters now...Wow, guess you pretty much are, and Daddy's still here...Lainie, I'm talking to you too, Daddy's still here...I like the sound of that, yeah, it's got a ring to it, don't it?'
Alaina Shies Away from Spotlight But Remains Active On Twitter
Alaina Mathers likes to keep away from the spotlight as much as possible judging by the lack of any major social media accounts. However, the one place she can be found is on Twitter. 
While she has been inactive lately, one can see her latest post where she can be seen holding up a placard for the protest against the George Floyd shooting. 
The fact that we're still out protesting this shit in 2020 is unreal. I say unreal but you need to believe this, racism and police brutality is very real. No longer can we stand by and watch African Americans be silenced & MURDERED. We all bleed the same color. #BlackLivesMatter pic.twitter.com/fUbqSevVYA — lanes (@alaina__scott) June 7, 2020