Is Chris Appleton Gay? How Many Kids He And Ex-partner Have?
Unlike many people, who know right away, Chris Appleton discovered his sexuality a bit later in life—at the age of 26, after having two kids.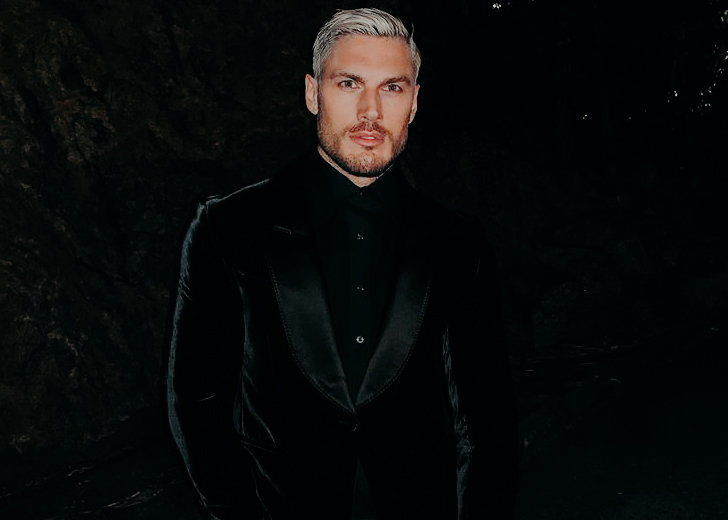 The Leiscester-born talent behind Kim Kardashian West's 2018 "neon hair" look and 2022 "silver blonde" and 'honey blonde' look, British conceptual hairstylist Chris Appleton, has been working with hair since he was 13. His first muse was his mother, who ended up being the inspiration for his career choice. 
He is known as one of the country's most popular and busy hairstylists. Besides Kim and the Kardashians, he has created iconic looks for high-profile clients such as  Dupa Lupa, Katy Perry, Jennifer Lopez, Rita Ora, and Ariana Grande. 
With such immense popularity, Appleton has also been a subject of great interest among many who want to know about his relationship status, sexuality, and dating history. In addition, the fans also want to know about his coming out process, ex-partner, children, childhood, net worth, and fatherhood.
Hence, Hollywoodmask has brought you this exclusive article about Appleton's life journey. Please read the full article to know it all. 
How did Chris Appleton meet Kim Kardashian?
Speaking to Gay Times in an interview taken by Kim Kardashian herself, Appleton revealed that the two met at Kim's old house. He was called to stylize her hair, resulting in a "short blunt cut wig." 
"It was something you hadn't done before, and we were both so excited!" he recalled. "My first impressions were that you were really happy to try and explore different looks. I remember you walked in and said, 'Hi, I'm Kim. I'm excited to work with you. I've heard you're the best'," he added.
In the interview, Appleton called Kim the "most humble person I've ever worked with." 
Are Chris Appleton and Kim Kardashian best friends?
Appleton is usually listed in her inner circle and is one of Kim's closest friends, and they share a great friendship and bond. He is famous for many of her viral hairstyles. Not only Kim but the fans have also credited him for his hard work and the hours of work he put into his craft. 
Spent the last few days bleaching my roots (we do it in stages so it doesn't break off). OMG 13 hours & still going. This blonde is very high maintenance. Love you @ChrisAppleton1 but getting over this. — Kim Kardashian (@KimKardashian) December 13, 2017
In many years of service, Appleton has fulfilled the desires of many celebs, such as Kim, to perform quality experiments with their contemporary looks with great results. 
To Kim in the Gay Times interview, the experienced hair stylist recalled, "I remember we had regular hair, and then we FaceTimed Kanye," explains Kim. "He was like, 'You're in Miami, do neon hair. I'm getting you a neon car; it'll be downstairs – just trust me on this one. You need neon!' We were like, 'What, we are running out the door?!' We had full black hair, and we changed that last minute. That was so fun but crazy!" What did I say? Iconic."
He disclosed that he always wanted to try different things and create new looks. "What I love is as a team, we set trends and don't just follow them. You're not afraid to change things up and go for something new. Like, remember when we made the icy blonde with the dark roots vibe? That was a fave of mine," he shared. 
Is Chris Appleton Gay? What's his sexuality?
In 2009, after stepping into fatherhood, Appelton realized that he was gay. The hairstylist was 26 years old when he accepted his sexuality and decided to come out publicly. 
In an interview with The New York Times, his then-partner Katie Katon explained that the time surrounding Appleton's coming out was "dark" for both of them. 
Still, after all these years, Appleton and Katon shared styling ideas and constantly stayed in touch, staying in the loop about their work and children. Katon also confessed to being a friend to him and helping him calm down when he panicked about his big gigs. 
Appleton shared with Grazia Daily that he remembers talking with Katon about his fears of moving to Los Angelos from England and leaving everything behind. As he panicked and feared that "he gave it all up," Katon consoled him. 
According to reports, the former pair have stayed in touch despite their separation. However, they haven't made appearances on each other social media profiles in recent years.
'Some people know straight away, i didn't'
During an interview for Gay Times, the "gifted hair transformationist," as his client, Kim Kardashian West addressed Appleton, shared insights about his decision to come out later in life and how it felt.
Halfway through the interview, the beauty mogul asked Appelton why he came out so late. To this, the hairstylist humbly replied that, unlike many people, he didn't know that he was gay straight away. 
Appleton revealed that his decision to come out was delayed because even after his late realization, it took him some time to understand and accept that he was gay. 
Some people know straight away, I didn't and it took me a minute to understand that and accept that and then come out. 
Chris Appleton wanted his children to understand
In the same interview, Appleton expressed that he was concerned for his children outside of his own struggles. Appleton mentioned to the outlet that, for him, it was imperative his children were comfortable with and understood his actions. So, he took his time with everything.
Looking at the bond Appelton and his kids share today, his judgment was not wrong after all. On December 26, 2020, Appleton took to Instagram to share an adorable picture of him celebrating Christmas with his children.
His children are a regular feature on his star-studded Instagram.
Who is Chris Appleton's 'ex-wife'?
Unlike many people who know right away, the celebrity hairstylist discovered his sexuality a bit later in life. Appleton came out as gay at the age of 26 after having two kids with his then-partner, Katie Katon, a former salon Managing Director of the hair salon George's Hairdressing.
Indeed, Katon is the mother of his children, but they didn't ever marry. However, it is understandable that one of the most asked queries about him online is," Who is Chris Appleton's ex-wife?" given internet sleuths might have speculated that he might have had children from a marital relationship.
Appleton and Katon's elder son Billy is now 20 years old as of this writing. His birthday is on December 2. He currently resides in Los Angeles. Previously, he used to live in England. He is very close with his father and spends a lot of time with him. 
Similarly, Billy has a younger sister named Kitty-Blu, who is now 18 years old as of this writing. She is an aspiring makeup artist. When she was young, her father used to practice his hair routines on her. She has been adamant about pursuing her distinct career since childhood and not limiting herself to being known as Chris Appleton's daughter.
How did Chris Appleton and his ex-wife first meet?
Having found solace in hairstyling, Appleton began his career at a salon in Leicester in his early teens. He worked at the salon for almost a decade, and during his time there, he developed a romantic relationship with the owner, Katie Katon, who he ended up marrying. There were best friends first, and he often consulted her about his life goals and fears.
Although Appleton and Katon aren't together today, they are still good friends. He is still grateful to Katie for the man he has become today.
Chris Appleton and his ex-partner Katon have two kids together, a son named Billy and a daughter named Kitty-Blu. 
Chris Appleton has had two known gay relationships before
Since his relationship with ex-partner Katie Katon, he has been in two gay relationships. He previously dated Scott Studenberg before his relationship with Derek Chadwick began in 2018. Appleton and Chadwick used to feature on each other's social media back in the day. But they haven't appeared together for a long time, and some sources verify that the pair broke up a long time ago. 
What is Chris Appleton's networth?
Although not verified by the hair stylist himself, Appleton's estimated networth, as per numerous reports, ranges between $5-10 million. Also an ambassador and global creative director of Color Wow Hair, Appleton launched his first product, a hair mask named Money Masque, collaborating with the brand in 2021. According to his Instagram, he is represented by IMG Models and WME. 
According to The Sun, in 2020, Kim paid him $2000 per day when she was looking to work on her hair.