Know about Vinnie Hacker's Tattoo Collection, Spider Tattoo & Tattoos on Hand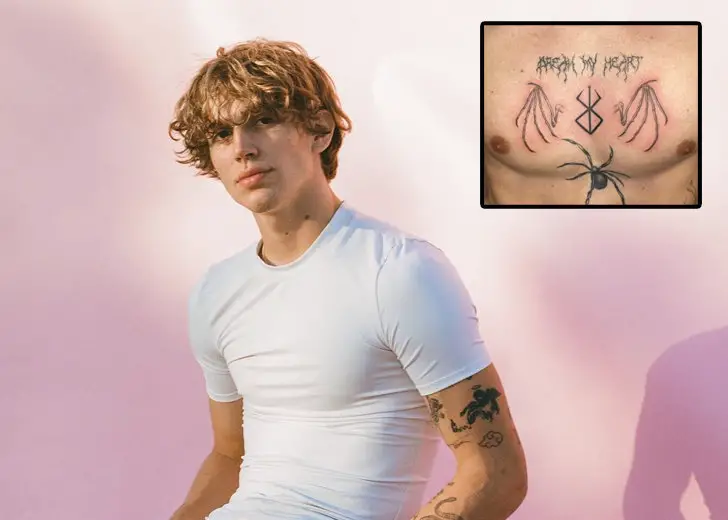 American TikTok star, gamer, musician and content creator Vinnie Hacker has got prominence for his lip-sync videos, modeling pictures and videos, and moody selfies on his TikTok and Instagram.
On Youtube, he has tried to diversify his content through singing videos, fun games content, and vlogging with friends. 
In 2021, the Seattle native signed with Netflix's The Hype House, which revolved around the real-life of TikToker stars like him living in Los Angeles.  
Not only that, but he also has a clothing brand called Purgatory, @purgatoryxla.
In addition, he was previously associated with Sway Gaming, a group of social media gamers. 
More Articles On Vinnie Hacker 
Vinnie Hacker Opens up to Harry Jowsey about Being a Sexual Assault Victim
Vinnie Hacker Dishes on New Girlfriend and Renata Ri Dating Rumors
Vinnie Hacker and Billie Eilish Dating Rumor Explored
In 2023, Hacker signed a deal with CAA to represent him. The artist agency described him as a "Gen Z powerhouse" for his near to 50 million subscribers on all the platforms. 
Read the full article to get in-depth coverage of his immense tattoo collection.
We have also covered the story of how he got into getting tattoos.  
What is Vinnie Hacker's Tattoos is a Thing? 
One look at Vinnie Hacker, and it is obvious that the TikToker loves tattoos.
He has inked various parts of his body, and he is not finished yet. Every one of his tattoos has a different meaning.
He has over a dozen body arts, and he does not hesitate to show it off. Similarly, every time he gets a new tattoo, he updates his fans and followers via different platforms.
And what is special about them? You may ask.
The secret ingredient of his social media success is his photos and videos showcasing his irresistible fit shirtless body embedded with tattoos that have charmed many, including his dedicated fangirls and LGBTIQ+ folks. 
And unlike many people who may stereotype him as narcissistic and "c*cky" based on the self-obsessed content he posts, Hacker himself doesn't regard himself as such. 
He opines,
I totally understand why they think that before they meet me because of the content I post. I can understand why guys might hate me because I seem super cocky. But in reality, I don't even look at my TikToks after I post them. I don't really look at them because I feel like it would be weird to make something like that, look at it, and be like, 'Oh yeahhh!'
In fact, Hacker shares he had a normal religious upbringing in a family of hard-working parents who tried to give him the best life they could in Seattle, Washington. 
"My mom was working two jobs and my dad was working a ton of overtime as an electrician, he says.  "I went to an all-boys Catholic school and it was a lot different there. There wasn't much competition because the guys wouldn't have anything to compete for, so it was super chill and I had a pretty good childhood."
Hacker played baseball for his school, O'Dea High School, and later for Seattle Select Baseball Club, a premier youth league club. It was his childhood dream to pursue baseball.
How did Vinnie Hacker get into Tattoos?
Talking to Inked, Hacker revealed that he developed an early interest in tattoos at the age of 14.
He pointed out that people who thought he got tattoos for fame on Tiktok were wrong, reasoning he was into Tattoos before he joined the platform. 
At the age of 18, Hacker got his first tattoos and he has been addicted to the idea of getting a new one since then.
Now, he has numerous tattoos on the upper part of his body below his neck, including his hands.
But he is conservative regarding getting hand tattoos too early since he's not sure "how long this stuff will last."
He said, "I waited about a year after getting my first tattoo on my hands."
"I'd honestly advise people to wait even longer because nothing's a given. I don't know how long this stuff will last and I see people all the time who get their first tattoos on their hands. I'm like, 'Dude, you're nuts.' It was even a stretch for me to get them after having just my arm tattooed," he added. 
Vinnie Hacker's New Tattoo and Meaning
In 2022, Hacker added to his body art collection and showed the new embedded art to his fans and followers on his TikTok account @vhackerr, Instagram and Twitter. 
The ink is Berserk-inspired, coupled with wings drawn right in the middle of his chest. The symbol is of the Brand of Sacrifice, and the wings are skeletal.
The wings are not related to Berserk, and Hacker got them to make the tattoos look symmetrical with other art. These new tattoos are inked between his "Break My Heart" and the spider tattoo. 
Like his other body art, these were also drawn with black ink. Someone on Twitter asked him to rate his pain from one to ten, to which Hacker replied, "5-6."  
Don't Miss These Vinnie Hacker's Reads
Are Vinnie Hacker and Olivia Rodrigo Dating? 
Audra Johnson Fakes Vinnie Hacker Relationship with Forged DMs and Pictures
The meaning behind the Brand of Sacrifice is incorporated in the name itself. According to Berserk Wiki, the symbol "marks those anointed for the Invocation of Doom."
Basically, the symbol brands someone as a target of Demons, The Godhand, and apostles. 
Vinnie Hacker's Other Anime-Related Tattoos
After the TikToker showed off his new ink, people were curious about his other anime-related body art. Therefore, he gave a tattoo tour on his anime account on TikTok, @ichigostinysandalsv2. 
The Brand of Sacrifice is not the only Berserk tattoo Hacker has. He also has one of the characters, Guts, inked on his left forearm. 

Vinnie Hacker showing off his Guts tattoo and Akatsuki cloud ink alongside other tattoos. (Source: Instagram) 
He has the upper face of one-eye blind Guts tattooed inside a rectangle with black ink. The meaning behind this symbol is that it is dedicated to a former mercenary who traveled the world finding his purpose. 
He lost his eye in a battle after a demon restrained him and gouged his right eye. Similarly, Hacker has two tattoos dedicated to JoJo's Bizarre Adventure. 
The first is "Made in Heaven," written on his right forearm. On his TikTok video, he said that initially, he did not get it because of the anime. 
But now, he tells everything that JoJo's Bizarre Adventure inspired it. Made in Heaven is a Stand, the final stage of metamorphosis following Whitesnake and C-Moon.
The TikToker's second JoJo's Bizarre Adventure inks are symbols from the anime. He also has one Naruto-inspired body art. 
It is a small logo of Akatsuki, the infamous group of Ninjas, on his right biceps. On the other hand, he has inked The Seven Deadly Sins' Meliodas' tattoo.
i've been awake for hours thinking of a collarbone tattoo and just can't think of anything — 100T Vinnie (@vinniehacker) January 30, 2022
The meaning behind the art is like other characters, Meliodas is assigned a sin. His sin is the Dragon Sin of Wrath, which makes him powerful when he gets angry. 
Meliodas and Hacker have the ink on the same spot —  their left biceps. Moreover, Hacker has inked around the wrists of both hands.
He has a quote from Vagabond, "The strong are always kind," written in all caps on his right wrist. Similarly, he has "1000-7" from Tokyo Ghoul on his left wrist. 
Even though Hacker has over a dozen tattoos, he has plans on getting more. He confessed on Twitter that he was planning on getting a collarbone tattoo.
Other Vinnie Hacker's articles
Vinnie Hacker Addresses Rumors about Dating Olivia Rodrigo
Fans Want Vinnie Hacker to Leave The Hype
Vinnie Hacker Gets Angry at Fans Oover Renata Ri Dating Rumors Apekshya 
But he has not decided on what to get. However, only time will tell if he gets anime-related body art to add to his collection.