Vinnie Hacker Gives Tattoo Tour after Getting New Ink on Chest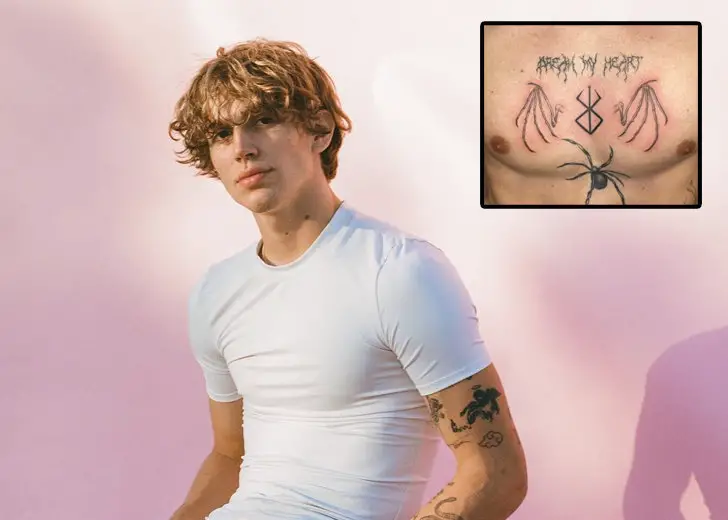 One look at Vinnie Hacker, and it is obvious that the TikToker loves tattoos.
He has inked various parts of his body, and he is not finished yet. Every one of his tattoos has a different meaning.
He has over a dozen body arts, and he does not hesitate to show it off. Similarly, every time he gets a new tattoo, he updates his fans and followers via different platforms.
Recently, he did the same and flaunted his new ink on TikTok, Twitter, and Instagram. 
Vinnie Hacker's New Tattoo and Meaning
Hacker recently added to his body art collection. He showed it to his fans and followers on his TikTok account @vhackerr and Twitter. 
The ink is Berserk-inspired, coupled with wings drawn right in the middle of his chest. The symbol is of the Brand of Sacrifice, and the wings are skeletal.
The wings are not related to Berserk, and Hacker got them to make the tattoos look symmetrical with other arts. These new tattoos are inked between his "Break My Heart" and the spider tattoo. 
Like his other body art, these were also drawn with black ink. Someone on Twitter asked him to rate his pain from one to ten, to which Hacker replied, "5-6."  
The meaning behind the Brand of Sacrifice is incorporated in the name itself. According to Berserk Wiki, the symbol "marks those anointed for the Invocation of Doom."
Basically, the symbol brands someone as a target of Demons, The Godhand, and apostles. 
Other Anime Related Tattoos
After the TikToker showed off his new ink, people were curious about his other anime-related body arts. Therefore, he gave a tattoo tour on his anime account on TikTok, @ichigostinysandalsv2. 
The Brand of Sacrifice is not the only Berserk tattoo Hacker has. He also has one of the characters, Guts, inked on his left forearm. 

Vinnie Hacker showing off his Guts tattoo and Akatsuki cloud ink alongside other tattoos. (Source: Instagram) 
He has the upper face of one-eye blind Guts tattooed inside a rectangle with black ink. The meaning behind this symbol is that it is dedicated to a former mercenary who traveled the world finding his purpose. 
He lost his eye in a battle after a demon restrained him and gouged his right eye. Similarly, Hacker has two tattoos dedicated to JoJo's Bizarre Adventure. 
The first is "Made in Heaven," written on his right forearm. On his TikTok video, he said that initially, he did not get it because of the anime. 
But now, he tells everything that JoJo's Bizarre Adventure inspired it. Made in Heaven is a Stand, the final stage of metamorphosis following Whitesnake and C-Moon.
The TikToker's second JoJo's Bizarre Adventure inks are symbols from the anime. He also has one Naruto-inspired body art. 
It is a small logo of Akatsuki, the infamous group of Ninjas, on his right biceps. On the other hand, he has inked The Seven Deadly Sins' Meliodas' tattoo.
The meaning behind the art is like other characters, Meliodas is assigned a sin. His sin is the Dragon Sin of Wrath, which makes him powerful when he gets angry. 
Meliodas and Hacker have the ink on the same spot —  their left biceps. Moreover, Hacker has inked around the wrists of both hands.
He has a quote from Vagabond, "The strong are always kind," written in all caps on his right wrist. Similarly, he has "1000-7" from Tokyo Ghoul on his left wrist. 
Even though Hacker has over a dozen tattoos, he has planned on getting more. He confessed on Twitter that he was planning on getting a collarbone tattoo.
But he has not decided on what to get. However, only time will tell if he gets anime-related body art to add to his collection.