Vinnie Hacker Addresses Rumors about Dating Olivia Rodrigo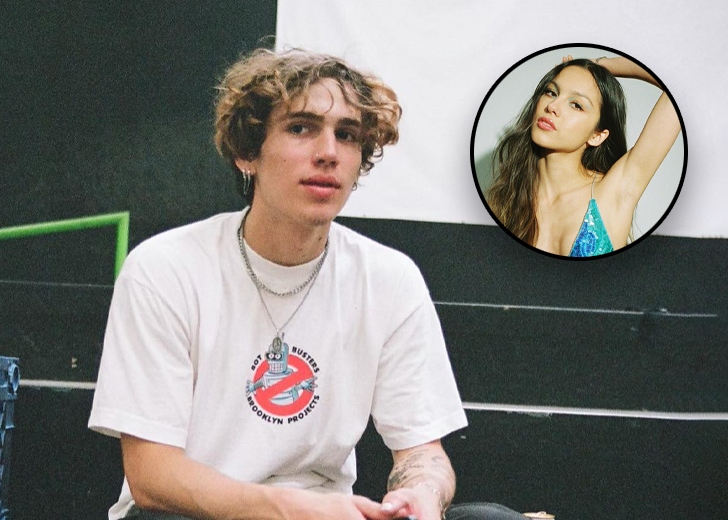 On June 17, 2022, Vinnie Hacker uploaded a TikTok that had everybody raising their eyebrows. 
In the first part of the clip, Hacker smiled calmly and claimed in the caption that was him when talking to a girl when they were not exclusive. 
But in the second part, the TikToker looked like he was ready to fight someone and wrote, "when I see a dude comment on her post."
Many fans in the comment section asked Hacker to reveal the identity of the "girl" he was dating. The video also caused some to scour the TikToker's social media for clues. 
"Who is she, Vinnie? But whoever she is she's lucky asf," commented one user. 
Many comments also asked Hacker if the girl was Olivia Rodrigo, but he replied that was untrue. 
Later, Hacker took the comments replying, "bro, it's no one specifically. It's just a TikTok."
Some of his fans backed him up as well. "Bro, u guys are overreacting he's not talking to anyone it's just a video we all relate to," wrote one user. 

Vinnie Hacker confirms he is not dating Olivia Rodrigo. (Source: The original Tiktokroom/Instagram)
"Guys, leave his relationship things alone. If it was or wasn't meant for someone, then so be it. No need to go on a scavenger hunt," another one commented. 
Vinnie Hacker and Olivia Rodrigo Dating
Many of his fans thought he was referring to Rodrigo because they were recently rumored to be dating. 
The rumors started after the duo was spotted at the 'Drivers License' singer's concert after-party on May 28, 2022. 
Paparazzi captured the duo, and their photos caused a frenzy on social media. 
Hacker was seen pecking Rodrigo on the cheeks. The duo then hugged it out, after which Rodrigo left while Hacker looked on. 
Many of their fans seemed excited at the prospect of them dating, even though nothing had been confirmed. 
"Okay, but they would be so cute. I hope they are seeing each other," one user commented on The original Tiktokroom's photo of the duo. 
Meanwhile, another one wrote, "OMG. They would be the hottest couple."
Later, celebrity news outlet Hollywire uploaded a TikTok stating that an anonymous informant had told Deuxmoi that the duo was into each other but not dating.
But now that Hacker himself has confirmed, it looks like fans got excited about nothing. 
Vinnie Hacker and Billie Eilish
Hacker has also been linked to Billie Eilish. Eilish broke up with her former boyfriend, Matthew Tyler Vorce, and was then linked with Hacker. 
Deuxmoi reported several times that the rumored couple might have something going on. 
A blind item from an anonymous informant claimed the duo had a low-key fling but was unsure if things progressed afterward. 
Another tipper who knew Hacker told the outlet that he and his alleged girlfriend had a low-key fling, and Hacker would allegedly sneak in through the 'Bad Guy' singer's window. 
Meanwhile, a third follower told the outlet they had heard rumors about the pair from those who worked in the industry with them. So far, Hacker has not addressed this rumor.