Here Are the Richest Female TikTok Influencers of 2022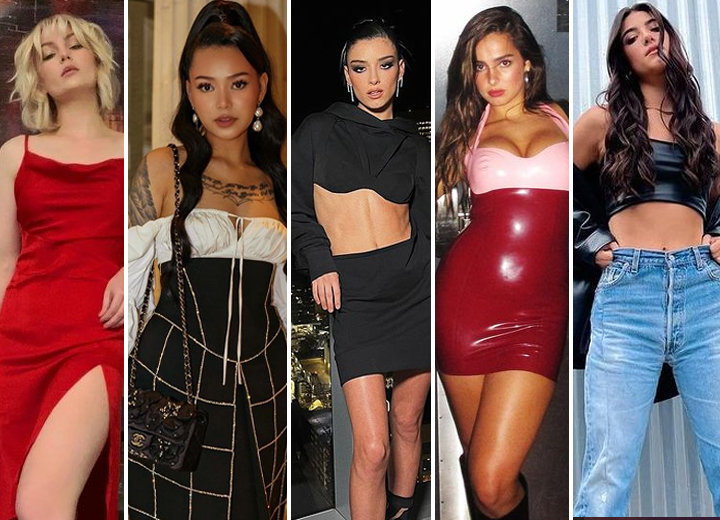 TikTok has become an easy and accessible platform for people of all age groups to express their talent and have some fun on the internet. The platform provides many ways for people to exercise their creativity.
Every so often, though, some people and their content blow up in such a way that their fame reaches levels they and everyone else never thought possible. This fame, if capitalized on, also makes them extremely rich.
Here's a list of the richest female TikTok stars who, with their talent, creativity, and good management skills, have become the best of the bunch when it comes to female content creators on the platform, at least in the financial sense of the word.
Kris Collins
If you do not believe in the overnight success or at least over-year success, you just have to look at Kris Collins.
An out-of-work hairdresser from Vancouver whose job the pandemic took away, Collins turned to TikTok to pass time, mostly because of her brother's suggestion. There, she started putting on a comedy show with recurring characters, all of which she plays, for viewers.
This blew up so much that the creator now has over 44.9 million followers on TikTok and 6.51 million subscribers on YouTube. She has been getting showered with sponsorships from companies such as Hershey, Lionsgate, and Pantene.
This massive growth and the ad revenue she generates, both from sponsorships and YouTube, earned her $4.5 million since the time she became huge, which was within the last year.
Bella Poarch
The third-most followed person on the platform, Bella Poarch has become this massive within one and a half year. She got her start on TikTok in August 2020, and her silly lip-sync video became the most watched clip on the platform in 2020.
This all started after her stint as a helicopter mechanic in the U.S. Navy. Now, though, she gets regular sponsorships from companies like Google, Prada, and Tinder.
She also has a full-blown career as a pop star, releasing many hits in the recent past. All these have made her over $5 million in 2021, the fourth highest in the industry.
Dixie D'Amelio
Dixie D'Amelio, the older of the D'Amelio sisters, is the lesser-followed sibling on TikTok.
Still, over 57 million followers is no joke, and no mistake, either.
Dixie, who started on TikTok alongside her sister with a clean, regular next-door girl image, is now trying to get out of that image that helped her to superstardom. And she is doing that through marketing and music.
She released two singles in 2021, officially beginning her pop music career, and toured the country performing all over.
Her TikTok influence remains, though, and so keeps coming the promotional offers. With all these, she made $2.9 million in 2020, $10 million in 2021, and has a reported net worth of over $6 million as of 2022.
Addison Rae
Addison Rae is one of the first names you think of when you think of a TikTok superstar. The creator has left such a mark on the platform that she has almost become the unofficial face of it.
In 2020, she was the highest-earning creator on the platform, raking in $5 million. In 2021, that amount went up to $8.5 million, but still less than the younger D'Amelio sister. In 2021, Rae also started her Hollywood career, appearing as the lead in Netflix's She's All That.
Reportedly, she also has a contract with the company for a few more movies. Further, sponsorships from American Eagle, and her own beauty line with Madeby Collective, have shot up her net worth to be somewhere around $15 million.
Charli D'Amelio
Charli D'Amelio, the younger of the D'Amelio sisters, is the more successful one. The TikTok star still has her clean image going for her, despite her many online bouts with other influencers.
She has over 143.9 million followers on her TikTok, the second-most on the platform (only behind Khaby Lame), and leverages this influence for sponsorship deals, for which she charges over $100 thousand per sponsored video.

Charli D'Amelio, the richest female TikTok star of 2022. (Photo: Instagram)
The little sister has deals with Hollister and Morphe, Invisalign, Dunkin Donuts, to name a few, the latter of which has her signature drinks on offer. Other than these, she has also appeared in a Super Bowl commercial.
All this resulted in a massive income of $4 million in 2020, which jumped to a whopping $17.5 million in 2021. Her reported net worth is around $20 million.