TikTok Star Bella Poarch Drops Her Debut Single
Bella Poarch is making the most of her viral fame for her new music career.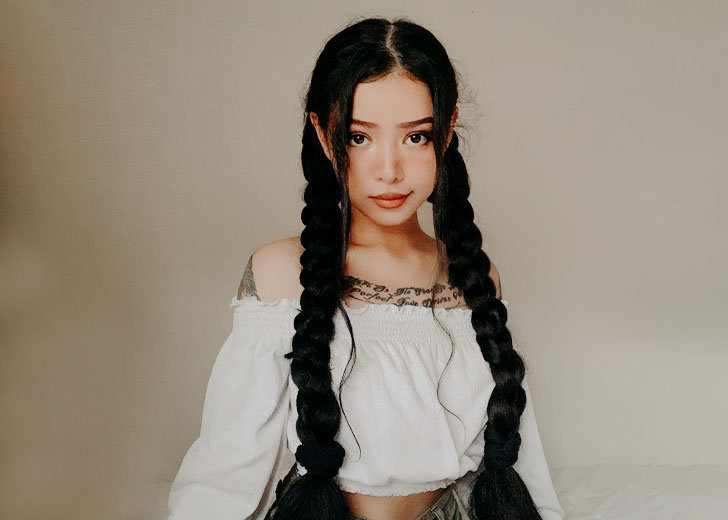 Bella Poarch just dropped a new single and a music video along with it too.
Following her massive success on TikTok, Poarch makes headlines again with her new debut single "Build a [expletive]," a dark pop single about being unapologetically yourself. The song's teaser that was released last month has already inspired dance trends on the video-sharing app.
On May 13th, the internet sensation and Rachell "Valkyrae" Hofstetter, featured in Poarch's music video, appeared on the episode of The CouRage and Nadeshot podcast to discuss the inspiration behind her song and its lyrics. 
Poarch claimed that the lyrics stem from her experiences of being bullied as a child. She revealed that growing up, she got bullied for her American-Filipino features, and since Poarch always wanted to be a singer, she wanted her first song to be meaningful and help listeners. 
Besides Valkyrae, the music video features other famous personalities like Larray, ZHC, and Bretman Rock, who actually helped Poarch record the ad-libs for the music video. With this new single and video, Poarch is launching her music career with Warner Records. 
Claim to Fame
Poarch is definitely making the most of her viral fame for her new music career. The singer rose to meteoric fame when her TikTok video of lip-syncing to Millie B's infectious track 'M to the B' with rhythmic bouncing and quirky facial expressions went viral. 
The clip amassed a whopping half a billion views and 48 million likes and became one of the most-watched videos in the app history. The video was so viral that she was averaging around a million followers each day, and in a year, she gained over 40 million followers. 
Last year BuzzFeed News investigated why Poarch's video was so addictive. The outlet spoke to Craig Richard, a professor of biopharmaceutical sciences at Shenandoah University who studied the phenomenon behind internet trends. 
The professor revealed that people enjoy looking at attractive faces. Poarch's new camera effect video where the head is centered for the viewer actually caused a release of dopamine and kept viewers focused and intrigued. 
Criticized for Zero Effort Video and Controversial Tattoos
Following the viral success of Poarch's "M to the B" video, she continued to post a variety of videos in the same style, lip-syncing and making cosplay expressions using TikTok's Face Zoom effect. In several of the videos, she even credited Afiq Hakim, another TikToker, for inspiration. 
Although Poarch continued to rise in fame, skeptics perceived her as undeserving and criticized her for low-effort lip-syncing and head bobbing videos. They felt that she was famous for no reason. However, this was not the only time she came under fire.
She was embroiled in the biggest controversy when her tattoo reminiscent of Japan's "rising sun" flag caught attention. Her tattoo featured a red circle and 16 rays emanating similar to the Japanese flag. CNN reported that the flag is a symbol of Japanese imperialism.
Meanwhile, The Washington Post reported that the flag is heavily linked with Japan's colonization of the Korean peninsula in the early to mid-1900s. Poarch has addressed the tattoo on multiple social media platforms. Her apology posted on TikTok caused further displeasure as she was accused of being insincere and taking the matter lightheartedly. 
Nevertheless, no matter what Poarch does, she only seems to get more famous.