Know the Man behind John Cena's Viral Lookalike Meme: Brendan Cobbina AKA 'Black John Cena'
Brendan Cobbina is the Internet dubbed long-lost twin of John Cena.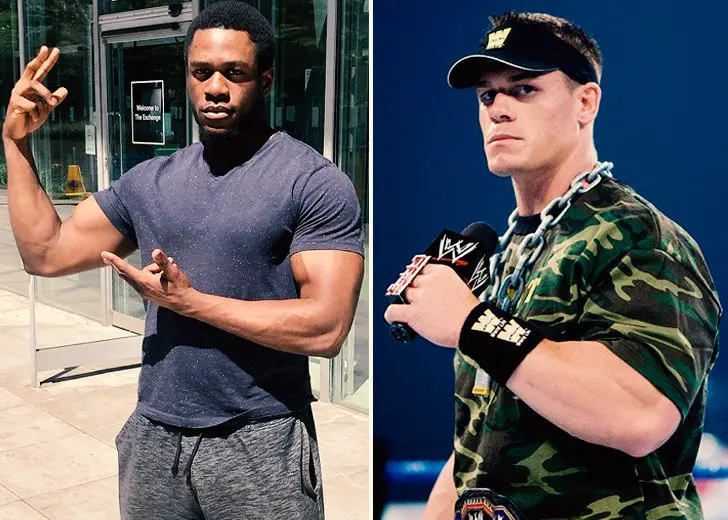 Brendan Cobbina, also known as black John Cena, became viral after 16-time world champion John Cena posted a picture of him on Instagram on August 10, 2021.
Forging a path for lookalike memes, Cena didn't caption the picture that saw Cobbina sharing an uncanny resemblance to the WWE superstar with his ripped body and a subtle smile.
Cena's over 15 million followers were quick to pick up on the joke. One Instagram user commented, "No way he posted it" with multiple face-with-tears-of-joy emojis. 
Other followers added humor, dubbing the doppelganger as Jamal Cena, Deshaun Cena, and Javonte Cena. Even fellow professional wrestler Drew Gulak left a clapping hands emoji in the comment section. 
While netizens responded to Cena's joke, Cobbina, too, didn't hold back.
Brendan Cobbina's Response
Cobbina took to Twitter on August 10, 2021, to respond to the newfound fame. He stated how crazy it was for a South London-born guy in Nottingham to go worldwide famous over a picture. 
Then he talked about the uproar with BNC on August 12, 2021. The fitness expert recounted how he woke to people informing him he made it to the Fast and Furious 9 actor's Instagram. He confessed he thought it was a bluff.
After confirming the post, Cobbina shared he couldn't believe the professional wrestler acknowledged him. He added, 
But he did. It's incredible. It just shows how small this world really is.
In the interview, Cobbina also mentioned that he wasn't new to the comparison or lookalike memes. In his own words, his friends called him Black John Cena, a moniker he mentioned in his Twitter bio. 
The day he gave the interview, Cena's doppelganger also took to Instagram to add to the uproar. He posted a comparison picture of himself and Cena that was sent to him two years before.
Within hours of the upload, the comment section was flooded with many jokes. For instance, an Instagram user wrote, "Anybody else see 2 floating hats, and t-shirts?" One particular follower added, "Why did u just post 2 blank pictures??"
Who Exactly is Brendan Cobbina'?
Aside from fame as Cena's lookalike, Cobbina boasts a decent reputation as a fitness instructor.
He was an athletic person from a young age, playing football and tennis mostly. He even joined a tennis academy in Dulwich, London, from 2012 to 2015. 
In 2014, Cobbina stepped into the bodybuilding realm. He persevered throughout the years and became a level three personal trainer.
The fitness fanatic now runs face-to-face sessions and even provides online training programs, as per his official site.
Expanding his business, Cobbina also opened his account on Patreon. In addition, the fitness coach announced he would host a podcast and upload funny videos on the platform.
Interestingly, Cobbina mentioned he is creating stuff "about being Jermaine Cena" on his Patreon bio. He has even used the moniker for his Instagram.