Chase Hudson and Charli D'Amelio Get Back Together for His Album Release
Chase 'Lil Huddy' Hudson has released his debut album Teenage Heartbreak.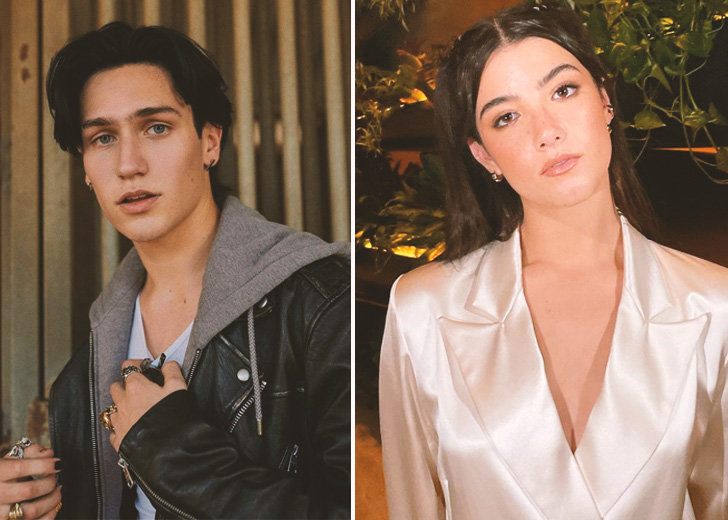 Breakthrough TikTok star Chase Hudson a.k.a Lil Huddy, launched his debut album titled Teenage Heartbreak on September 17, 2021. Before the album, the sensational young talent has released four singles.
Teenage Heartbreak has eleven songs, including a title track. On YouTube, the official audio of the title track has amassed 38,663 views in two days. 
His first-ever single '21st Century Vampire' dropped in January. The song's official music video has gathered a whopping 10,081,869 views on YouTube as of this writing. 
Hudson's other singles include songs like 'The Eulogy of You and Me,' 'America's Sweetheart,' and 'Don't Freak Out.' 
Who Is Chase 'Lil Huddy' Hudson? 
Born Cole Chase Hudson, on May 15, 2002, in Stockton, California, the singer/TikTok star is commonly known by his stage name Lil Huddy. He also uses the same name as his TikTok handle.
Hudson has built a legion of 32.1 million loyal fans on the video-sharing platform with his dedication and creativity. 
The young artist rose to fame in the entertainment scene with the viral TikTok videos he has been making since 2019.
Hudson has used his social media success to build a career for himself in music. He has used his influence to start a TikTok group called The Hype House, in which he has been collaborating with budding TikTokers. 
The Stockton singer is widely credited as someone who has helped revive the punk-pop genre.
Hudson Gets a Tattoo to Celebrate the Album
At the official launch of his first album, Hudson got himself a tattoo on his right leg that reads "Teenage Heartbreak" to mark the occasion.
On one of his latest Instagram videos, the singer can be seen explaining that he "is in the middle of an album release party" and has his "title track" tattooed on "my leg."
Toward the end, he concluded by letting people know his album Teenage Heartbreak is "out now on all platforms." 
In the same event, his ex-girlfriend and TikTok sensation Charli D'Amelio surprised Hudson with a cake that read, "Sorry for breaking your heart but at least I gave you something to write about."
In the Instagram video of the cake, D'Amelio can be seen saying "sorry" to her former boyfriend.  
In her Instagram story posted before 7 hours of this writing, the TikToker has congratulated her "best friend in the whole world" for his recently released album. 

Hudson's Break up and Reconciliation Rumors with Charli D'Amelio
In 2019, Hudson and D'Amelio were rumored to be dating each other.
Then, during iHeartRadio Music Awards in May 2020, the pair walked the carpet together amid rumors of a relationship. 
As per Dexerto, the lovebirds made everyone wait until February 2020 to confirm the news.
However, in April of the same year, they announced their breakup, sending shockwaves around the fanbase.
Fast-forward to the current time, and they have been seen together a lot. 
In April 2021, a year after their breakoff, D'Amelio featured in the music video of 'America's Sweetheart,' as Hudson's love interest.
However, in a follow-up report by TMZ, the two denied being a couple and claimed to be "just friends."
Despite breaking off mutually, the ex-couple turned best friends have been spotted together on numerous occasions.
Their public sightings have sparked wild speculation of a reconciliation. 
The recent pictures of the former partners currently circulating on social media platforms have pushed the claim of the two being back together even further.
Adding to all this, D'Amelio has recently posted a collection of images on her official Instagram account. 
The series of pictures includes Hudson, which has fueled the dating claim even more.