CBS' Margaret Brennan: Glancing At Romance & Wedding Day With Marine Husband
American correspondent for the CBS News, Margaret Brennan is very known for her reporting skills and undoubtedly her beauty. With the ever-rising number of credits in Margaret's career as a journalist, the number of her fans and followers are also equally rising. So, if you are also one of the curious fans of Margaret Brennan, who wants to know more about her regarding her life behind the camera, follow us in the preface below!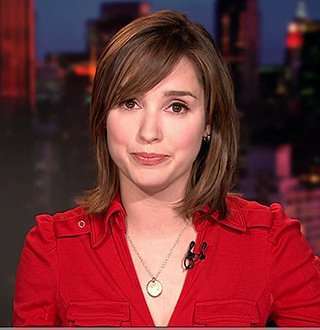 Quick Information
Mother

Jane Brennan

High School

Sacred Heart Greenwich

College

University of Virginia, Yarmouk University

Height/ How Tall?

5 Feet and 6 Inches

Hair Color

Brown

Eye Color

Brown

Son/s

Eamon Brennan Yakub

Date of Birth

Mar 26, 1980

Age

43 Years, 6 Months

Nationality American
Birth Place

Stamford, Connecticut, United States

Profession

Journalist

Relationship Status

Married

Husband/Spouse

Yado Yakub (M. 2015)

Net Worth

N/A

Ethnicity/Race

N/A

Father

Edward Brennan
When it comes to marriage and settling down, American correspondent Margaret Brennan would have been the last person she thought would have given up to such temptations. But life has a way of bringing things together and that is exactly what happened with Margaret. After unexpected meetings and coincidences, she met her future husband and soon she held the title of Mrs and not Miss. Her newfound relationship got further garnished by her wedding memories and she has even welcomed a new member in the family since then.
The Stamford native is mostly known as a senior foreign affairs correspondent of the CBS News. Her fame enriched after she started working as a moderator for Face the Nation on CBS News. 
Recognized Face On CBS: Margaret Brennan presets her view on Donald Trump's presidency as the moderator of Face the Nation on CBS News(Published on Sep 7, 2018 )
Margaret was born on 26 March 1980 in Stamford, Connecticut to parents Edward and Jane Brennan. She earned her graduation with honors from the Convent of the Sacred Heart in Greenwich, Connecticut in 1998.
At the age of 22, she graduated with the highest distinction with a B.A. in Foreign Affairs and Middle East Studies with a minor in Arabic language from the University of Virginia in 2002. 
For her long tenured work in international affairs, she received an honorary doctor of letters degree from the Niagara University in 2015.
Margaret Brennan's Journalism Career; Joined CBS In 2012
The 38-year-old Margaret initiated her journaling career as a producer for journalist Louis Rukeyser at CNBC in 2002. Later she became the correspondent for the network and covered financial crisis issues. 
In June 2009, Margaret left CNBC and subsequently joined the Bloomberg Television. She landed as an anchor for InBusiness with Margaret Brennan and covered the top news regarding politics, economics, and finance. 
After three years of working there, Margaret went to join CBS in July 2012. Since then, she reported as a White House and senior foreign affairs correspondent and covered the much big news. 
More From CBS: Who Is Nancy Cordes Married To? Husband Unveiled Of The Gorgeous Journalist!
She also became a substitute host for CBS's show like CBS This Morning and the CBS Evening News. In February 2018, Margaret was named as the 10th moderator of CBS News's Face the Nation. She became the second woman ever to be at the set of the moderator.
Her work has seen her go on face to face interviews with many notable personalities of the present. Most notable among them is her recent interview with current US president Donald Trump where she subsequently questioned the president about the ongoing issues happenings of the country.
Although the work credit of Margaret is audible, her exact salary and earnings have not been revealed out to the media to date. However, wiki sites suggest that a CBS employee earns the salary of about $47,291. Based upon her experience for more than half a decade, she is likely to yield above the average salary which contributes to her stunning amount of net worth.
Her Relationship Details With Husband Ali Lyad Yakub
Gushing about personal life, Margaret, who was born on 26 March 2018, has a long love story related to her marriage. She is blissfully married to the handsome hunk, Maj. Ali Iyad Yakub, who happens to be the judge advocate in the Marine Corps.
The pair first met as acquaintances during their college days at the University of Virginia in Charlottesville in September 1988.
Margaret was a freshman at the time while Maj. Ali was a senior student, and the two only shared occasional greetings while passing by the U-Va.'s Lawn. Both of them were miles away from the thought of dating each other as Margaret found Yado to be much of a 'Party Boy' while Yado found Margaret 'very Connecticut.' 
Afterward, Margaret went abroad to study for a semester of Arabic at the Yarmouk University in Irbid, Jordan in the summer of 2000. Interestingly, Margaret happened to share an apartment with Yado's sister Samia Yakub and not just the apartment but also friendship. The two became friends and traveled together including Margaret's visit to Samia and Yado's grandmother. 
Interesting: Who Is Nancy Cordes Married To? Husband Unveiled Of The Gorgeous Journalist!
On June 2012, Margaret moved to Washington from New York to work for CBS. It was only then she reconnected with Samia via Facebook and shared a dinner later. While at dinner, Yado's name came up and Margaret got a "Kick out" on knowing that the boy she remembered with T-shirts and flip-flops at Virginia had become not just a lawyer but also a Marine military.
Meanwhile, Yado also returned to Washington for his congressional fellowship in December 2012. 
Coincidentally in February 2013, Margaret ran into Yado while she was walking her dog in the street of Washington. The two chatted for some time, and Yado invited Margaret to a party that he held in his apartment. Margaret attended the party and found that the boy, once she knew, had become incredibly sophisticated, fun and cute. 
At the end of the night, Yado gave Margaret his business card and suggested they meet again for comparing notes. In the weeks that followed, the couple shared emails and met timely for drinks and dinners despite the hectic schedule. Finally, by June 2013, the pair started dating and after five months went for a trip to Thailand. 
The minute they returned to the states Yado, without letting Margaret know, bought an engagement ring. On 15 March 2014, after picking Margaret up at the Andrews Air Force Base, the two went on a walk on the U-Va. Lawn (the place they first met) where Yado got on one knee and proposed his lady. 
Finally, on 11 April 2015, the couple tied the knot and vowed to be each other's partner for life at the wedding ceremony held at the historic Decatur House in downtown Washington.
Margaret Is Frequent On Instagram Gushing About Her Wedding
Since the wedding, Margaret has been replenishing her days with her husband. Even though they have a hectic schedule, the pair have never failed to keep their relationship fresh and healthy and can often be seen enjoying vacations and trips with each other. 
Back in September 2017, the duo had gone on the trip through Ireland. The couple even made public appearances time and again by attending various events. They were together on 29 October 2017 when Margaret presented awards to the veterans at the Omni Shoreham Hotel.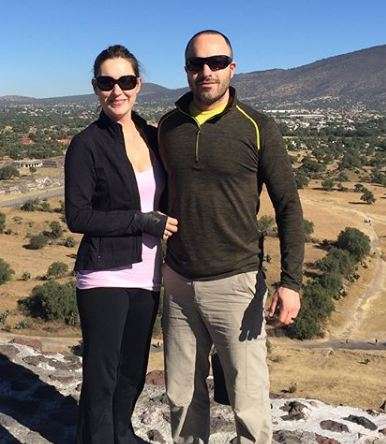 Thank You Husband: Margaret Brennan celebrates the Thanksgiving with husband Ali Iyad Yakub in Mexico City on 28 November 2017 (Photo: Margaret Brenna's Instagram)
Interestingly, Margaret uploads the pictures of her husband in the Instagram account and flaunts her blissful marriage. She even commemorates her wedding day via the posts and shares her affection for her husband. 
You May Like: Julie Chen Married To Husband! Pregnant, Children, Plastic Surgery – All Details
One such instance was on 21 June 2018, when Margaret posted a happy picture of herself smiling along with Bono. Via the caption, she wrote that her husband complimented the image saying, she had not laughed in such a way since their wedding.
While recalling back the wedding days and memories, Margaret and her hubby are living their love-life to the fullest and now must have a sense of completion after the newest arrival in their life.
Welcomed Baby Son In September 2018
Margaret and husband Yado Yakub are the parents of a newborn baby boy. They welcomed a son named Eamon Brennan Yakub on 11th September 2018 at Sibley Memorial Hospital in Washington, D.C.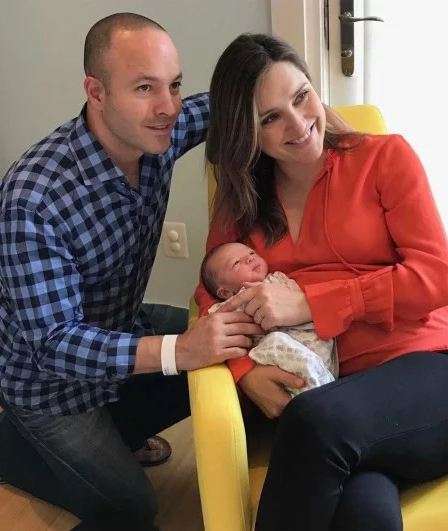 New Family Member: Margaret Brennan and her husband poses with their newly born son, Eamon Brennan Yakub in September 2018. (Photo: People.com)
Margaret announced the happy news while appearing in an episode of Late Night with Stephen Colbert in May 2018.  She took time off her work for a maternity leave from CBS after welcoming her first baby boy.
Also Read: Paige O'Brien Wiki, Age, New Dad Josh Peck & Their First Child
She has since returned to the anchor's chair after completing her one month leave.