Is Jonathan Roumie Married to a Wife? His Wedding Rumors & Family
Jonathan Roumie has always been open about his love for Jesus Christ and his faith in Christianity, but, on the flip side, he has never talked about his relationship and dating life.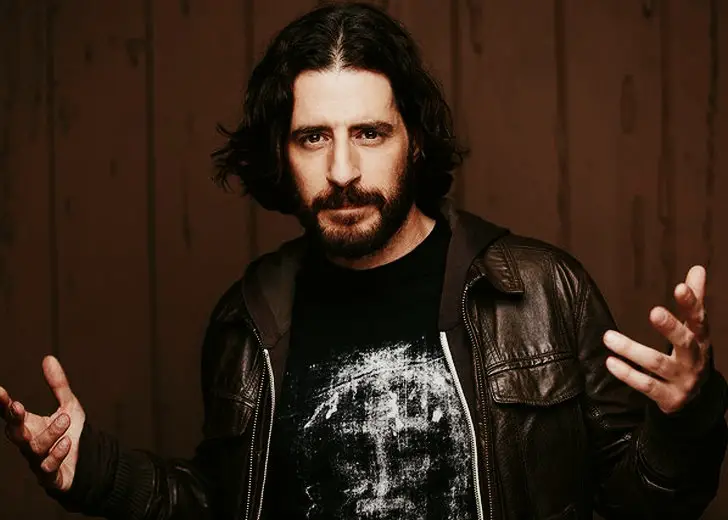 Fans revere Jonathan Roumie for his phenomenal role as Jesus Christ in the American historical drama series The Chosen (2019 to present) and charismatic evangelist Lonnie Frisbee in the American Christain drama film Jesus Revolution (2023). 
And in his personal life as well, Roumie has always been a man of faith. He has been open about his love for Jesus Christ and his faith in Christianity, but, on the flip side, he has never talked about his relationship and dating life.
Much like the Christ figure he embodies on-screen, the actor's personal life is a mystery that has been veiled in a cloak of assumptions.
Hence, we attempt to exclusively cover his marital status, dating status, and his birth family in this article. Also, read the full article to get exclusive coverage on his net worth and age.
Does Jonathan Roumie Have a Wife?
Jonathan Roumie, who stands at the height of 1.82m, has not been vocal about who he is dating or if he has a spouse. Still, fans of his work have long questioned, "Is Jonathan Roumie married?" and if yes, "Who is Jonathan Roumie's wife?" 
There are speculations that a woman named Hannah Vanorman is his wife.
The speculations surfaced after a wedding registry created on Bed Bath & Beyond's gift registry page came out to the public. The registry suggests that Roumie married Vanorman in June 2020.
Jonathan Roumie and Hannah Vanorman's wedding registry, according to Bed Bath & Beyond's gift registry page. (Photo: Registry website)
However, the details could be false, too, as neither of the parties has ever spoken in this regard. Still, the possibility of a wedding cannot be disregarded entirely.
Jonathan Roumie didn't find a connection with his ex-girlfriends
His relationships with his girlfriends in the past were not special to him because he did not feel connected with them religiously and spiritually. He shared that these decisions that he made back when he was young highlighted how important faith was to him.
The Ballers star stated, "I think it was actually through a number of personal relationships."
"Girls that I dated who might have identified culturally as Christian but there was never this connection," he added.
Years later now, Roumie is very close to Jesus and Christianity; hence his portrayal of Jesus in The Chosen is very apt and well depicted.
In current days, many have wondered if he has been dating American actress and songwriter Maria Vargo,  as they have been seen together in numerous Facebook videos of G.K. Chesterton Entertainment. The latter is the President of the organization where as the former is the Vice President. The non-profit organization creates on-screen and off-screen faith-based content.
The pair have worked on the institution's produced play The Last Days: The Passion and Death of Jesus the Christ, in which the actor plays Jesus and Vargo plays his mother, Mary. The play got canceled in 2020, but they had preserved earlier videos of production, which were released later via video for streaming or DVD. 
However, there has been no indication from them that they have been dating. As of now, their relationship seems to be that of a colleague brought together by their faith. 
Talking to Lifeteen, Roumey credited his "friend" and non-profit theatre company partner"  Maria and her shows (related to revelations by Jesus Christ to a nun Saint Faustina) led to his first portrayal of Jesus.
He believes that his Catholic faith made it all possible. 
How many Children does Jonathan Roumie have?
Now, speculating about Jonathan Roumie's children—that would be a shot in the dark.
Roumie, who is inclined chiefly towards Christianity and his work, has not once posted on His Instagram, @jonathanroumieofficial, or any social media regarding his marital or dating relationship.
Even his Instagram feed is choke-full of behind-the-scenes from the sets of his project, insights during rehearsals, and his enthusiasm for his faith.
He has, however, once touched upon his dating history during an interview with Spiritual Direction on July 30, 2020, where Roumie mentioned being in a few relationships back when he was young.
But he did not find a spiritual connection with any of his previous girlfriends, who, as he says, were culturally raised as Christians but didn't identify with its teachings.
How old is Jonathan Roumie?
Born on 1 July 1974 in New York City, New York, U.S. to an Egyptian father and an Irish mother, Jonathan Roumie was baptized in the Greek Orthodox church. 
Jonathan Roumie was Brought into Faith by Jesus through His Family
During the same interview with Spiritual Direction, the 48-year-old actor also shared how his life choices and relationships got him closer to his faith.  
Roumie shared that he was raised as an orthodox as per his family's tradition and embraced native ethnicity. His father is a Greek Orthodox from Egypt, while his mother is Roman Catholic from Ireland.
And when the family moved out of New York City to the suburbs, they, including Roumie, transitioned to the catholic faith.
He further admitted that his faith dwindled after college, in his 20s. He would rarely go to mass because he did not have an understanding of his faith.
However, the actor believes that God allowed him to come closer to his religion and faith through the decisions he made back then.
What is Jonathan Roumie's net worth?
Roumie's estimated net worth is $2 million as of now. Not bad for the on-screen Jesus.