Ben Lamb, Once Married to Louise Coles, Is Now Dating Julia Macfarlane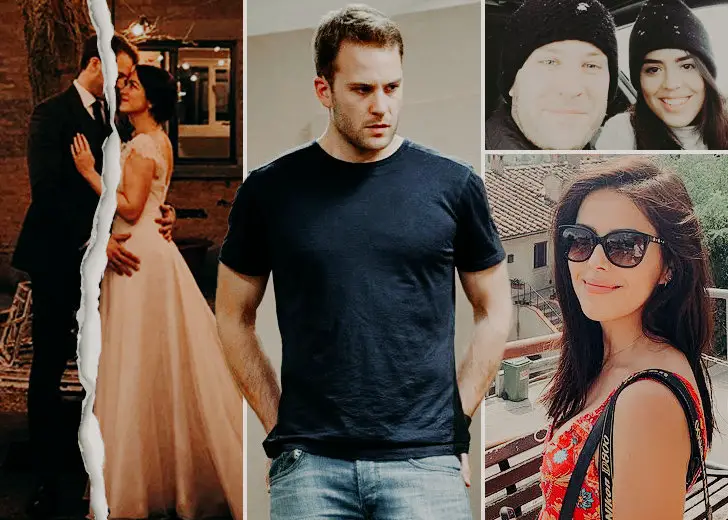 To everyone wondering, Is Ben Lamb married? he was in the past. The British actor married his girlfriend Louise Coles in a private yet lavish ceremony in England in 2016.  
However, trouble started brewing in what seemed like a fairy tale love story between Lamb and his wife.
As a result, the duo divorced, and the actor moved on in his love life and started dating his new girlfriend, Julia Macfarlane. 
Ben Lamb and Ex Wife Louise Coles's Wedding
Lamb and Coles seemed madly in love with one another at their private wedding ceremony.
In November 2016, the couple exchanged their vows in front of close friends and family at a majestic barn venue, Merriscourt. 

Ben Lamb and ex wife Louise Coles on their wedding day. (Source: Whimsical Wonderland Wedding)
At the wedding, the actor looked dapper than usual as he pulled off a bespoke suit by Hackett, and his wife donned a spectacular wedding dress by BOA Boutique.
Alongside the perfect wedding dress, the exotic atmosphere, festive decoration, and vibrant lights further complemented the big day.
Talking about the wedding preparations, Coles said that she and Lamb wanted their wedding to be fun and liberating where their loved ones could enjoy themselves.
We both knew how we wanted the wedding day to feel, we have had a lot of tragedy in our family in recent years and we just wanted to have fun and bring our close family and friends together for a day of laughter and we didn't want to take ourselves too seriously.
After what seemed like a blissful wedding, the actor and hairstylist duo stayed in their marriage for some years. But Lamb parted with his wife for reasons unknown. 
Ben Lamb Is Dating Girlfriend Julia Macfarlane
Since his divorce, Lamb has moved on and is openly dating ABC News reporter Julia Macfarlane.
He frequently posts pictures with his girlfriend on social media, and his partner also does the same. 
On October 16, 2020, Macfarlane uploaded a photo on Instagram handle and captioned it, "When your boyfriend is abroad for work, but it's ok because you have a stand-in."
Ben Lamb with his girlfriend Julia Macfarlane at Dalwhinnie Distillery, Scotland, in January 2022. (Photo: Instagram)
Lamb also posted a photo with his girlfriend on Instagram on January 26, 2021. The picture was accompanied by an adorable caption where the talented actor mentioned how grateful he was for having her.
Implying that they celebrated his birthday together, he wrote, "So thankful for @juliamacfarlaneabc and grateful to her for organising a delicious meal from @simonroganathome @aulissimonrogan for my birthday yesterday."
On April 17, 2021, Macfarlane took to Instagram to highlight how good Lamb was as a boyfriend.
She shared that Lamb had been busy spending the week for his mom, and he had to sort out all the dinners, house errands, and clean everything.
But despite a hectic schedule, he made time to drive all the way up to Windsor Castle to give her a hug amid a great but exhausting day of live coverage. 
"You're the best," she wrote, mentioning her partner and stating she loved him very much.