Trina Braxton Says Her Kids Are Her Life — Inside Her Family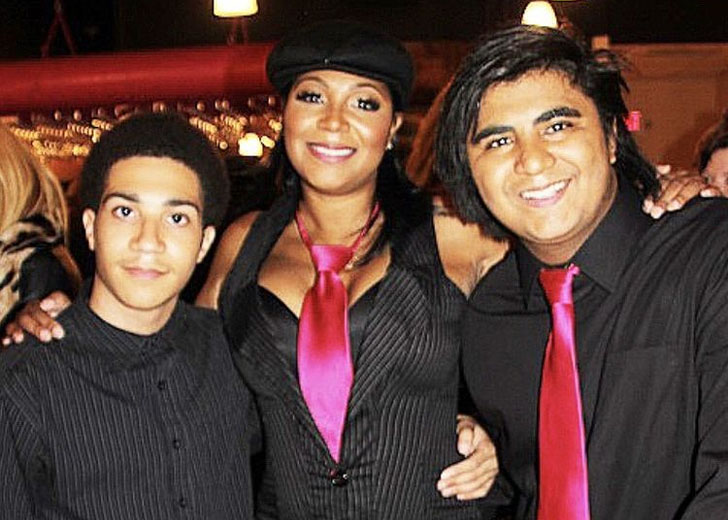 Trina Braxton is a mother to two sons — Eric Mojica and Caleb Mojica — and she considers her kids her life.
Though the identity of her sons biological father has not been revealed, their relationship with her ex-husband has been covered in Iyanla: Fix My Life.
Braxton was married to Gabriel "Gabe" Solis from 2003 to 2015. During their time as a married couple, Gabe became the father figure of her sons.
Unfortunately, Braxton and Gabe called it quits in 2013 because of their differences and they finalized their divorce in 2015.
The former couple appeared on Oprah Winfrey Network's Iyanla: Fix My Life to help navigate their way through co-parenting post-divorce.
Trina Braxton And Ex-Husband
During their time on Iyanla: Fix My Life, Braxton and Gabe got candid about their relationship and their experiences with each other.
During a vulnerable moment on the show, Gabe shared he was "mad and angry" for letting Braxton "bully" and "push" him around.
He also described how he experienced Braxton: mean, hurtful, and painful.
With Iyanla's help, Gabe and Braxton eventually came to terms and decided on their plans for the future. Braxton revealed she would communicate with her sons more, while Gabe said he would focus on himself.
Unfortunately, Gabe passed away at the age of 43 in December 2018 following his battle with cancer.
Posting a picture of herself, her kids, and her ex-husband on her Instagram, Braxton made a heartfelt post to mourn his passing.
The reality star described Gabe as an essential part of her and her kids' lives for over 16 years and asked for privacy while they grieved.
Trina Braxton Married Von Scales
Following her divorce with Gabe, Braxton was introduced to Von Scales by a mutual friend named Jamie Dukes. The two felt a connection at their first meeting and went on their first date two days later.
Scales also helped Braxton and her kids through their difficult time when Gabe passed away.
It was a very difficult time. My sons had a really difficult time as well, but you know, thank god for my fiance now… he really helped me through it, he stood right by me and I knew it was sometimes difficult for him.
Braxton also noted she understood how tough it must have been to console his fiancee while she was grieving for Gabe even though he knew it was strictly out of friendship.
It was revealed in April 2019 that Scales had popped the question to Braxton while on a family getaway to California wine country.
The entire Braxton family was present at the time. She shared she lost it completely when he put the box with the engagement ring on the table while they were filming.
Braxton's sister, Tamar, confirmed the singer and Scales were getting married soon during an appearance on the Wendy Williams Show on September 18, 2019. 
Three months after Tamar broke the news, Braxton and Scales tied the knot on December 15, 2019 in St. Louis, Missouri.