'The Surreal Life' Reboot Cast — Meet the 8 New Stars behind VH1's Revival Show
The cast of 'The Surreal Life' includes August Alsina, Manny MUA, and Tamar Braxton among others.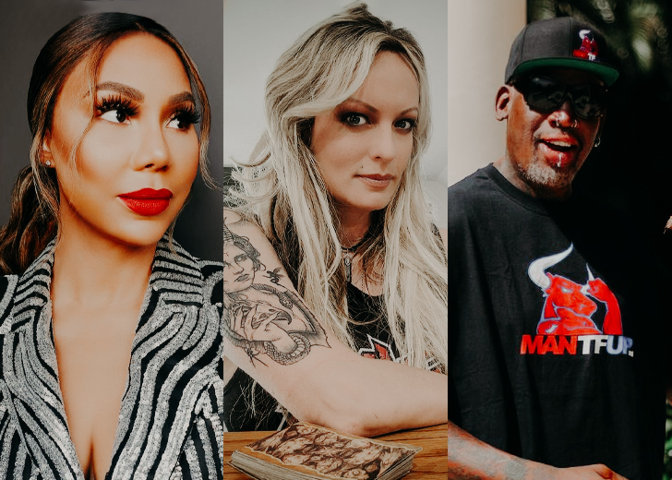 VH1's reality series The Surreal Life, which ran for six seasons between 2003 and 2006, has been picked up for a reboot season.
The network announced Season 7 after MTV decided to bring back Cribs alongside other reboots across ViacomCBS, including Behind the Music, The Real World, Ink Master, and Dating Naked.
The Surreal Life, which is set to premiere this fall, follows a group of celebrities as they live in a mansion and engage in drama-filled group challenges.
The cast for the revival has also been announced, with eight new stars ready to take on each other. Below find brief details of the cast:
August Alsina
August Alsina is a 28-year-old R&B singer and rapper from New Orleans.
He rose to prominence after releasing his first mixtape, The Product, in 2012. He continued getting recognization as he released another mixtape, The Product 2, and his debut extended play (EP) Downtown: Life Under the Gun.
His top tracks include 'I Luv This Shit,' 'No Love,' 'Kissin' On My Tattoos,' and 'Song Cry.' Similarly, his albums are Testimony, The Product III: the State of Emergency, and This Thing Called Life.
Stormy Daniels
Born Stephanie A. Gregory Clifford, Stormy Daniels is a 42-year-old adult movie star.
According to Hollywood Life, she started stripping at the age of 17, followed by her first lead role in an adult film in 2002's Heat. She has also worked in mainstream movies, including Pineapple Express and The 40-Year-Old Virgin.
In addition, she came to the limelight in 2018 due to her alleged affair with former US President Donald Trump in 2006.
Tamar Braxton
Tamar Braxton, 44, is a singer and television personality who initially came into the spotlight as a founding member of The Braxtons, an R&B singing group formed with her sisters in 1990.
She has since appeared in various reality shows, including Braxton Family Values, Tamar & Vince, Dancing with the Stars, and Celebrity Big Brother.
Frankie Muniz
Frankie Muniz is a man of many talents. He is an actor, race car driver, and musician renowned for playing the title character in the Fox sitcom Malcolm in the Middle.
The actor has also acted in films like Deuces Wild, Big Fat Liar, Agent Cody Banks, and Racing Stripes.
Later, Muniz transitioned from an actor to become an open-wheel racer and competed in the Atlantic Championship. He has also served as a drummer of the indie rock band Kingsfoil.
Kim Coles
Kim LaShaunda Coles, commonly known as Kim Coles, is an actress, comedian, and game show host.
The 59-year-old diva has worked in the sketch comedy television series In Living Color, television sitcom Living Single, and game show Pay It Off.
Currently dating Dr. E. Jaye Johnson, Coles has been married twice: first to author Aton Edwards from 1985 to 1995 and later to a former SWAT police officer Reggie Mckiver from 2015 to 2019.
CJ Perry
CJ Perry is a 36-year-old professional female wrestler renowned for her time in the professional wrestling promotion WWE, under the ring name Lana.
The Florida native has also tried her hand in music and acting, appearing in acting roles such as The Game, I.C.I.R.U.S., Pitch Perfect, and Pitch Perfect 2.
She has been married to AEW wrestler Miroslav Barnyashev, better known by his ring names Rusev and Miro, since July 29, 2016.
Manny MUA
Manny MUA is a renowned YouTuber, makeup artist, and the CEO of the cosmetics brand Lunar Beauty.
The Mexican-American was raised in a Mormon family alongside two younger brothers. He wanted to become a plastic surgeon earlier: that is why he had planned to attend medical school.
He also has a Bachelor's degree from San Diego State University.
At present, MUA has over 4.86 million subscribers on YouTube and 4 million followers on Instagram.
Dennis Rodman
Born Dennis Keith Rodman, Dennis Rodman is a former professional basketball player known for his fierce defensive and rebounding abilities.
Throughout his long NBA career, he played for teams like Detroit Pistons, San Antonio Spurs, Chicago Bulls, Los Angeles Lakers, and Dallas Mavericks.
After he retired from the game in 2006, he went on to appear in various television shows, including Celebrity Big Brother, Love Island, and Celebrity Mole.