'Ink Master' Star Kelly Doty's Journey — From Contestant to Judge and Weight Loss
Kelly Dotty's approach and backstory behind her signature tattoos is what makes her a standout.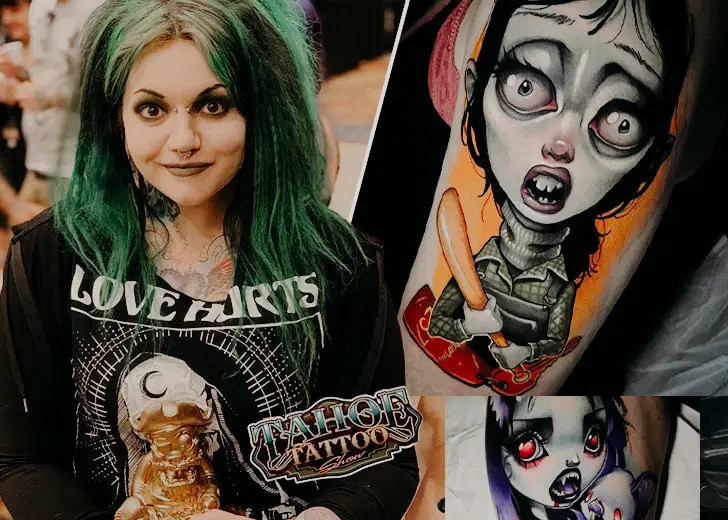 The finalist of the reality TV show Ink Master Season 8, Kelly Dotty, has always been a fan favorite known for her unique tattooing style.
Although the artist has never spoken about the personal tattoos that she has received, the backstory behind her signature tattoos is what makes her a standout.
Doty's Unique Style
The Ink Master is known for her outrageous style of tattoos. At first glance, her tattoos give her away as they almost always carry her signature style.
Her artwork has a unique blend of new-school and rustic, vibrant and dark, and spooky and cute themes. She summarizes her style in one word, 'bobbleheads.' 
I specialize in spooky illustrated fairy tales and pop surrealist work. Long story short, I draw creepy pictures with big honkin' bobbleheads.
The artist is also famously known for creating backstories for her characters, making it seem as though her creations inhabit a world. She also shares these stories with her followers on her Instagram handle.
Her story-crafting abilities mixed with her other-worldly artwork make getting a tattoo from her a rounded experience unlike anyplace else. 
Dotty Was the Finalist of 'Ink Master' Season 8
Dotty's trademark style was first showcased in the 2016 Ink Master Season 8. The goth managed to reach the top three with fellow female contestants Ryan Ashley and Gian Karle.
The owner of Helheim Gallery was able to impress the judges with her exceptional skills in challenges, such as watercolor tattoo, armor tattoo season, new-school colosseum tattoos, gypsy woman tattoo, seven-hour live tattoo, natural disaster survivor tattoo, and domestic violence survivor tattoo. 
Despite all the hard work and skills, unfortunately, the sketch artist lost to Ryan Ashley, who became the first-ever female winner of the Ink Master. However, thanks to her distinctive style and upbeat personality, Doty became a crowd favorite and has become a much-loved auteur among her followers.
After Ink Master, the artist went on to host its spin-off reality show, Ink Master Angels. Her fans got to witness her in a new light this time around. But it wasn't just the reversal of roles from a contestant to a judge that got her fans' heads turning.  
Dotty looks Different Now
When she appeared as a judge in Ink Masters Angels, the goth tattooist gave viewers a look into her weight loss. She looked considerably toned down from her last appearance as a contestant on Ink Master.
For evidence, her pictures on Instagram say it all. The artist seems to have undergone major weight loss and looks fit and healthy.
However, Dotty has never spoken about her weight loss journey in public.