Manny MUA Empowering 'Gay Story' | Net Worth & Height Details At Age 27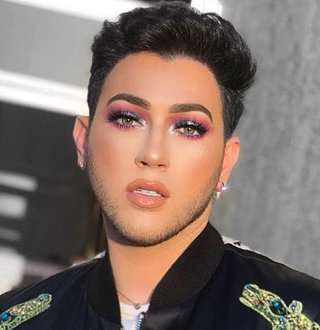 Growing up, American makeup artist Manny MUA had a lot of pressure to succeed. Taking childhood traumas in strides as an openly gay man, not only did he achieve success and fame, but he did it his way. 
The San Diego native's rise to fame can be credited to the popularity of his YouTube channel titled Manny MUA. A trendsetter by definition, Manny boasts an astounding total of 400 million plays on his YouTube videos. As of 16 August 2018, more than 5.3 million people subscribe to his YouTube channel.
Slay Girl:- Manny tries the world's most expensive eyelashes on a video posted on his YouTube Channel (Published on 15 March 2018)
Manny's Twitter and Instagram reach is equally impressive with 1.3 million and 5.1 million followers on respective social media sites.
Manny Mua's Bio: Age, Height & Family
Manny, who was born on 4 April 1991 in San Diego, grew up in a Mormon Household. His real name is Manny Gutierrez and stands a towering height of 6 feet (1.83m).
YouTube Stars In Our Vault:- WolfieRaps Age 25 Girlfriend Rift Over Teen Cheating Scandal | Personal Status Now
Manny, age 27, is the oldest of three siblings -- Nick and Erin are four and eight years younger than him respectively.
Despite having Manny as teenagers, his parents would go on to become highly educated individuals. As a result, there was a lot of pressure on him to follow in his parents' footsteps.
Likewise, Manny excelled at his studies and later enrolled in one of the prestigious medical schools in the country. He would later drop out of the medical school to pursue a career in the makeup industry.
How Manny Mua Earned His Multi-Million Net Worth?
Manny's love for makeup started at an early age. After dropping out of medical school, he began working in the counters of beauty giants like Mac and Sephora.
It was during this period that he became close friends with fellow YouTube beauty star, Patrick Starr. Patrick took him under her wings and mentored him on the importance of being visible on social media.
Soon after his introduction with Patrick, the San Diego native would start a channel of his own in 2014 under the moniker, Manny MUA.
Responses to his makeup tutorials and reviews on YouTube gained so much traction that beauty brands took notice of his ever-growing presence.
In 2017, Maybelline named him as its brand ambassador. Over the years, he has had close ties with beauty brands such as KKW BEAUTY, Lily Lashes, ASOS, and Clinique.
However, YouTube videos remain his main source of income, with him pocketing somewhere between $44k and $718k annually.
Forbes estimates the makeup star's net worth to be around $7 million.
Discover:- Who Is Tituss Burgess' Partner? Gay Man Married Or Rising From Ruins?
Manny Mua Comes Out As Gay At The Age Of 25
Aged 16, Manny had come out as a gay to his parents after they found the intimate texts he had sent to a boy on his laptop. Because his parents had a deeply rooted allegiance to the Mormon Church, he was sent to counseling to reverse the effects of being gay.
However, he didn't come out as a gay publicly until 14 August 2016.
Coming Of Age:- In an emotional YouTube post, Manny comes out as a gay publically for the first time (Published on 14 August 2016)
In the YouTube video titled My Coming Out Story, he has gone at lengths to chronicle his coming out story including his first kiss with another man and his parents' reaction upon learning about his gay identity.
Read Also:- American Picker's Frank Fritz Getting Married To Girlfriend
From being a medical school dropout to becoming one of the biggest openly gay YouTube stars the world has ever seen -- one would have a tough time finding a more empowering story than Manny's.