Tana Mongeau Comments on Bailing Out of BFFs Podcast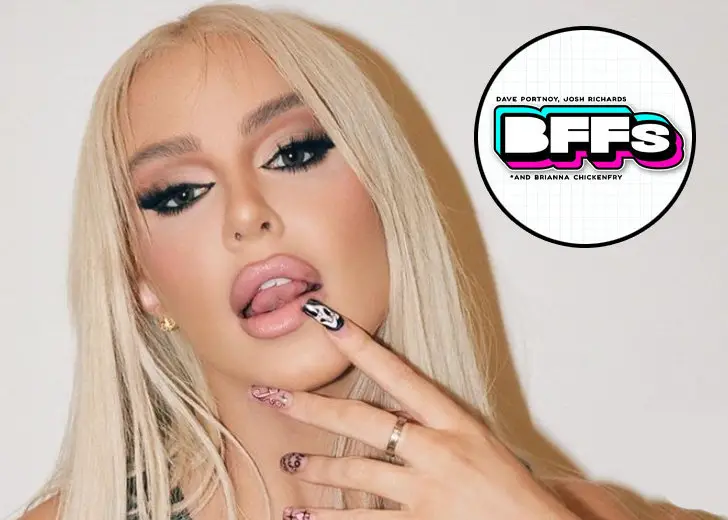 Tana Mongeau is undoubtedly one of the most controversial social media stars.
She initially rose to fame for her comedic and story-time videos on YouTube, but since becoming famous, she has changed her strategies. 
The YouTuber stays relevant because of the endless drama in her life and is almost always in the headlines.
She never stays far away from publicity stunts or scandals, and this time it looks like BFFs Dave Portnoy has had enough of her antics. 
Dave Portnoy from BFFs criticizes Tana Mongeau
On April 7, BFFs uploaded a new episode of the podcast on their YouTube channel. 
They had invited social media star Ellie Zeiler on the show, but before they chatted about her life, Portnoy and his other two co-hosts, Josh Richards and Brianna LaPaglia, discussed Mongeau.
Mongeau was scheduled to appear on that episode of the podcast, but she bailed ten minutes before she would have appeared. 
This was not the first time Mongeau had failed to appear. 
Previously, she had texted them 30 minutes earlier and said she could not come to their podcast because she was sick and puking everywhere.
And this time, too, Mongeau used the same excuse, which did not sit well with Portnoy.

Dave Portnoy ranting about Tana Mongeau on 'BFFs' podcast (Source: Instagram)
"What a piece of [expletive]. There can't be any human who takes her seriously. I think I have missed one thing that I have committed to in 20 years. You (Mongeau) are just a clown, you can never be taken seriously. If I was doing a business deal with her, I would never trust her, ever," criticized Portnoy. 
LaPaglia then asked Portnoy if the controversial social media star was banned from the show to which the irritated host replied that he would never schedule her.
Portnoy shared that in his 20 years of working in this field, he never had a guest cancel as much as Mongeau and said that maybe high-profile celebrities like Tom Brady and Rihanna could pull a stunt like that.
Tana Mongeau Responds
The clip of Portnoy ranting was reshared on the BFFs' TikTok, and, in the comment section, the last-minute canceling influencer replied. 
She wrote, "IM SICK JESUS," but of course, the netizens did not believe her, and they replied sarcastically to her comment. 
One of them replied that this was the Call Her Daddy podcast all over again. 
In February 2019, Mongeau was supposed to appear on the podcast, but she did not show up, and no one could get hold of her. 
After her appearance was canceled, hosts Alexandra Cooper and Sofia Franklyn released a YouTube video to explain everything that went down the day she would have appeared.
The hosts noted that they were really excited about having Mongeau on the show, and it was her team that approached the duo and not the other way round. 
Mongeau's publicist and assistant could not get hold of her until 3 pm.
"If you know that you're unreliable or her publicist knows that Tana is obviously unreliable don't schedule things like that just don't do it. It's not fair no it really [ruined] our entire day. We don't have an episode," said the hosts. 
And to make matters worse, Cooper and Franklyn never got a response, let alone an apology.