Why Did Rihanna Unfollow Megan Thee Stallion on Instagram? Drama Explained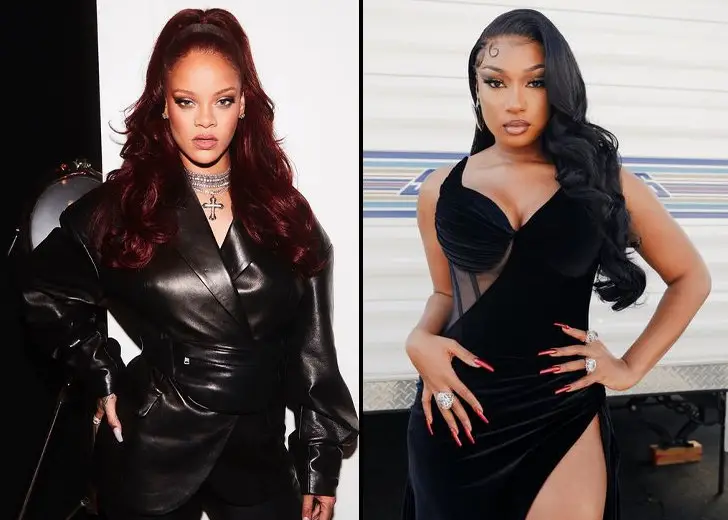 Ever since Megan Thee Stallion made her debut in 2016, she has released hit after hit and worked to become one of the best female rappers in the industry.
After cementing her status, Megan received love and support from many A-list celebrities like Beyonce and Cardi B. 
She even earned the respect of bonafide superstar Rihanna, who followed her on Instagram in 2019. 
The 'Body' rapper often gushed about Rihanna in her interviews, saying that RiRi was one of her idols and hoped to collaborate with her one day.
Both are managed by Roc Nation, an entertainment agency founded by Jay-Z. 
It appears RiRi had also taken a liking to Megan because, in May 2020, she became the latest celebrity to endorse Rihanna's Savage X Fenty line. 
Megan joined the likes of Paris Hilton, Normani, and Bella Hadid.

Megan Thee Stallion modeling for Rihanna's Savage X Fenty (Source: Megan The Stallion/Instagram)
But recently, eagle-eyed fans have noticed that the Savage X Fenty CEO unfollowed the 'Savage' rapper. 
Besides RiRi, several big artists like Drake, Nicki Minaj, and Ciara have also unfollowed the H Town hottie. 
Theories Why Rihanna Unfollowed Megan Thee Stallion
Fans on Twitter have been discussing the reason behind this huge unfollowing controversy. 
They noticed that Savage X Fenty had deleted all the photos of Megan from their website.
Ever since Megan had been appointed as an ambassador for the brand, she had done a string of photoshoots for the lingerie brand.
But they were nowhere to be found, and Megan also deleted some of these photos from her Instagram. 
The duo has addressed nothing directly, but fans have developed their own theories. 
According to Twitterati, RiRi unfollowed Megan because the H Town hottie had allegedly flirted with A$AP Rocky, Rihanna's boyfriend and baby daddy, at some point when the couple was still in a relationship. 
BlackTeaBlog, a celebrity gossip account, reported that the soon-to-mother had always been uncomfortable around Megan for a long time because of her alleged past with Rocky. 
While many fans are confused about the string of unfollows, others think that netizens are just jumping to conclusions and creating unnecessary drama. 
Megan Thee Stallion and Tory Lanez's Shooting Scandal
After Rihanna unfollowed Megan, many others followed suit. 
It is unconfirmed why, but Twitter believes the rest of the celebrities' unfollowing has something to do with Tory Lanez's shooting scandal. 
Last year in July, the 'WAP' rapper accused her fellow rapper of shooting her in "both feet" after they left Kylie Jenner's house party.
The duo had got into a heated argument in the car with Megan's ex-best friend Kelsey.
At the time, Kelsey was in a relationship with the 'Say It' rapper and was unaware that he was cheating on her with her best friend.
The latter denied the allegations, claiming that he did not cause the alleged bullet wounds on Megan's feet. 
Both parties are still fighting it out in court to establish the truth.
Fans believe Megan might be lying about the shooting hence the unfollows, but the truth has not been confirmed so far.  
They will have to wait to see how this drama will unfold.