Twitter Reacts to Tom Brady's Return from Retirement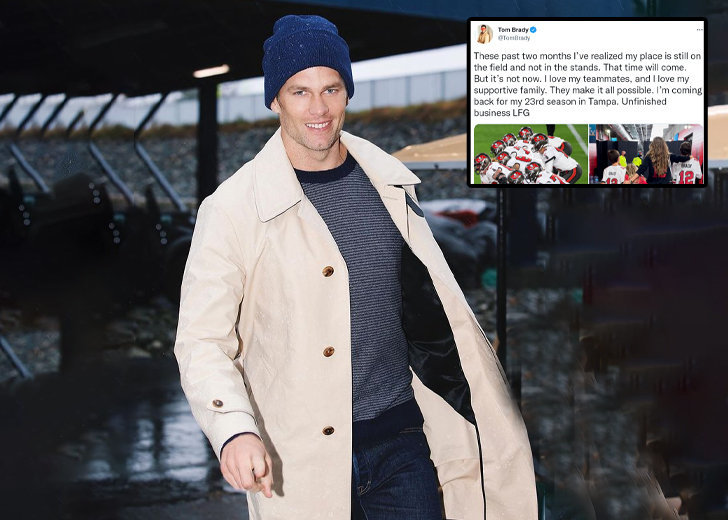 Family man no more?
Tom Brady sent the footballing world into a frenzy, announcing his return from retirement in March 2022. The announcement made headlines for multiple reasons.
Many were rejoicing over the great's return to the game, but a few were skeptical as well. And a few others were not happy with his back and forth in this decision.
Amidst this, there have been a few speculations about why he is returning, other than the official reason.
Why Did Tom Brady Return from Retirement?
On March 13, 2022, Brady made a tweet announcing his return.
In his tweet, he addressed his Tampa Bay teammates and his family and said it wasn't yet time for him to sit back and watch the game from afar.
"These past two months I've realized my place is still on the field and not in the stands," he wrote at the beginning.
"That time will come. But it's not now," Brady continued, coming to the main point of the tweet.

Brady announced his return from retirement from football on March 13, 2022. (Photo: Twitter)
Then, he said that both his teammates and his family made what he's been able to achieve possible.
Ending the tweet, he announced he was "coming back" for his 23rd season in Tampa. "Unfinished business LFG," the legend exclaimed.
Reactions to Tom Brady's Return from Retirement
Brady's announcement has generated a lot of reactions. But the most interesting ones are from those who saw the funny side of things.
He announced his retirement on February 1, 2022. At the time, he explained his family was his greatest achievement.
He seemed ready to devote his entire time to his family — his wife Gisele Bundchen and his three kids: Vivian, Benjamin, and John Edward.
This became the most contentious thing for everyone when he announced his return. Seemingly, everyone latched on to this.
"Tom Brady Got In One Argument With His Wife And Said Im Going Back To Work," one joked on Twitter.
Another said, "brady spent a month wit his family and said [expletive] this [expletive] i'm going back to football."
Some even said Brady always knew he would not stay on the sidelines. And others blamed his star sign for the deed.
"tom brady faking his retirement to hear all the nice things people have to say about him is big leo energy," one accused.
The hike in gas prices, too, was brought up as a reason for him to go back to playing. Surely he wouldn't have to worry about it THAT much, would he?
One account pointed out the absurdity of Brady's actions. "Tom Brady has faked his retirement twice in one offseason. This could be an NFL record," they wrote.
Theories about Tom Brady's Return
Even though Brady said his reason for returning was the realization about not being old enough to retire, some have speculated his competitive nature might have gotten the best of him.
Some have theorized that his fire for the sport was reignited after Cristiano Ronaldo's hat-trick for Manchester United on March 12, 2022. He was in attendance at Old Trafford for Ronaldo's spectacular display.
They even shared a moment on the pitch after the soccer game. Essentially, the speculators believe Ronaldo conveyed some motivational words to the 7-time Super Bowl winner, making him reconsider his retiral.
Brady himself confirmed this a day later. SubZeroSports posted his quote where he implied he rethought his retirement after watching Ronaldo perform.
"I was like damn greatness never fades away, and I thought about how I still have something left in me to make a final last dance," he reportedly said.
Another reason he might have come back is because of NBA legend LeBron James. James apparently texted Brady before his massive 54-pointer game for the Los Angeles Lakers.
In the text, James expressed how they were "the best ever" at what they did, and they were competing with one another.
So, after that game, Brady texted James back, saying, "Alright I'm coming back."
It remains to be seen how he performs after a six-week retirement, but it's definitely a treat for the fans to see him balling again.